Nothing like getting your home ready for the holidays - and that's exactly what these New Jersey Homeowners did with their Frosty White kitchen makeover.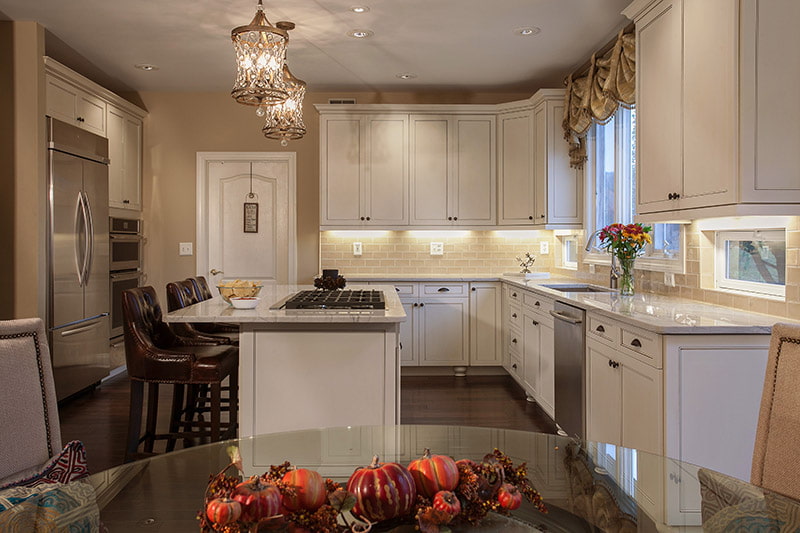 When we met this couple, they told us they wanted a stylish new kitchen that was more sophisticated in its presentation than their outdated kitchen, but also reflected a unique personality. And - like most homeowners - they also needed to stay on budget!
Custom Cabinets Don't Always Break the Bank
While we commonly advocate for cabinet refacing - there are times when brand-new custom cabinets are the way to go. In this case, that's what our homeowners wanted more than anything, so we built custom, Madison-style cabinets in Frosty White with a coffee glaze.
This build-out included the addition of:
New cabinet boxes, doors and drawers with stylish pulls and knobs.
Beautiful cabinet details that give a traditional feel while still maintaining a contemporary look - including bun feet, a light rail, corbels and a kick plate - all of which contribute to a state-of-the-art design. These details certainly add "punch" to shaker-style cabinetry!
Glass front doors to enhance the light and add visible style based on what's stored inside.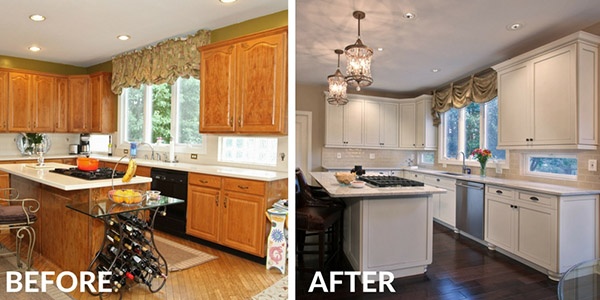 A Warm, All-White Kitchen Isn't an Oxymoron
Sometimes, homeowners are afraid to design an "all-white kitchen" because they worry it will look too sterile or cold. Quite the contrary. This kitchen exemplifies the variety of ways you can make choices that create a warm, inviting and all-white kitchen that guests can't get enough of. Adding a coffee glaze keeps cabinets bright and white, while highlighting the stunning details and adding a bit of warmth. We also added water glass cabinet fronts for varied texture, which also buffers any "stark" effects created by an abundance of perfectly-smooth white surfaces.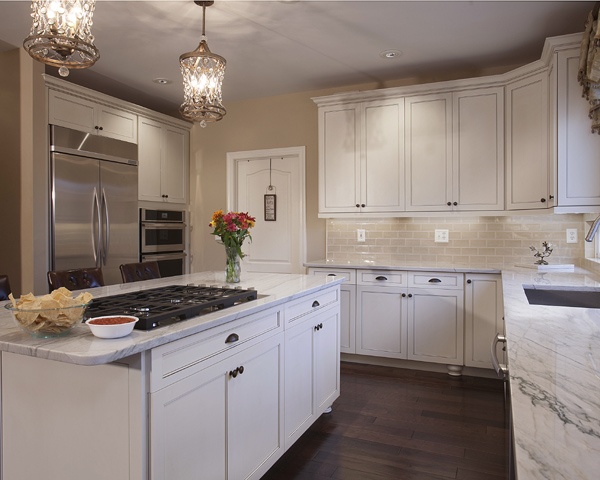 Touch of stone
The beautiful, off-white quartz countertops are elegant, and their swirls of gray add a spot of "color" without being too stark. Creamy and light, the off-white accentuates the cabinets without creating too much contrast or interrupting the bright new design.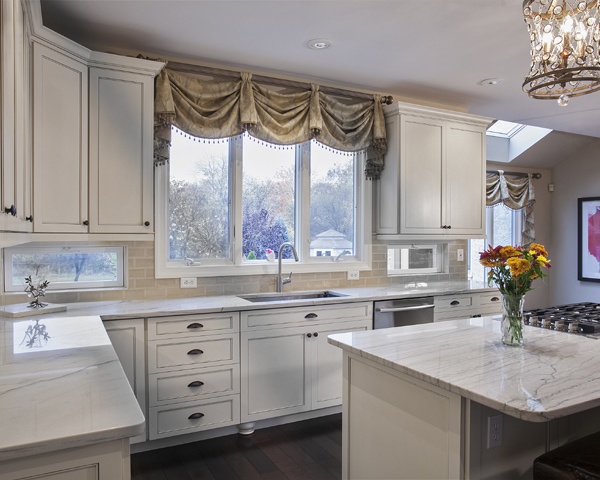 Glass subway tiles
Glass backsplash tiles add shimmer and luminescence to any kitchen design. The subway effect is timeless - and that is also echoed in the vintage-style cabinet and drawer handles, selected by the homeowners.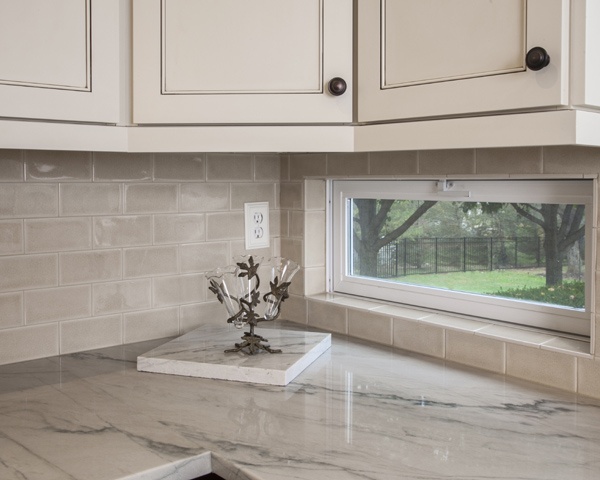 Personalized Touches Create Unique Kitchen Designs
A few extra, personalized design touches helped to make this kitchen uniquely their own. These included:
Innovative storage options. Kitchen designs need to be functional for the people who use them. By learning how these homeowners used their kitchen we created personalized storage solutions that enhance the kitchen's performance.
A custom wine cabinet. During our design consult, we learned these homeowners love to pair homemade foods with delicious wines. That deserved a custom wine cabinet, which we built on-site. It's now a focal point of the new design, breaking up the space and lending contrast as well.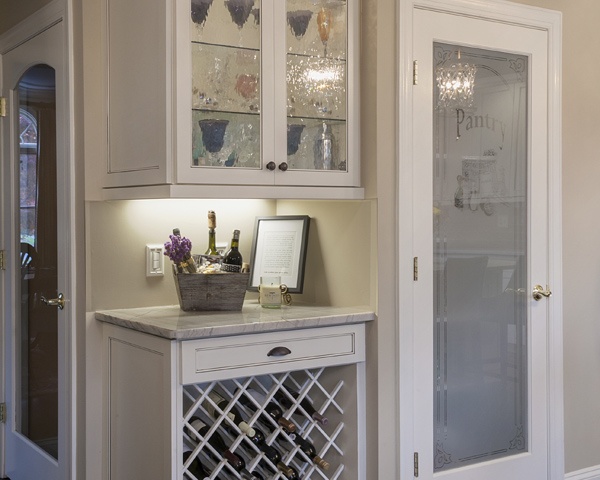 Are your kitchen design ideas feeling a little frozen as you waffle back-and-forth between ideas? Visit the visionaries here at Kitchen Magic and we'll warm them right up with experienced solutions. Celebrate the new year in style! Call for your Free In-home estimate (800) 272-5490.