When she was finally ready to take the plunge and renovate her galley kitchen, this Warwick, New York, homeowner knew that she wanted a totally new look. She and her husband had built the house decades ago. The kitchen had unintentionally ended up being piecemealed together over time, rather than given the thoughtful design it — and the homeowners — deserved. Well, that all changed last spring with this stunning kitchen transformation. The new eclectic kitchen design was a life-changer for her: "This kitchen brings me joy every day."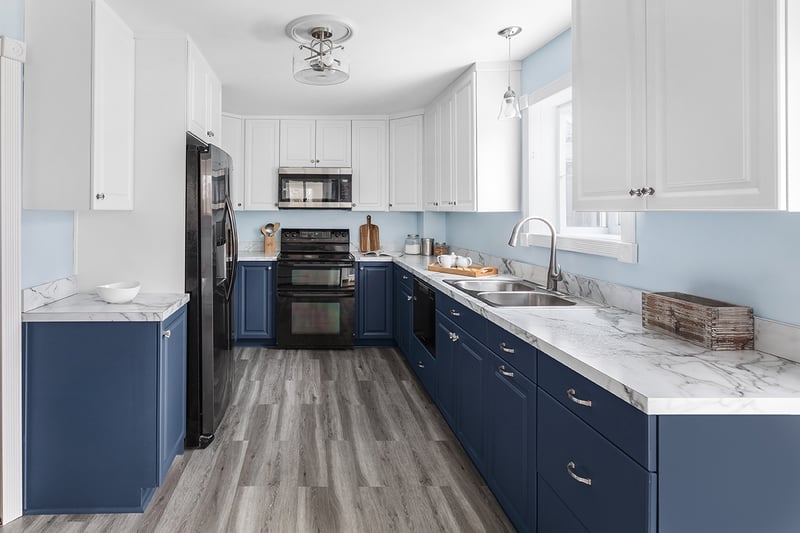 The Before & After Photos Really Say it All
The old kitchen was dark and cluttered. Cabinets and appliances were placed without a focus put into functionality or overall appearance. Dated oak cabinets that were awkwardly placed gave this family limited storage space. This meant things cluttered up the already limited kitchen counter space. The homeowner wanted a completely different look: brighter, more open, cook-friendly and happier. She, with a little encouragement from a friend, took the plunge and went with bold two-tone Prestige Square cabinetry in Colonial Blue and Frosty White, as well as a smarter floor plan that opened up the entire room.
Because the layout of the kitchen had previously been cobbled together, it needed a complete redesign that focused on the homeowner's functional needs, preferences and lifestyle. This particular project required a more traditional remodeling process. "We are kitchen refacing experts, but what people don't always realize that we can also design an entirely new kitchen, if they want a more functional layout. I love the flexibility of Kitchen Magic's custom cabinetry. Because we make the cabinets for each kitchen as-ordered, we can do whatever works best for each family."
Two-Tone Cabinets Lighten up the Space Without Adding More Windows
One of the potential issues of a galley kitchen is there can be a lack of natural light. This kitchen had an existing window, which Dia used to help maximize the brightening effect of the white upper cabinets. Simple, yet elegant, white molding enhances not just the lighting in the room, but the entire sink area as well.
Creating Both More Space and More Storage Beautifully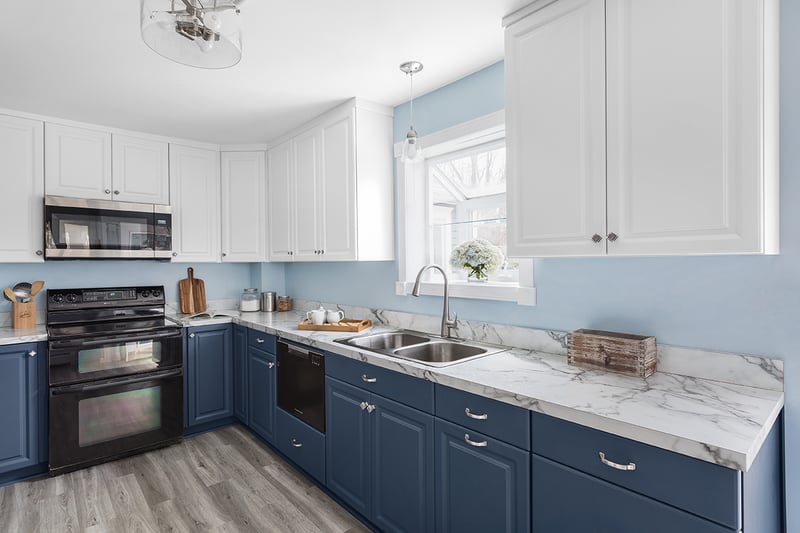 The larger white upper cabinets do more than help create a sense of openness. They also create a lot more storage space, something the homeowner desperately needed. In addition to the larger top cabinets, four deep drawers were incorporated into the lower ones. They are great for storing pots, pans and other items needed close-at-hand. "One of the really smart choices she made for this kitchen was to install a slightly smaller than usual dishwasher, and then putting one of her deeper drawers directly below it. This allows for a welcome storage spot without giving up a dishwasher in a somewhat-tight space," says Dia.
Laminate Countertops in Rich Textured Styles Are a Breeze to Maintain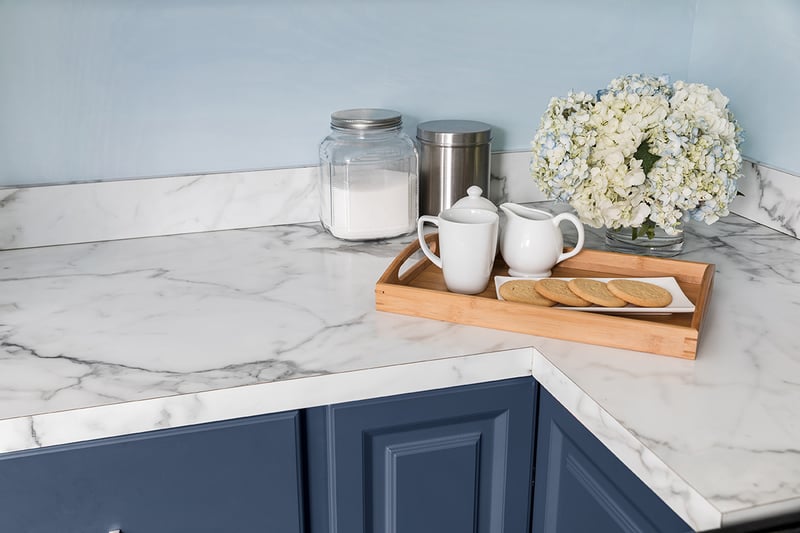 The desire for an easy-maintenance and affordable countertop was met with a beautiful marbled laminate surface. It has a luxurious, classic look, but it is also extremely durable and a breeze to clean. The veining and texture in the pattern are so realistic, people are often fooled at first glance that the countertops are not real stone. The matching four-inch backsplash helps protect the wall and provides transition from the countertop. "This laminate countertop fit her lifestyle perfectly, and it gave her wiggle room in her budget to splurge on hand-blown glass lighting for the table area that she really loved," says Dia.
Another nice thing about four-inch backsplashes, says Dia, is that you can change up the look of your kitchen quickly and affordably by painting the wall under the top cabinets. If you are still undecided about what kind of material you want for your kitchen backsplash, a standard backsplash is a cost-effective way to buy some time until you know for sure if tile, stone, laminate, solid surface or some other material is right for you.
In the Homeowner's Own Words:
"I love my new kitchen! Every day I walk in and think to myself, 'This is my happy place.'"
"I cook and entertain a lot more now, because my kitchen is so beautiful and so nice to be in. The colors and floor plan flow make is so nice to spend time in. Before, I had old wood doors and no place to store a lot of my things, so the kitchen looked crowded and messy. Now, the colors and design are so pretty and inviting, and there is a place for everything, so I make a point of keeping it less cluttered and tidy. It's too pretty to hide!"
"My advice to anyone starting off with a kitchen remodel is be open to new ideas and to work with your kitchen consultant. I wanted to go with all blue cabinetry, but my friend suggested the white on top to make the space feel more welcoming, and Suzi took that idea and ran with it. It shows that you don't need a large kitchen to have a beautiful Kitchen Magic remodel. Mine is not a big kitchen, but the transformation was huge."
How to Get the Look in This Remodel of the Month
Like what you see in this Remodel of the Month? Here's how to create this look:
Isn't it time to stop dreaming about your remodeled kitchen and finally make it happen? You could be enjoying your "happy place" every day too! Kitchen Magic will expertly install your dream kitchen using the quality materials you choose from our extensive selection. Schedule your free in-home consultation today!
REMODELED KITCHEN PHOTO CREDIT: Andy Ryan Photographer, 2020

To view more stunning transformations check out these remodels: