The fairy tale world is full of tiny heroes who conquer their foes in the battle for good over evil. Kitchen Magic has our own version of this tale, complete with a small kitchen hero.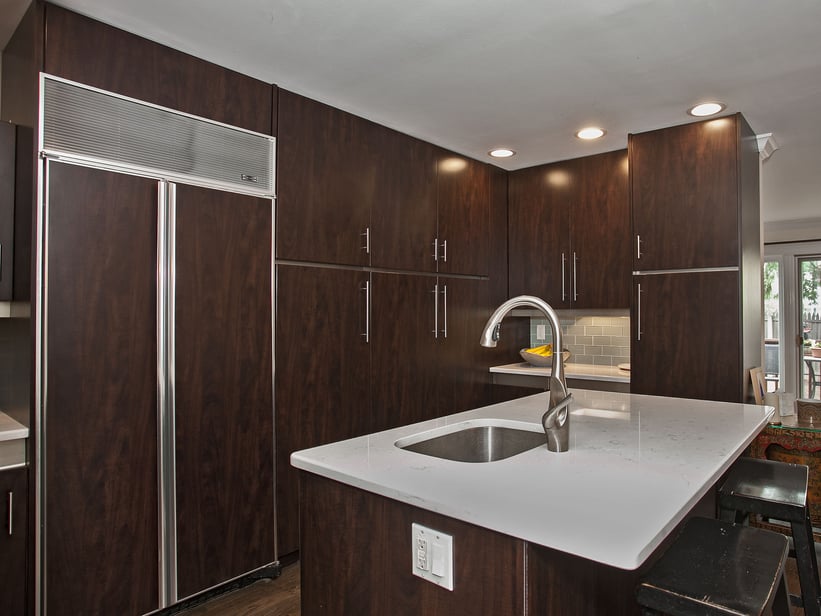 Meet a Small Kitchen with a Heroic and Stylish Heart
In this story, our small hero is a condo-sized kitchen, and its evil nemeses took the forms of a style that didn't match the new owner's taste, a modest design budget and the myth stating you can't use dark finishes in a small living space.
Our Little Kitchen That Could saves the day. Here's how:
First: It insisted on cabinet refacing
This kitchen knew it couldn't win the battle if its Morristown owner didn't make savvy budget choices. Since it was confident in its sturdy and well-built cabinet boxes, the kitchen convinced her to reface - rather than replace - the cabinets.
That one noble decision left thousands of extra dollars for extra special features (like gorgeous quartz countertop) while allowing the kitchen to look designer fresh.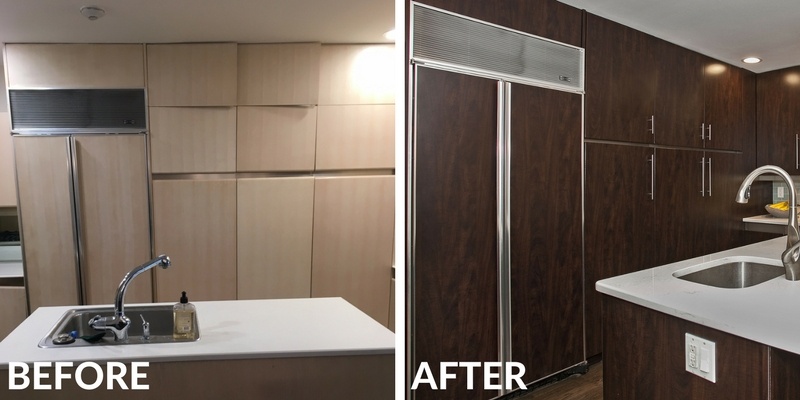 Second: It went bold with Chocolate Pear cabinetry
A true hero never takes hearsay as fact. Thus, our tiny kitchen hero went bold when its owner selected contemporary, Plain Prestige cabinet doors in a sumptuous Chocolate Pear finish. Yum!
Who says small spaces can't be adorned with darker finishes and accents? The key is to find balance between dark and light - and accentuate the lighter components so they brighten things up enough to showcase the contrasting dark elements. In this kitchen, the chocolatey pear accents are lightened and brightened using luminescent glass tiles and the aforementioned quartz countertops.
And, since countertop clutter is the last thing a heroic kitchen needs, we utilized all the storage tricks in the book so there's a place for everything - including the everyday, small countertop appliances.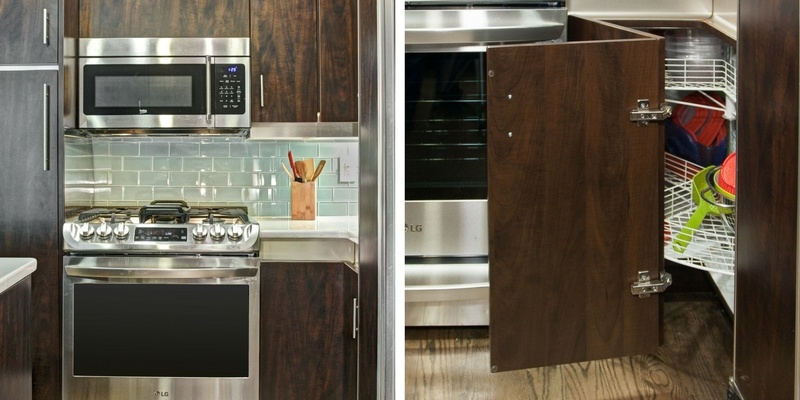 Finally: It used light in its favor
For its final assault on its antagonists, this kitchen put the final chinks in its armor by donning just the right countertop and backsplash.
For a countertop, it knew Cambria quartz, in a predominantly-white Weybourne would balance the dark chocolate and reflect the available natural light. The result is a very elegant finish that prevents the kitchen from closing in on its occupants.
To accent that choice, we installed "Green Whisper," glass backsplash tiles in a subway pattern. They add a touch of color and texture while continuing to enhance existing light-play to create spacious depth.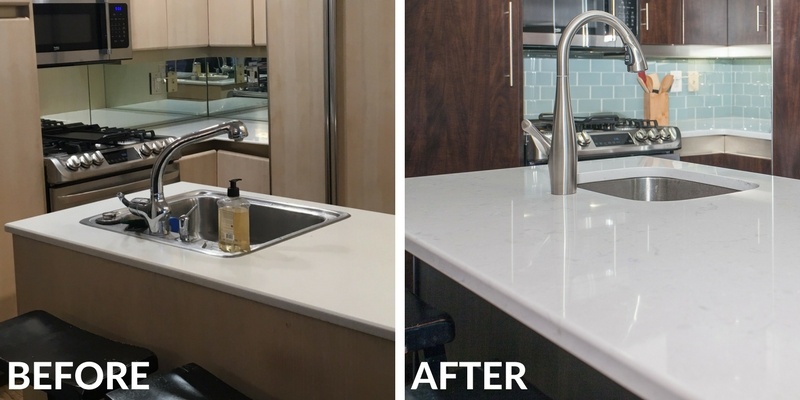 Hurrah! Our tiny kitchen hero prevailed. Now, its proud, homeowner - a lover of cooking and socializing - has a beautiful, trendy kitchen to show off to guests. Her place is the place for food, wine and late night chatting with the girls at the kitchen island.