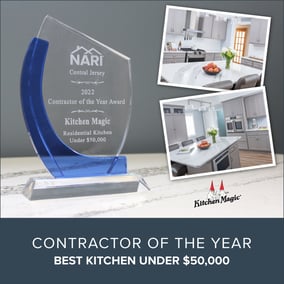 For exhibiting exceptional work, exceeding expectations, and use of innovation in construction on a kitchen renovation project.
Nazareth, PA, July 26, 2022— Kitchen Magic was the recipient of a 2022 Contractor of the Year (CotY) award for Best Kitchen Remodel Under $50,000. The National Association of Remodeling (NARI) recognizes members who have demonstrated their outstanding ability to deliver exceptional renovation results through a multitude of criteria. Each project is reviewed and judged based on customer objective, the scope of the project, sustainability, unusual constraints, and creative solutions. These stringent measures ensure only high-quality projects are awarded.
This is the eighth time Kitchen Magic has been honored with the CoTY distinction. The judging panel is comprised of a committee of remodeling experts and industry professionals from within each chapter's region. The panel included New Jersey NARI President, David Caputo, CR, CKBR and Store Manager and BRANJ (Builders and remodelers Association of New Jersey), Victoria Reczkowski of Ferguson. Kitchen Magic took home the CoTY accolades for Best Kitchen Remodel Under $50,000 for the Central New Jersey region.
Commenting on the awards, Renate Sprung, Kitchen Magic Vice President stated: "This recognition from NARI continues to inspire great work by the Kitchen Magic team. Kudos to our talented designers, manufacturing professionals, and skilled craftsmen for making this kitchen dream come true."
Kitchen Magic is recognized for their contribution to the community as well as the industry. Each company must earn enough points for overcoming difficulties on the project, use of innovative construction methods or materials, and meeting the needs and/or desires of the homeowners. Judging is on an anonymous basis — and the judging is performed by remodeling contractors who understand the methods used to create the projects.
NARI is a not-for-profit trade association committed to promoting the interests of its members within the remodeling industry, and to protecting the rights of its customers, the nation's homeowners. The only national association dedicated solely to the remodeling industry, NARI acts as an industry spokes group. The NARI sponsored CoTY awards, remain a key part of the organization portfolio of services, for their members to continue to build the best for their clients. Their services maintain member standards through accreditations, education and business tools that are vital in this ever-evolving space.
According to Abbe Will, associate project director of the Remodeling Futures Program, the level of annual expenditures for home improvements and repairs is set to expand to nearly $450 billion by the first quarter of 2023 in an article on QualifiedRemodeler.com.  
About Kitchen Magic
Kitchen Magic is a kitchen remodeling company with headquarters and manufacturing facilities in Nazareth, PA. Kitchen Magic has been family-owned and operated since 1979. Kitchen Magic has transformed nearly 60,000 kitchens using an exclusive cabinet refacing process. Today, Kitchen Magic serves CT, MA, NJ, NY, PA, RI, and DE. Kitchen Magic is recognized by Qualified Remodeler as #1 in kitchen remodeling nationwide eight times, an 11-time Angie's List Super Service Award winner, a 10-time Best of Houzz winner for service & design, and an 8-time winner of The Morning Call's Top Workplace Award. 
Contact Info:
Linda Fennessy
Public Relations Manager
Phone number: 800.237.0799 x4155
Email: linda.fennessy@kitchenmagic.com