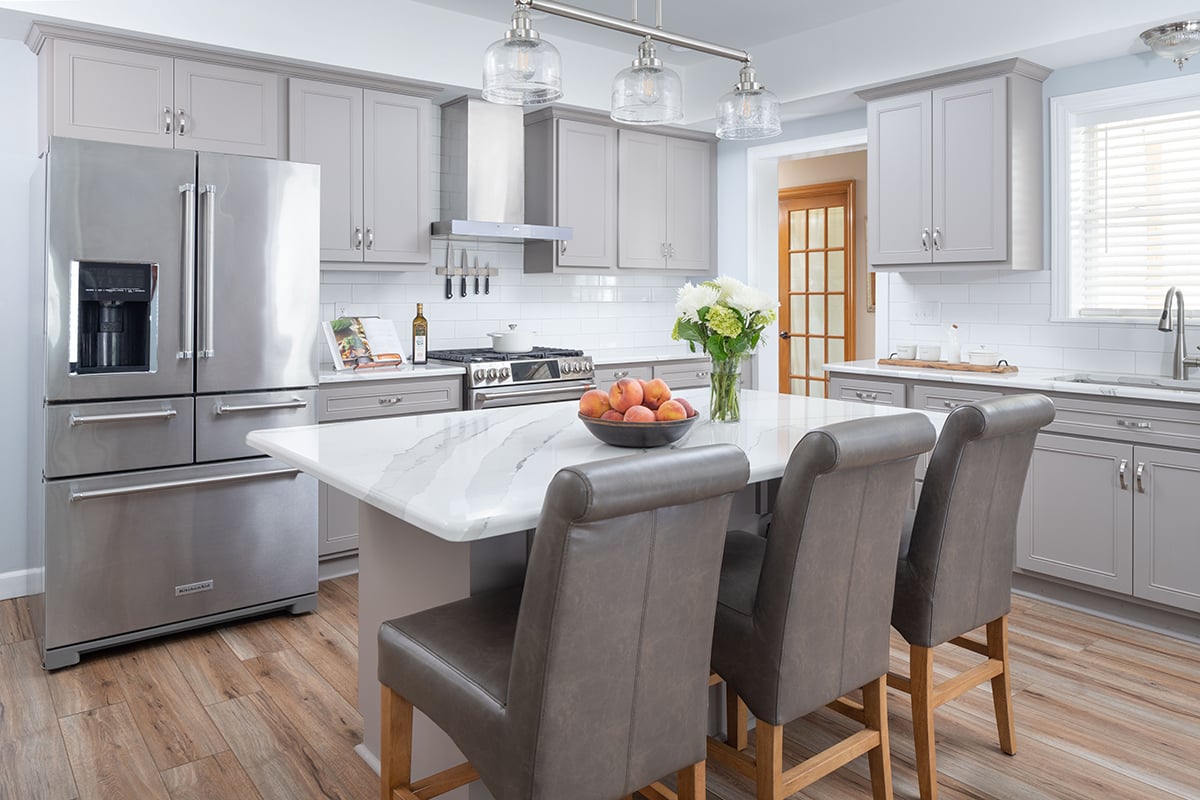 Not every homeowner is quick to take on a kitchen remodel, but when a renovation finally comes to fruition, oh, how cohesive and functional your new kitchen can be! Enter these two Northeast Pennsylvania residents. As longtime owners of a century-plus-old home, their appreciation for simply beautiful design is apparent in this newly renovated hybrid kitchen.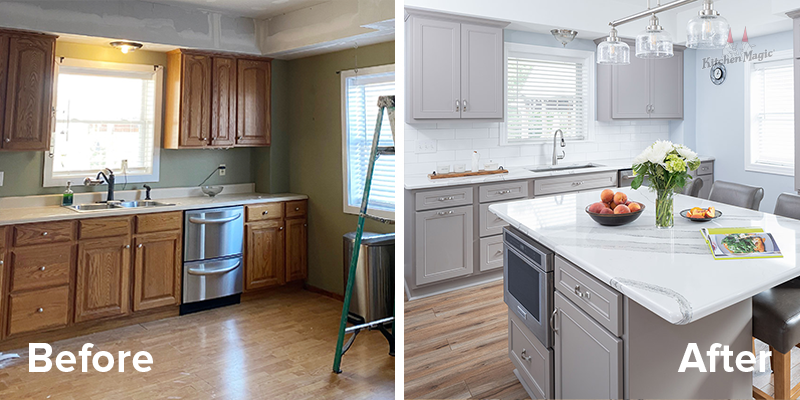 "We are so very pleased with the outcome and with every detail we chose, including the stone color cabinets," says one homeowner. She notes the warmer refaced cabinetry in Stone was a last-minute switch from white cabinets. The finished look is fresh, beautiful and inviting.
of Kitchen Cabinet Refacing
"The homeowners had a vision for their dream kitchen but needed some guidance with the design," says Kitchen Magic design consultant Caleb Cartwright. "It took some time, but we found the perfect combination of cabinet color and countertop to give the kitchen warmth with the contemporary look the homeowners always wanted," he adds.
"Caleb was just a delight, and he really did a great job. He was very patient and guided me along the way until I was sure. He is an asset to the Kitchen Magic team," recalls this happy homeowner.
Oak Goes Against the Grain
The previous kitchen yielded a yawn-worthy amount of neutral, sub-par wood grains. Now, the newly remodeled kitchen is enveloped in warm, inviting taupe hued refaced cabinets. Changing cabinets from a woodgrain finish to a flat color instantly creates a clean, fresh palette for your kitchen. And the infusion of a warmer tone can offer the same warmth of natural wood in the overall design.
Designer Details
These homeowners refaced their existing kitchen cabinets with Kitchen Magic Prestige Statesman style doors with a beaded edge and satin nickel hardware accents. Cabinet refacing was an excellent choice for these homeowners because refacing offers a quicker solution to completely transform sturdy, existing cabinet boxes.
"We knew we weren't going to change the footprint—just adding a new island and pantry cabinet. Plus, our existing cabinets were in pretty good shape. We knew it would be a waste of resources to send them to the landfill," the homeowner recalls.
Clean Quartz Countertops
As for countertops, Cambria Quartz in Brittanicca suggests the look of marble while offering significantly more durability as well as antimicrobial properties as a quartz surface. It coordinates perfectly with the new cabinet doors, adding a fresh, yet rich effect with its warm translucent grey veining and a neutral white backdrop. The round over edge on these countertops put the designer's finishing touch on this overall minimalistic look.
Putting the 'Fun' in Functionality
REMODELED KITCHEN PHOTO CREDITS: Christian Giannelli Photography, 2021
Finally, a solution for the underused space above the kitchen radiator was needed, notes Cartwright, adding that the area now serves as a highly functional pantry. The custom pantry was the "icing on the cake," particularly with glass front doors on top to create a focal point in the kitchen design that also works to expand the kitchen visually.
Eager to Transform Your Kitchen?
Are you ready to explore how Kitchen Magic can help you completely transform your kitchen? Give us a call us at 800.272.5490 to request your free design consultation with one of our design experts - we'll bring samples and ideas to help you make your kitchen dream a reality.
Looking for more inspiration? You don't want to miss this FREE download!