These homeowners in Ridgewood, New Jersey have lived in their home for decades. The beautiful ranch-style residence is located on a rural cul-de-sac, just a brief train ride away from New York City.
Inheriting a distressed beach-wash cabinet kitchen with laminate countertops, the homeowner never felt it reflected their modern taste and style.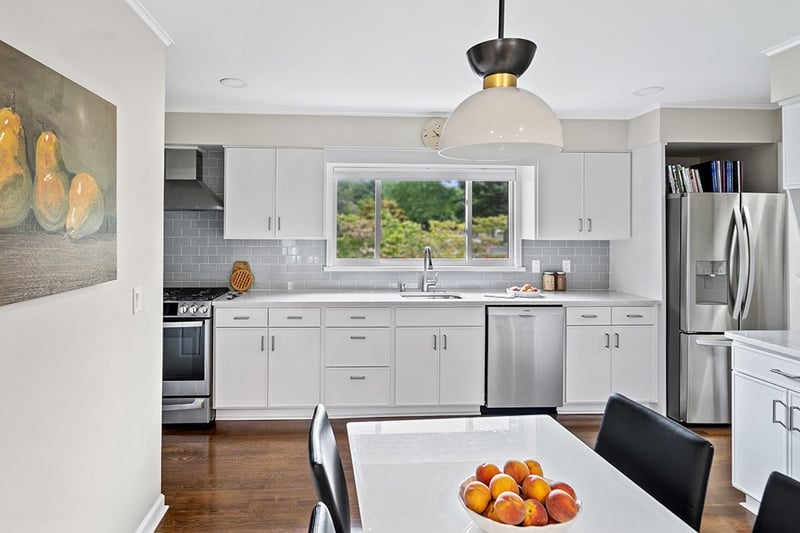 Cabinet refacing gave them the ability to transform the kitchen into a modern, integral piece of their home, with plenty of space to make a fabulous home-cooked meal.
Existing cabinet frames from this 1950s expanded ranch were structurally sound, making them perfect candidates for a cabinet reface. The refacing process was done in under a week, yet brought the kitchen into the 21st century.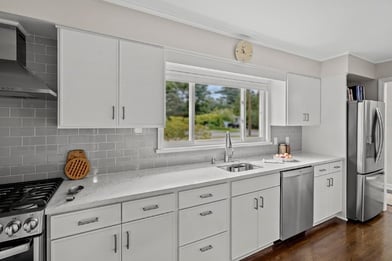 Cabinet refacing is our specialty here at Kitchen Magic, and this kitchen transformation highlights just how effective it is in altering the entire feel of the space. Refacing this couple's cabinets took only 5 days, and what's even better, is that it left less mess than a complete rip-out renovation, but what is important to know when it comes to this kind of remodel is that refacing saves up to 50% of the cost of completely replacing your cabinets.
Modernized Spaces
This beautiful single-wall kitchen was completely modernized using our Prestige Urban Shaker cabinet in the color Satin White. This design choice made the kitchen brighter and gave it a clean, timeless look.
Countertops for living


The sleek quartz countertops: Viatera® in the color, Karis, has elevated this kitchen to contemporary living. The homeowner was looking to simplify the color palette, yet still, pull the cabinet color and backsplash together. The Karis color is a subtle gray and white pattern introducing an elegant touch.
Starting fresh
One of my absolute favorite parts of this stunning remodel is the ceramic tile backsplash. Our team installed a Desert Gray semi-gloss 3" x 6" subway tile, an excellent choice to highlight and complement the Viatera countertops. These tiles pull the kitchen together by holding true to the classic feel while adding a modern flare with a popular style and versatile color.
Nickel pulls, pull the design together

These Revolve Satin Nickel Pulls give the kitchen another on-trend element. The muted tone blends perfectly with the Desert Gray subway tiles, allowing the style to flow throughout the space. Straight lines are the defining design element of a modern-styled kitchen.
Good things come in small packages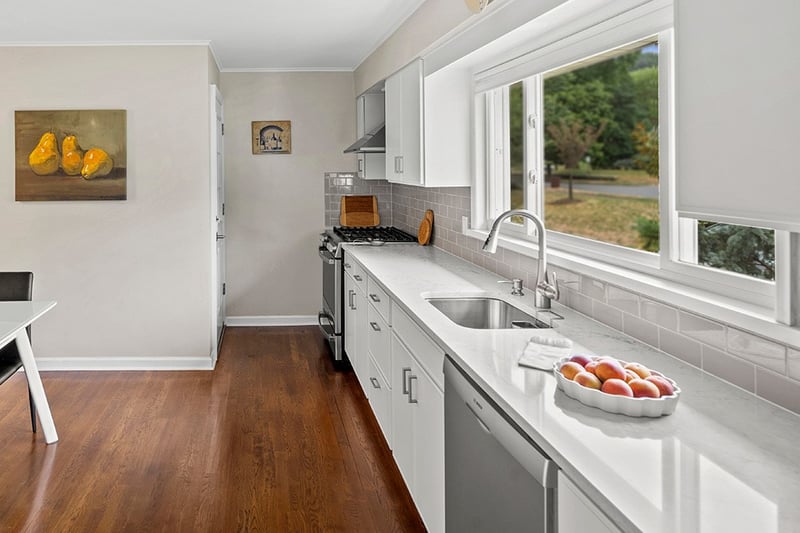 Check this out… these white satin cabinets allow any light entering the room to reflect throughout, making the kitchen feel larger, beaming with light from any angle.
Expanding storage space
The one-wall kitchen layout makes this an easy space to navigate. Adding to the wonder of this remodel, we were able to add an attractive, and functional interior storage area in addition to the pantry and coffee station. Any culinary lover dreams of having extra space in their kitchen and making meal preparation easier. All the stainless, state-of-the-art appliances provide the homeowners with a space that is simple and sensible for putting together a delicious home-cooked meal.
Starting Fresh From a Designer's eye
"This remodel is just what they needed. It's a perfect refresher, giving the space a traditional feel with a modern twist. It is timeless and classic".

- JT Norman, Designer Specialist.
Ready for your modern transformation?
This remodel perfectly illustrates how a reface and remodel can give your space a complete facelift. Kitchen Magic specializes in cabinet refacing, and as you can see, this simple, cost-effective option transforms a space (and remember, it only took 5 days)! If you're looking for a kitchen that reflects your modern style, explore our options to find out if cabinet refacing is the right step for your next remodel.
Contact us at  800.272.5490 or info@kitchenmagic.com to request your free design consultation. We cannot wait to bring some magic to your kitchen!