This Dix Hills, New York, family brought plenty of vibrant color and joy to their specially-designed accessible kitchen. Our beautiful September Remodel of the Month kitchen has the added distinction of being featured in House Beautiful.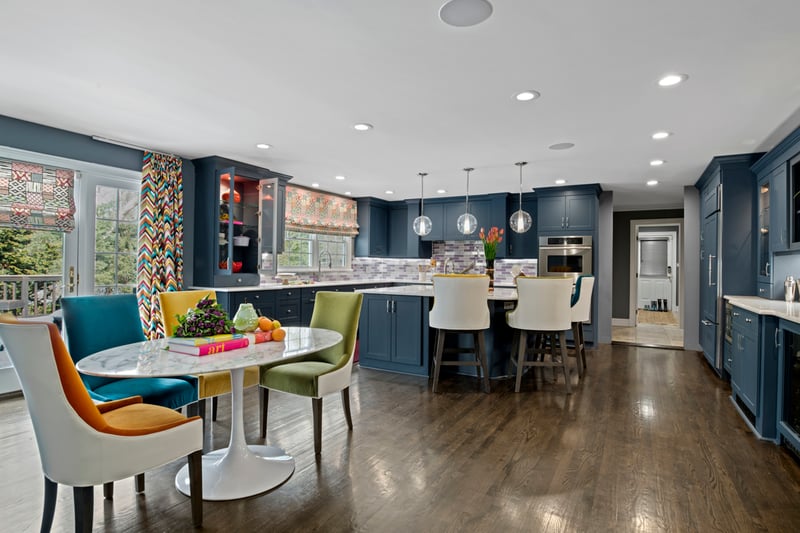 This kitchen design was completed by professional interior designer Keia McSwain of Kimberly + Cameron Interiors and was the result of a collaboration of multiple area remodelers participating in the project. McSwain, who is also president of the Black Interior Designers Network, worked with Kitchen Magic in to expertly reface the cabinetry in this dramatic colorful makeover.
Stylish and Accessible Kitchen Design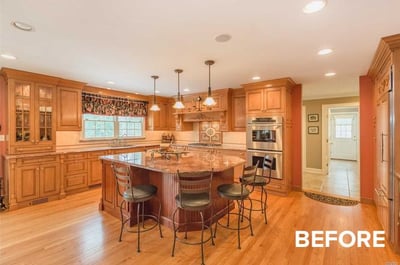 This kitchen remodel was a unique challenge because one of the family's three children has a rare form of cerebral palsy that requires her to use a wheelchair. That meant the kitchen space needed to be fully accessible for her without losing any of the warmth and functionality the family wanted for the heart of their home. This military family had to make their move to the East Coast from Montana in a short period of time, which meant they needed their remodel job completed quickly. And, as any most families with young kids will tell you, they had a budget they needed to stick to.
So, to summarize this new kitchen project had to be:
Accessible
Colorful and inviting
Completed quickly
Affordable
This was right in our wheelhouse!
Integrating accessible design tenets—such as ample space to maneuver, easy-open drawers and cabinet doors and cabinet organization that prevents the need for bending or step-ladders—is becoming more common in home renovations. It's truly a win-win for everyone, whether the plan is to be able to age in place, accommodate more multigenerational families, or simply be more inclusive to visiting family and friends.
McSwain also incorporated an oval-shaped table that makes it simple for chairs to be moved around to make room for wherever the wheelchair's occupant decides to sit. Eliminating the use of an area rug beneath the table also makes things a bit easier for wheelchair users to maneuver around it.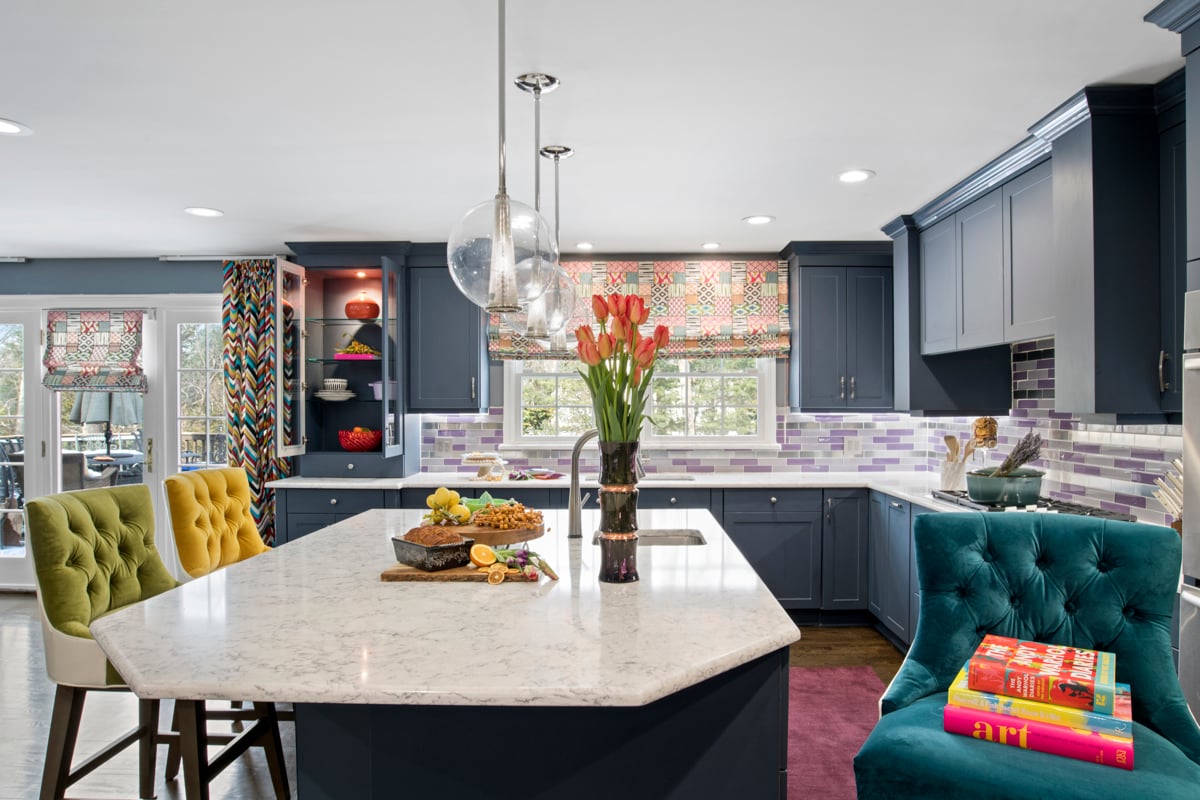 Colorful and Earthy at the Same Time
"Often, homeowners have a fear of using too many colors and patterns in a kitchen space," says JT Norman, Kitchen Magic's design specialist. "But it doesn't have to be so scary a prospect." This kitchen's color palette was inspired by the kids' love of vibrant colors, and the shades selected (including our blue cabinetry) are proof that you can have a multi-colored kitchen that remains earthy, grounded and calming.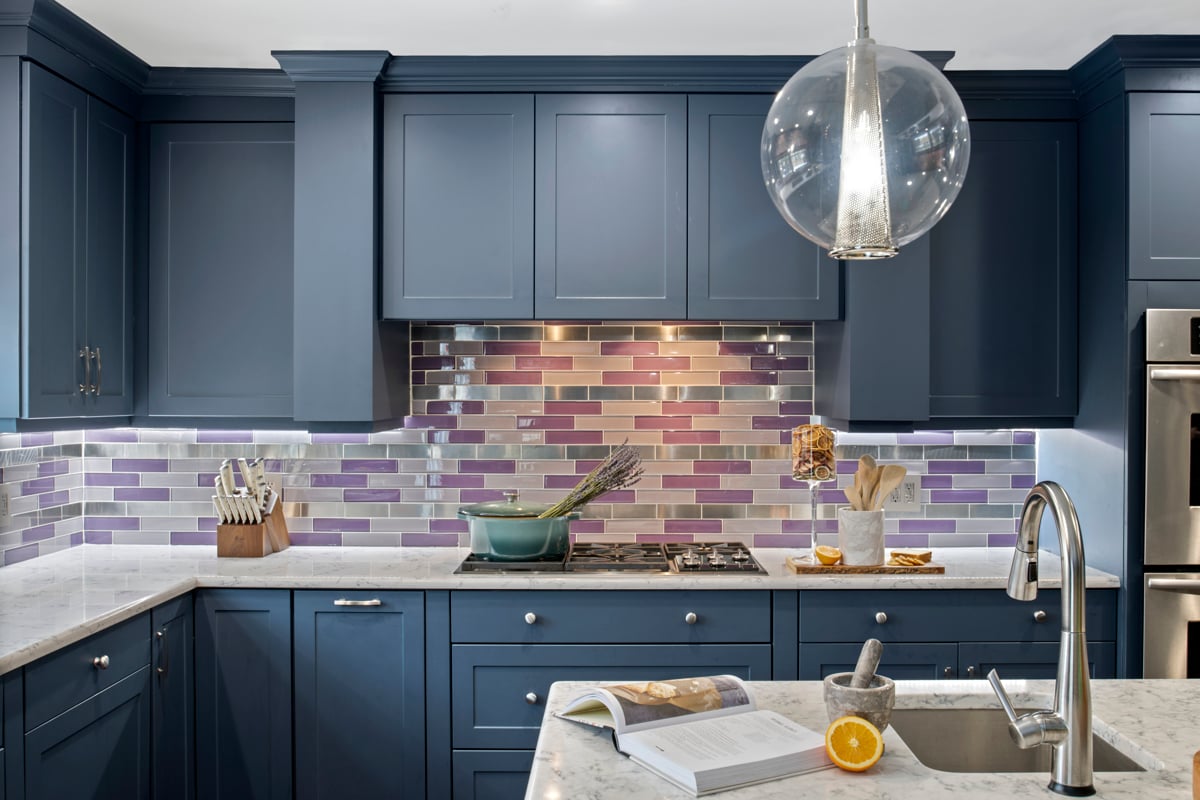 Refacing: the Next Big Kitchen Design Trend
We've created and installed all types of kitchen designs through the years, from timeless plans to rustic farmhouse styles, and we've observed that two things never go out of fashion: quality and value. This project, as unique as it was, was no exception.
The homeowners chose to reface their cabinets with our Statesman style doors in a vibrant Colonial Blue finish. According to the House Beautiful article, designer McSwain explains that when you choose to not completely tear out the existing kitchen cabinet structures but go with refacing instead, it can save you up to 30-40 percent on your overall project. That savings can be as high as 50 percent, in some cases.
While the family chose to reface cabinets as a cost-cutting measure, they happily found that it also meant they could play around with some creative customization, including: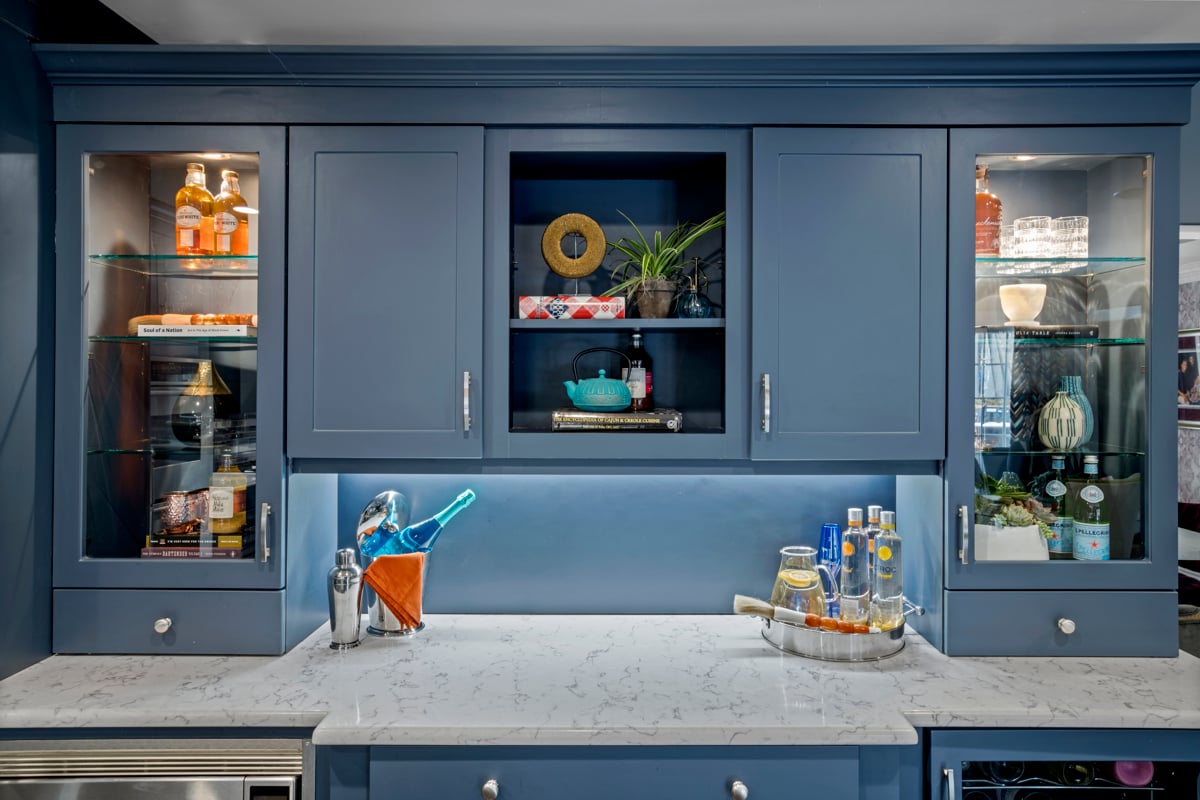 Lots of Subtle, Fun Details Tie in the Color Palette
It can take a bit of finesse to make a really bold color palette feel effortlessly cozy and warm, but the results are incredible. In this kitchen, luminescent, multi-toned glass subway tiles give the backsplash charm while they also help tie in the rest of the open living space. And velour-upholstered chairs in various bold colors bring out the kitchen's playful character. Finally, the expert way the designer used the varied color palette in the pattern-rich window coverings gives the space a lot of character. Each window treatment has a different pattern and adds just enough energetic motion, without being overly stimulating.
In the Homeowner's Own Words
"When we bought our home, we knew immediately we wanted to update our kitchen. It had great "bones" — lots of storage and the openness we needed to accommodate the needs of our family. But it was outdated and didn't feel like "us". We are a family with some very specific needs. We wanted to brighten up the space, update the cabinets, and change the backsplash and countertops.
We found Kitchen Magic at a home show and really liked the options they had to offer. When we met with the sales person, we made them aware that we needed something aesthetically pleasing, while being durable enough to withstand a four year old beating them up a bit with her wheelchair. We wanted something we hadn't seen before, and were beyond pleased to find the beautiful grey/blue hued cabinets. The change, once complete, was A.M.A.Z.I.N.G! Our newly refaced cabinets helped modernize our kitchen, and have taken quite a beating (and cleaning) by our family. We are so pleased with Kitchen Magic and the work they did in our kitchen!"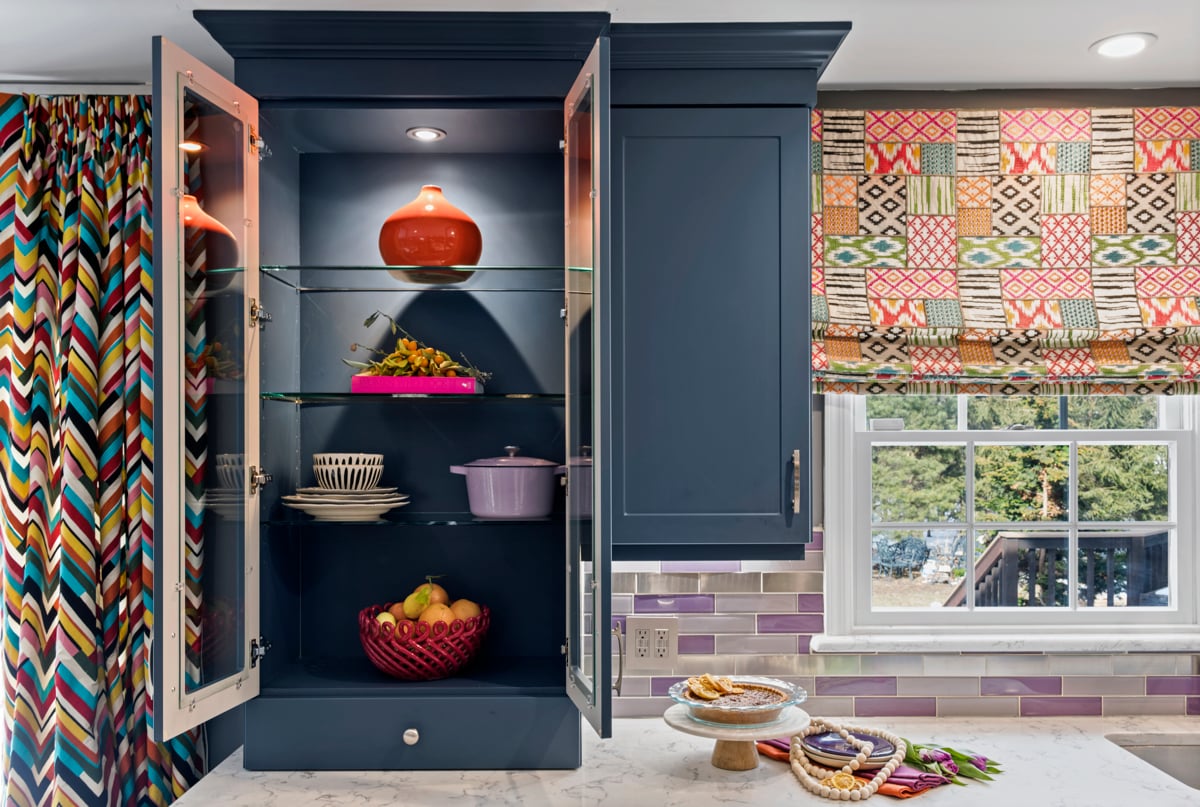 When looking for ideas and ways to inject color and style into your new kitchen design, feel free to flex your creative muscle. Are you ready to explore the design possibilities that await your kitchen? Contact Kitchen Magic today. Our expert design consultants can help you make your kitchen dreams come true.
---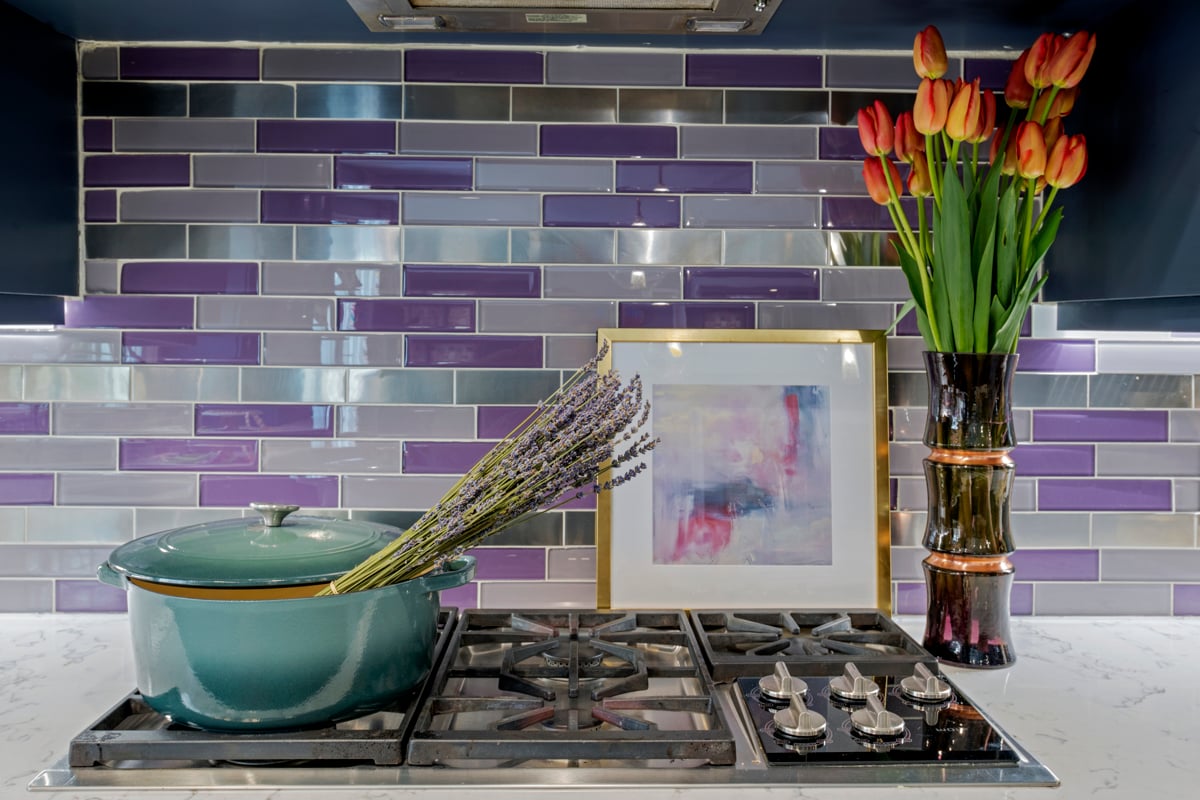 To view more stunning transformations check out these remodels: