When these central New Jersey homeowners came to us, they were torn; while their kitchen boasted high-quality finishes and the perfect layout for entertaining (something they love to do regularly), the look was way too traditional for their taste. They wanted something a little more lavish - not to mention transitional - a design more exemplary of their personal preferences. Plus, they were ready to host friends, families and parties in a kitchen that inspired them.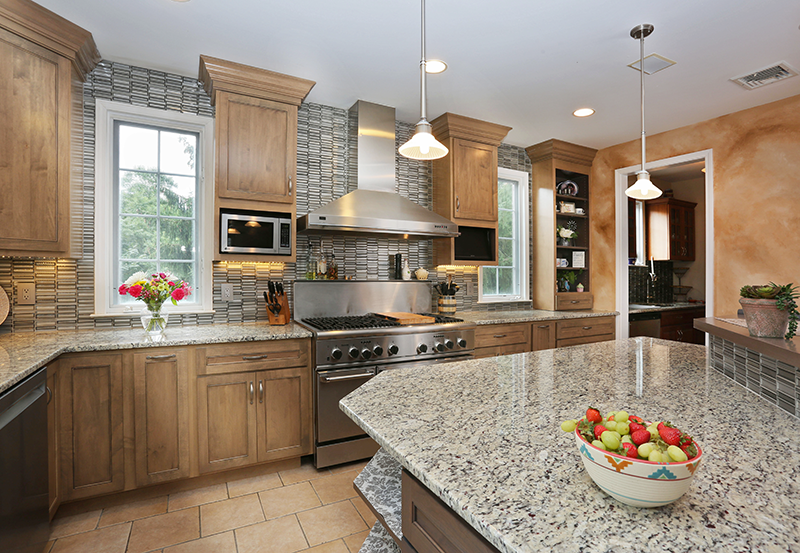 Kitchen Remodel at a Glance: Cabinet refacing, Granite countertops, backsplash & under cabinet lighting
Homeowner: New Jersey couple
Location: Middletown, New Jersey
Size: 168 square feet (12 by 14 feet)
Designer: Jill Moskowitz
Who says neutrals have to be boring?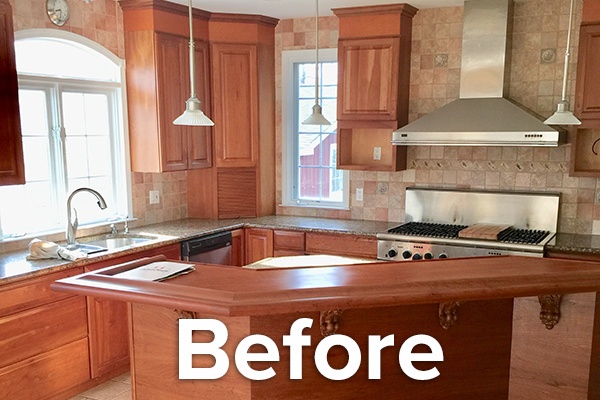 Problem: Homeowner's tastes sometimes change
Keep: Layout the same
Replace: Reface cabinets, add shelving, replace countertops, backsplash & add under cabinet lighting
Decorating is a part of the fun, so the homeowners were committed to a neutral and timeless design palette - one that they could dress up, dress down or color-up to accommodate seasonal expressions and evolving design styles. Often, our clients worry that neutral will be boring - but this September Remodel of the Month is proof to the contrary.
We refaced their cabinets with Portobello stain on Maple, with a Madison style door. Then, they chose a few accents to paint with a driftwood stain, which creates an interesting contrast, while remaining within an earthy, neutral category.
Brown meets gray for stately appeal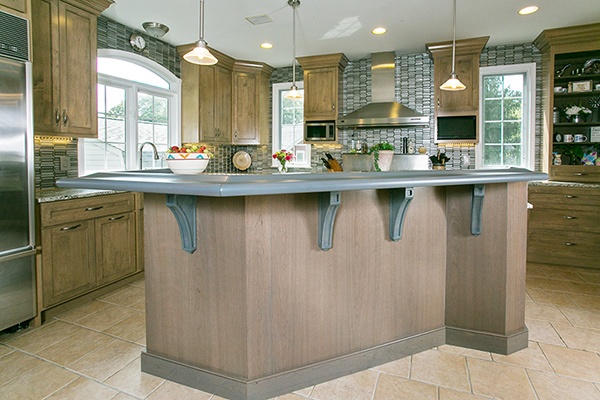 Yes, there is a bit of glamour in this kitchen (more on that later) but there is also a very stately and regal affect, created by the aforementioned combination of browns and grays. Those two stain colors were intentionally chosen to highlight the same mineral flecks inherent in their gorgeous Blanco Tulum granite slabs, set against a lighter, cream background that lightens things up.
Focus on a focal point of stacked glass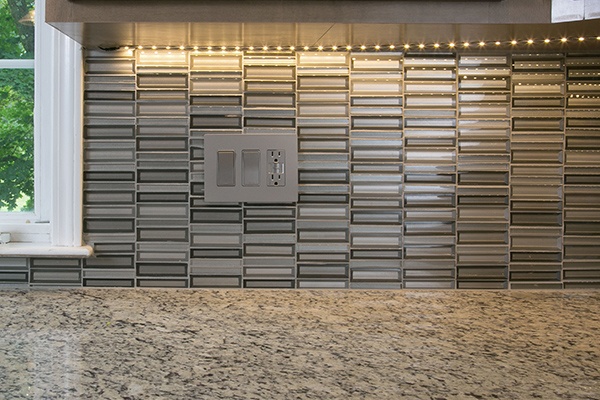 Creating a focal point is an important tenet of kitchen design. Here, our designers did just that by installing a stacked glass tile backsplash (a hot trend right now) using the cascading waters collection. All those shimmery grays play right into the neutral, gray-toned color palette and lend additional luminescence and allure.
Don't shelve the idea of eliminating cabinets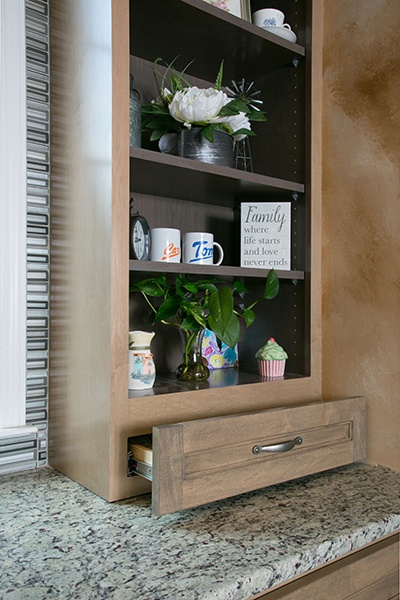 The current layout, which offered plenty of lower cabinets and a generous kitchen island, meant homeowners could eliminate some of the unnecessary upper-cabinetry. The result is a backsplash focal point becoming a major feature, and they also had room to install custom shelving.
The latter has become one of the homeowner's favorite features because she can display cherished collectibles and change-able seasonal accents that add color as desired. "A little can go a long way when it comes to color. Adding colorful accessories against a neutral background is a technique we often use with our design clients as well." suggests Amy Cuker, owner & lead designer at www.down2earthinteriordesign.com. Plus, the things you display can take your kitchen from transitional to traditional, to modern, without a single renovation or architectural change.
What the Homeowner Had to Say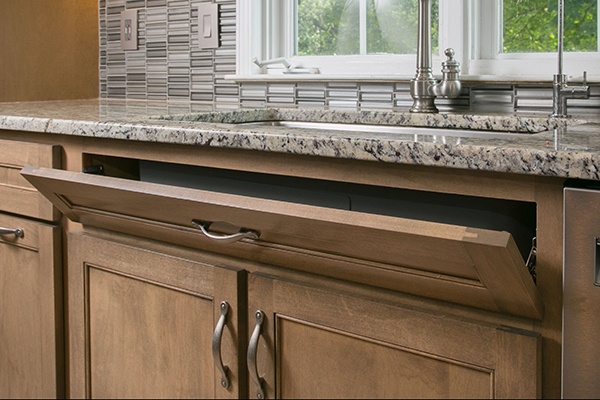 "After meeting with several different kitchen remodelers, we made the decision to contract with Kitchen Magic. We loved our cherry cabinets, but it was time for a change. The lighter colored cabinets really brightens up the room. While we kept our basic design intact, the removal of the appliance garage and reconfiguration of base cabinets really gave our kitchen a fresh, new look and functionality! While our renovation took several weeks, we appreciated the fact that Kitchen Magic took care of all the details. They organized all the deliveries and installation of the cabinets, counter, sink, faucet and backsplash, which relieved us of responsibility of coordinating individual subcontractors.
We are very pleased that we chose Kitchen Magic for our cabinet refacing and are thrilled with our kitchen's updated look! From start to finish, the service provided by everyone at Kitchen Magic was truly top notch!"
Don't ammend the ammenities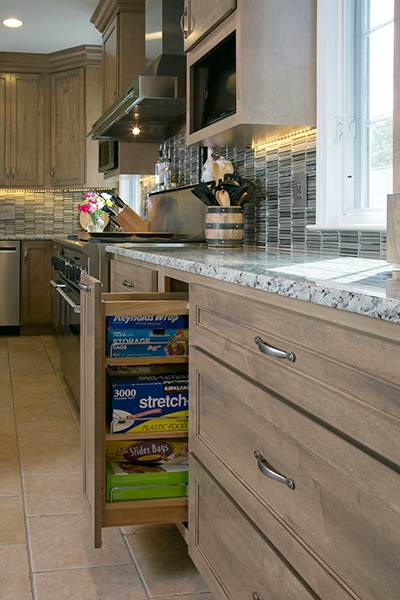 Small features add huge impact. When you choose to reface your cabinets, you'll be inclined to spend the savings throughout the remodel. Upgrades like choosing wood over maintenance-free laminate or upgrading to stone countertops may now be a possibility. Being able to splurge on these little luxuries will make your once-in-a-lifetime kitchen unique.
Walking the line between modern & traditional
The Results: A Transitional beauty with eclectic style
Kept: Footprint the same
Replaced: Cabinet style & color, countertops, backsplash & lighting
Are you ready to take your kitchen to the next level? Schedule a free, in-home design consultation with the design professionals at Kitchen Magic. The experts here at Kitchen Magic will design a custom solution just for you. Simply click or call (800) 272-5490.