We love sharing all the ways homeowners can remodel kitchens on a budget. This Satin White kitchen with touches of turquoise is a prime example of how design savvy can take your kitchen remodeling budget beyond your wildest dreams.
Look what this sweet, Seekonk MA family was able to create on a very realistic remodeling budget, common for families with two young children.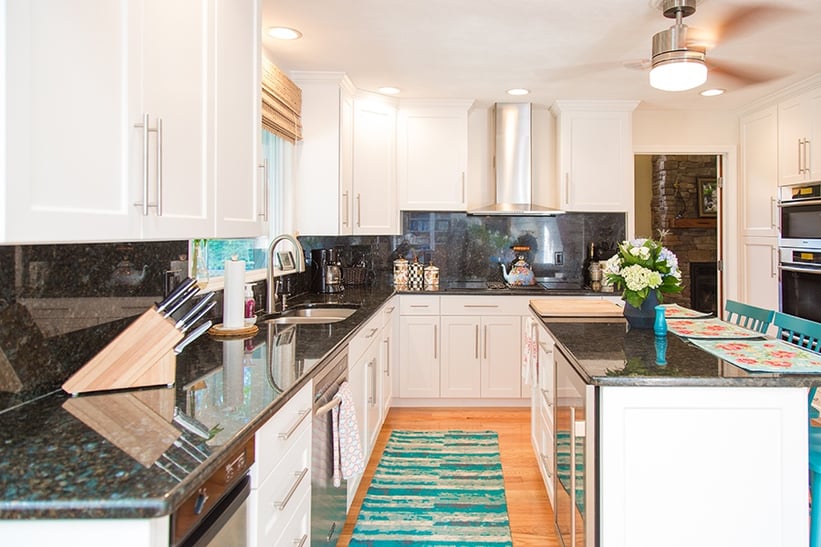 First Stop: Refacing Cabinets Saves Thousands of Dollars
Wish you could afford custom cabinets? You can—with custom refaced cabinets, that is. These Kershaw Style doors in Satin White are absolutely gorgeous. Nobody would ever guess they're the existing cabinets with refaced with all new doors and drawers. That one decision allowed the rest of these gorgeous kitchen updates to move forward, and the cabinets brought the kitchen into a contemporary, New England style.
Second Stop: Black Granite Countertops for Contrast
Next, our clients did what any clients who just saved thousands would do, they chose a stunning granite slab. In their case, to add contrast and to continue the timeless design features they were going for, the homeowners selected gorgeous, black pearl granite countertops. The slab's embedded, jewel-like blue flecks create a luminescent effect that captures the eye and reflects the available light.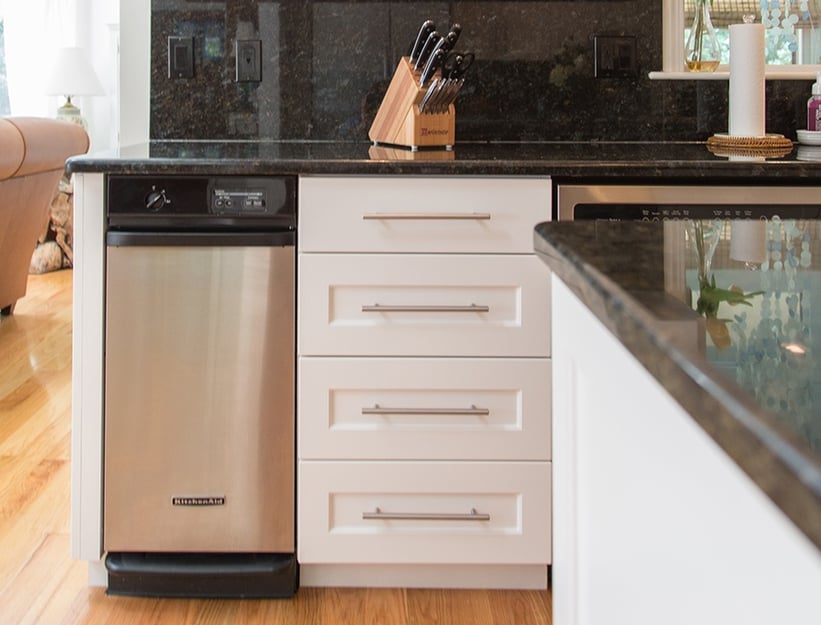 Third Stop: Revamp the Island
If the kitchen is the heart of the home, the island is the "heart of the heart" of the home. This is where families hang out, talk, dine, color, do homework and entertain. These homeowners revamped their existing island, most notably with the addition of a beverage fridge, allowing little ones independent access to favorite snacks and drinks.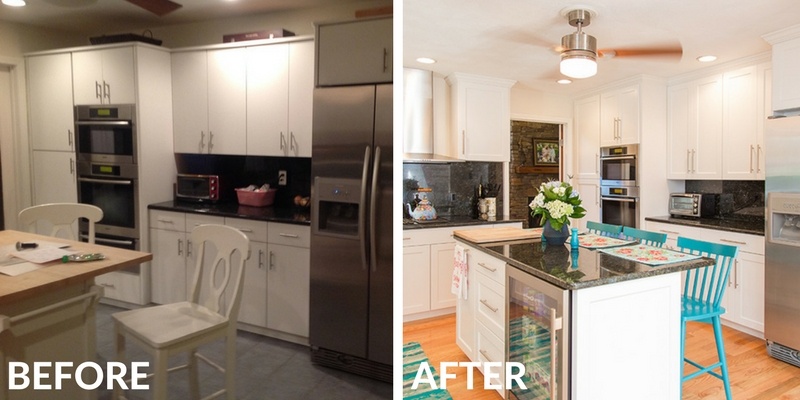 Fourth Stop: Put the Finishing Touches on the Palette Poppers
Finally, it was time to choose the signature color for the palette poppers—the little extras that pulls a fun color from the existing finishes, but can be changed out when trends or tastes require an update. In this case, our family chose a fun and energizing turquoise to lead the color accents—easy to do when all those blues are peeking out from your new granite slabs.
Notice every single turquoise accent can be easily changed down the road? Refreshing your kitchen's design requires only a visit or two to your local home furnishings store, where the purchase of an area rug, bar chairs and a vase or tea kettle are all it takes.
Fifth Stop: Spend a Moment of Gratitude For All Your Budget Accomplished
Yes, we love remodeling kitchens—but that's second to the absolute satisfaction we feel when satisfied customers step back and let the reality of their new kitchen sink in. Here is what this Seekonk mother had to say about the experience:
"I can't tell you enough how happy we were…It was truly the best renovation experience we've ever had. I'm home with a 2- and 3-year old and the new island is the center of our days. Me and the girls station ourselves at the island, happily eating eat our breakfast and lunch together while planning our day. And I'm so much happier cooking and cleaning in what feels like a million-dollar kitchen."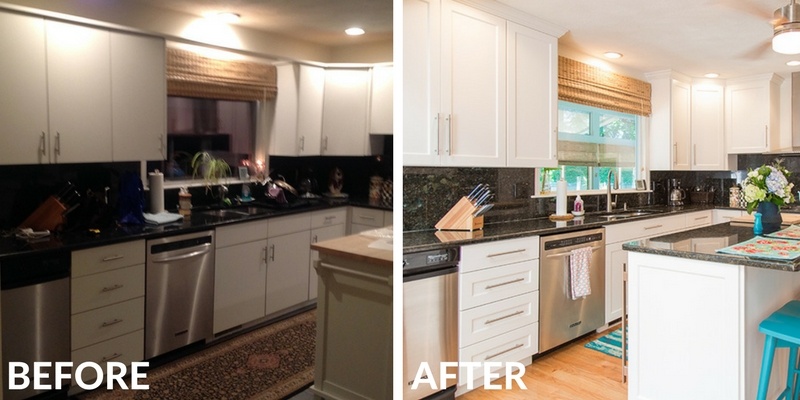 Are you ready to experience your own million dollar kitchen for only a very small fraction of that price? Schedule a consultation with Kitchen Magic. After more than 30-years helping "real life" homeowners enjoy their stunning kitchen remodels, we know all the high-quality tricks in the book to give your kitchen a complete overhaul at a price you can afford. We look forward to working with you.