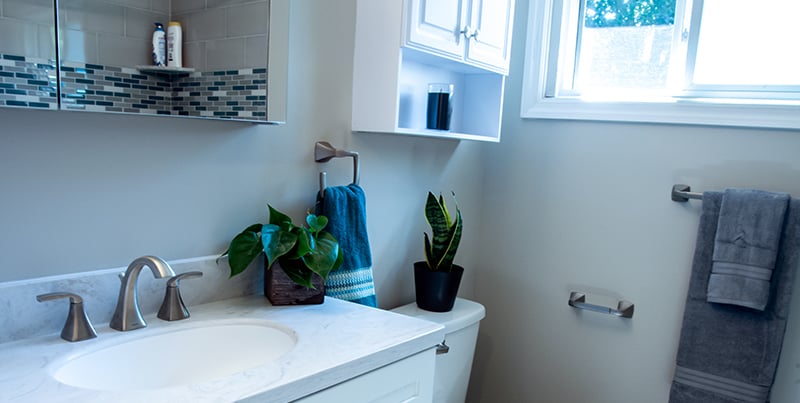 An escape to the sea is now just a short trek down the hallway for these Allentown, PA homeowners. Their newly renovated bathroom, completed by Elements, Bathrooms by Kitchen Magic, conjures a coastal visit. Accented with seaworthy textures and colors reminiscent of the beach, this remodel also boasts additional usable space, a stylish new vanity, tile, flooring, accessories and more. With a soothing palette of soft greys, blues, and lulling whites, this remodeled bathroom is 'shore' to be aesthetically pleasing and functional for years to come.
Coastal Inspired Elements Refreshes A Weary, Time Worn Bathroom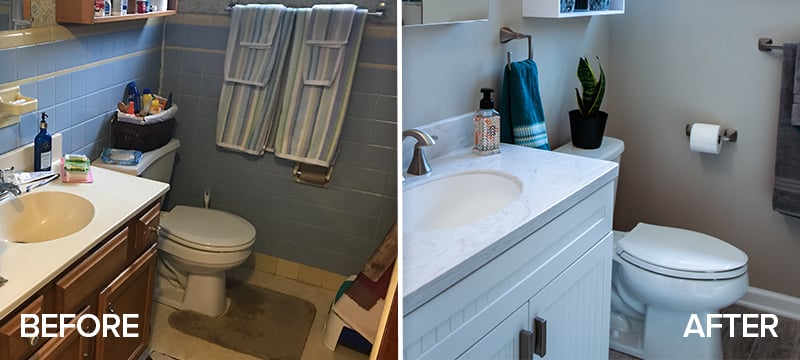 After 35 years of residing in the same home, this couple remember how eager they were to update their worn, decades-old bathroom. "We had been talking about remodeling the bathroom for years," the wife recalls. At about the same time, Kitchen Magic reached out to inform prior customers about its new bathroom program. "Our confidence was already gained after our former experience with regard to the design and construction team. We knew it would be a positive experience again," the husband remarks.
J.T. Norman, Director of Design and Product Innovation at Kitchen Magic explains, "the Elements design collection satisfies a wide range of tastes and design sensibilities by providing three unique bathroom concepts — Earth, Coastal, and Metropolitan." He also notes, "we simplified a once complex process, making it an enjoyable and exciting way to renovate your bathroom." Each Elements collection is uniquely and professionally curated by the company's creative team to incorporate bath fixtures, surface products, and shower systems. He adds that these homeowners chose a coastal collection — with a relaxing color scheme. The light greys and blues are very calming, and also help create the illusion of a larger space.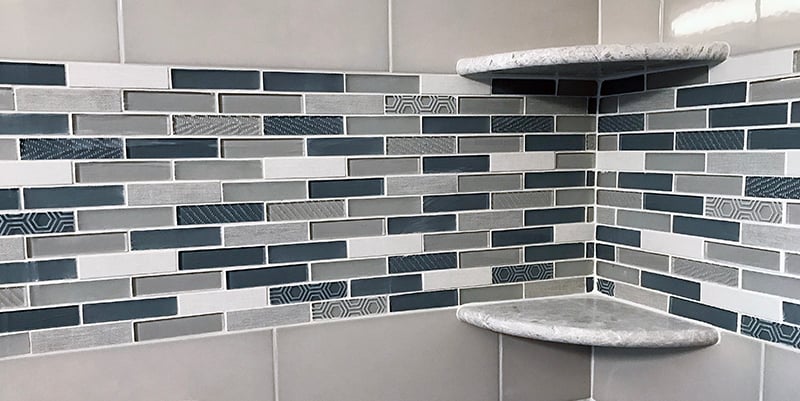 For the finished project, just a few details include: a Moen® tub and shower, Ombre™ Taupe glazed ceramic wall tile and decorative glass and porcelain mosaic accent tile Volare™ Nuvole. The cermamic plank floor tile, in Attic™ White, coupled with a smokey gray grout, further complements the calming coastal element. Additionally, brushed nickel towel and grab bars from the Moen® Voss Collection complete this look. A Prestige Statesman vanity in Frosty White is topped off with a Corian® Rain Cloud counter. For the hardware, matching brushed nickel offers a finished look paired with Sherwin Williams® paint in Taupe Tonic. The homeowner's further note that the Coastal Collection subconsciously spoke to them as a reminder of their beach vacations with family and grandchildren.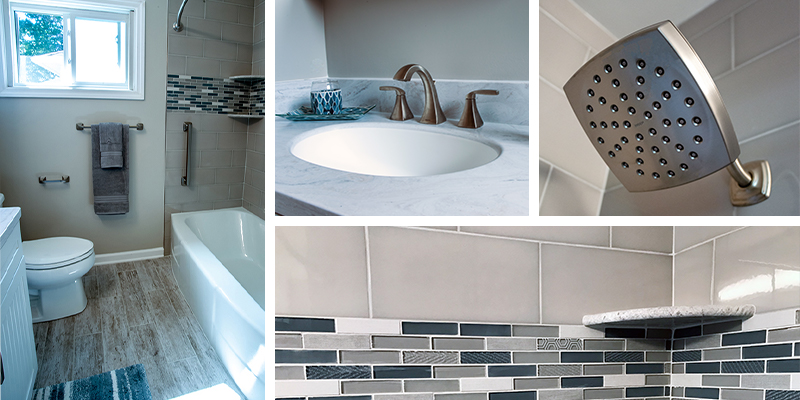 In the Homeowner's Own Words:
"We have many enjoyable memories associated with the beach." She recalls just how tickled they were with the new bathroom design. "The first week after the remodel, it was fun just to walk by and turn the light on and admire the new space," she says. The couple also notes that their children are equally impressed with the makeover.
How to Get the Look in This Featured Remodel
Like what you see in this Featured Remodel? Here's how to create this look in your bathroom: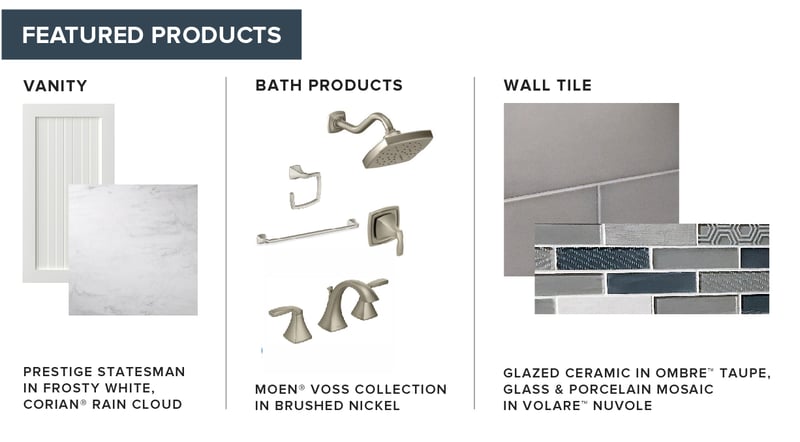 Bathroom Vanity:

Prestige Statesman

Doors

in Frosty White with a Corian® Rain Cloud countertop
Bath Products:

Moen® Voss Collection

in Brushed Nickel
Tile: Glazed ceramic wall tile in Ombre™ Taupe, Glass and porcelain mosaic accent tile in Volare™ Nuvole
Flooring:

Ceramic plank floor tile in Attic™ White
There's nothing more magical and rewarding than to see a customer enjoy and be in their element," sums Norman. Isn't it time to stop dreaming about a bathroom that you love and finally make it happen? You could be enjoying living in your element today! Elements, Bathrooms by Kitchen Magic will expertly update your bathroom using only the highest quality materials you choose from our professionally designed collections. Schedule your free design consultation today!
Currently offering bathroom remodeling services to NJ and PA residents.