For these homeowners in North Kingstown, Rhode Island, low-maintenance, affordable cabinet refacing and clean, contemporary design elements meant they could finally stop putting off their project, create their dream kitchen and start enjoying their new inviting and wonderful space.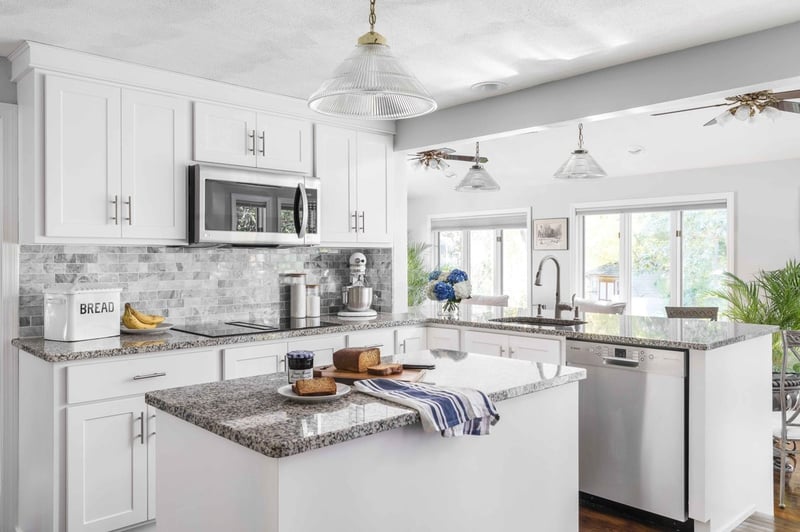 "The homeowners were truly the driving force in this project," says Kitchen Magic consultant Rich Mooradian. "They had a great sense of the type of cabinetry, countertops and color their kitchen needed to really reflect their personal style. We took their fresh ideas and paired them with our Kitchen Magic products, and the results were amazing."
When the project first started, the family was at a crossroad in their kitchen renovation process. They were considering the amount of investment that would be necessary to create a new kitchen, both in time and money. What had originally been conceived as a completely gutted and remodeled kitchen to be done several years down the road suddenly became a manageable, affordable process thanks to cabinet refacing.
In addition to being able to save as much as half the cost of traditional kitchen cabinet replacement, the fact that, in most cases, refacing can be completed in a matter of days and not weeks meant that the homeowners could actually set their dream kitchen plans in motion right away. "The spark was there, and by the end of the in-home consultation, we had a kitchen project plan ready to go," says Mooradian.
Opening Up the Space Without Knocking Down Walls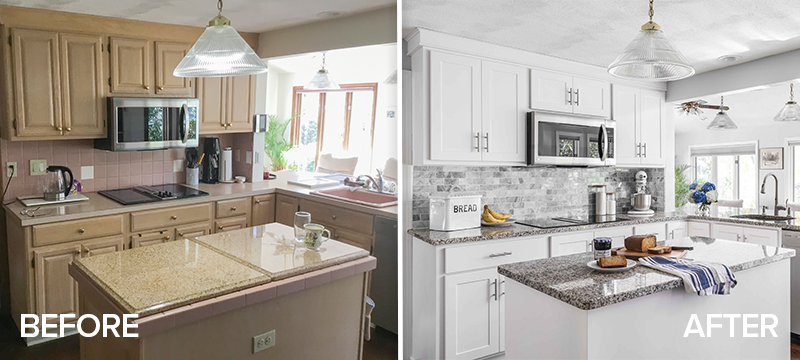 It is amazing what a fresh design can do to a kitchen, without building out the room in square feet. By simply lightening up the colors and features, the homeowners were able to create a sense of integrated openness and light within the same kitchen footprint. The before and after photos show that even without changing the chandeliers, the kitchen is brighter by virtue of the new color scheme and design.
Slimming lines and rich textures add to the open feel of this kitchen. The dated blush backsplash, nondescript countertops and clunky pink porcelain sink all have been replaced with subtle gray hues. The homeowners cleverly swapped out old tiny brass knobs with more stylish stainless-steel bar pulls that blend perfectly into this fresh design.
An Integrated Kitchen Means More Ways to Enjoy Your Home's Communal Space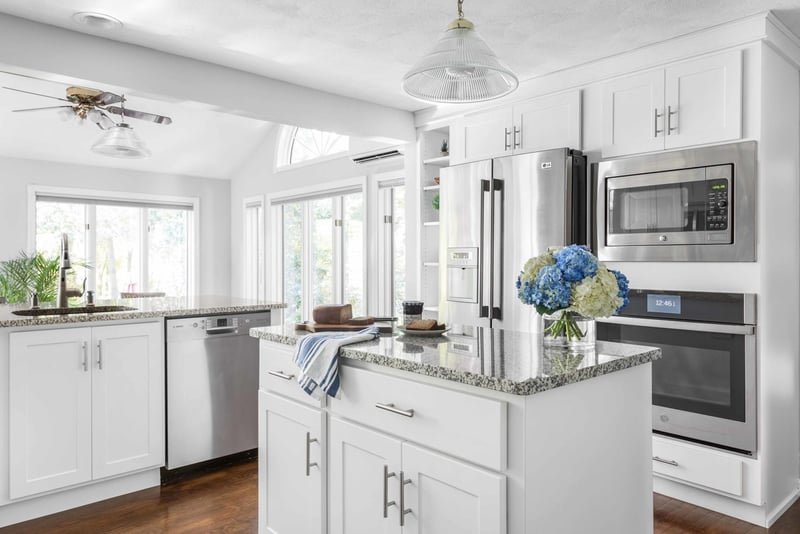 Blending the family room and the kitchen with a seamless transition is one of the best ways to create bigger communal space. It gives everyone a chance to be together during everyday activities, while at the same time offering homeowners a chance to really run with a design idea beyond the walls of a traditional kitchen space. The heart of the home seems to just get bigger when it is integrated with the family room.
A Modern Twist on the Bulter's Pantry Creates a Personalized, Useable Focal Point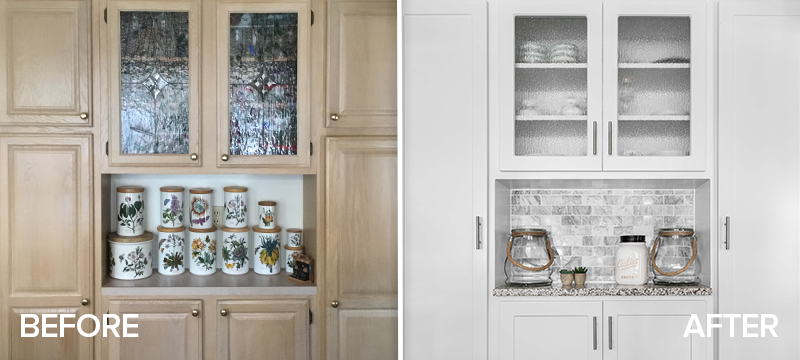 By swapping out the dated faux stained glass in the centerpiece doors with our rich, texturalized Tree Bark glass style, the homeowners recreated a utilitarian nook with a modern twist on a butler's pantry. To complete the look of this focal point, our Luna Pearl granite countertops and a variated gray marble subway tile backsplash complete the clean, contemporary look.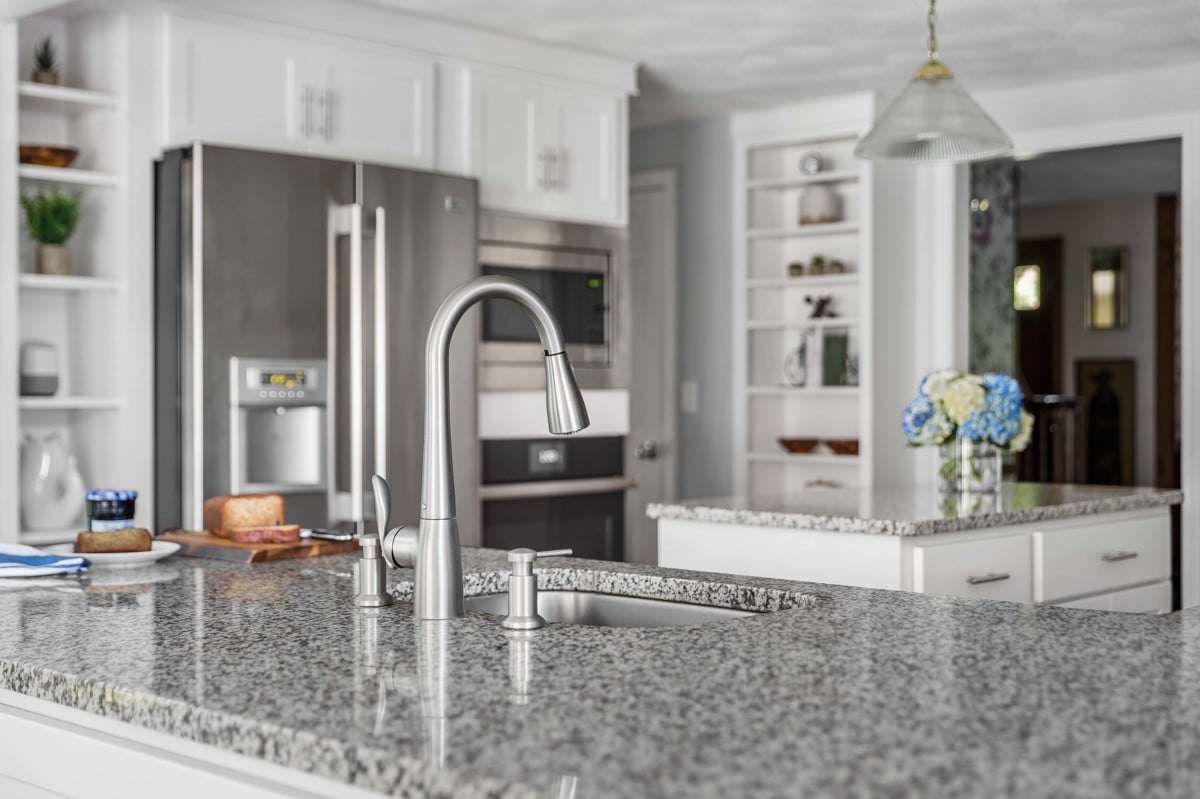 Updated with contemporary lines and lightened up with white and gray tones, the existing kitchen cabinets and shelving now offer both functionality and a creative, unique display space. The Prestige Statesman cabinetry in Satin White is a timeless and stylish maintenance-free choice that adds understated charm. This helped transform the kitchen overall, including the once not-so-special nook.
The end result? To quote consultant Mooradian: "They love it!"
Items in This Remodel of the Month

Like what you see in this Remodel of the Month? Here's where you can find out more:
These homeowners got a beautiful new kitchen, expertly installed and with quality materials. What's more, it fit their budget and exceeded their style expectations. Why not see what Kitchen Magic can do for you? Schedule your free in-home consultation today!
To view more stunning transformations check out these remodels: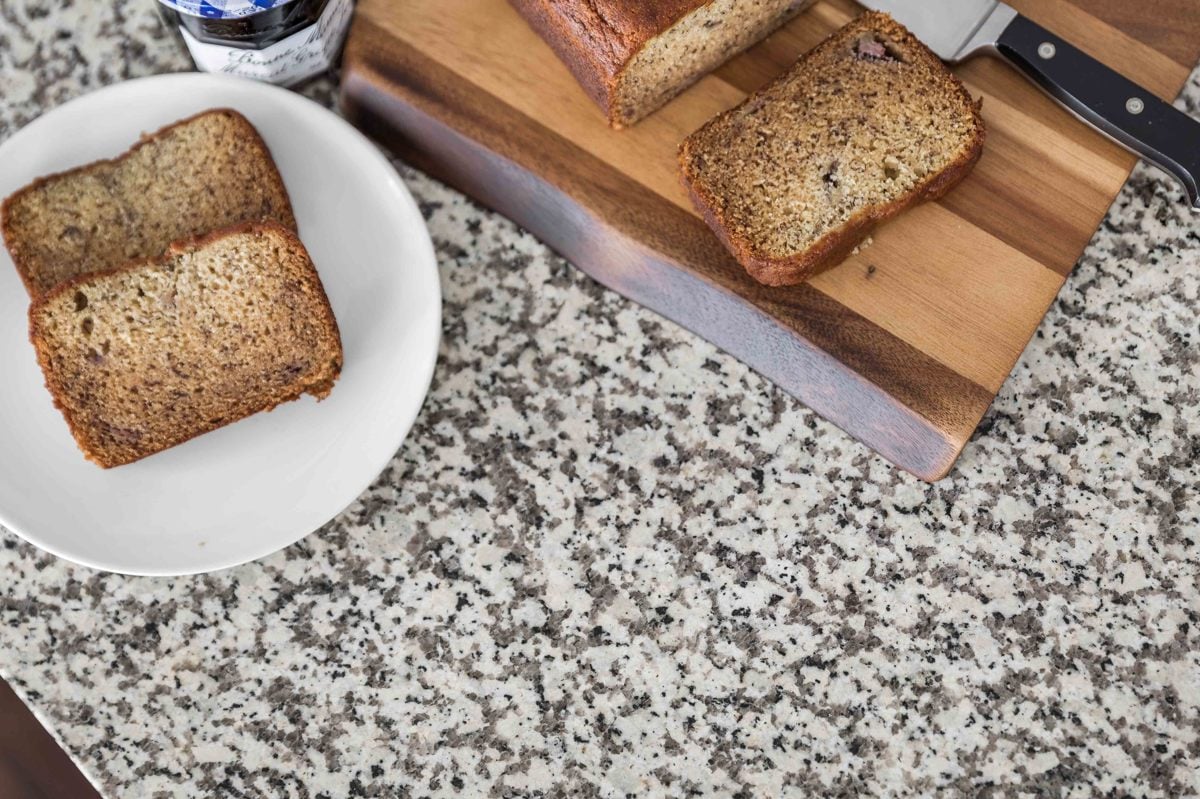 KITCHEN PHOTO CREDIT: Andy Ryan Photographer, 2019