You absolutely love the look of rustic and eclectic kitchen designs, yet you also hanker for something more along the contemporary lines. As a result, your remodeling dreams are resting in a temporary holding pattern. Sound familiar?
Look What Happens When Rustic Meets the Contemporary Kitchen Design World
Lucky for you, a pair of Hatfield, Pennsylvania homeowners contacted Kitchen Magic and together, we designed a stunning kitchen remodel. It's one that captures the best of the rustic and contemporary remodeling worlds, so we're calling it a Rustic Revival!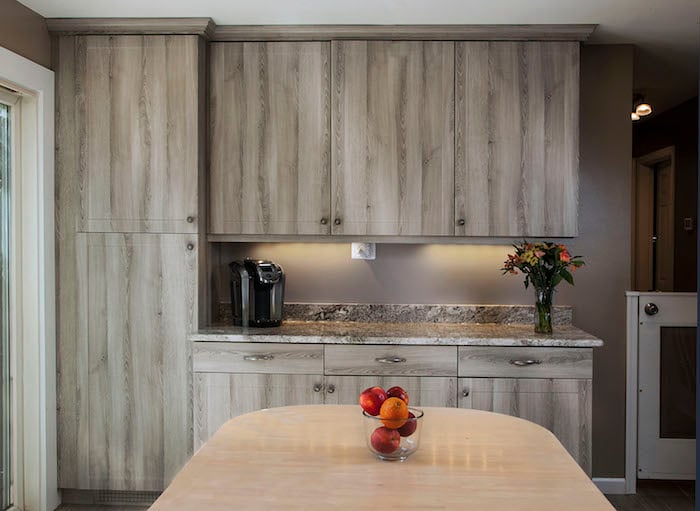 This Rustic Revival Remodel for the Month of October exemplifies how different design interests and looks can merge together beautifully - as a thematic undercurrent demonstrates the power of innovative aesthetics and internal storage concepts to minimize kitchen clutter.
The right touches add sophistication to rustic, barnwood cabinetry
Perhaps the main hesitation regarding "rustic" elements is the fear they won't be sophisticated enough. That's where the magic of kitchen designers makes an impact; we take distressed barnwood finishes and add them to stately, Statesman-style doors from the popular Prestige collection, which immediately elevates the look.
Then, when we add additional elegant details, like glass front display cabinets, granite countertops and a custom coffee and tea station - the results are enviable.
Gray, white & black create a timeless color palette
Another reason for pairing rustic and contemporary design elements is they work together for timeless appeal. This is especially true when they scaffold on a gray, black and white color scheme. It creates a neutral background from which any color accent can shine - and yields a distinctive design motif that stands the test of time.
These homeowners took apart their 30-year old kitchen and remodeled it using smart design tenets that will see it through another 30-years - without ever feeling outdated.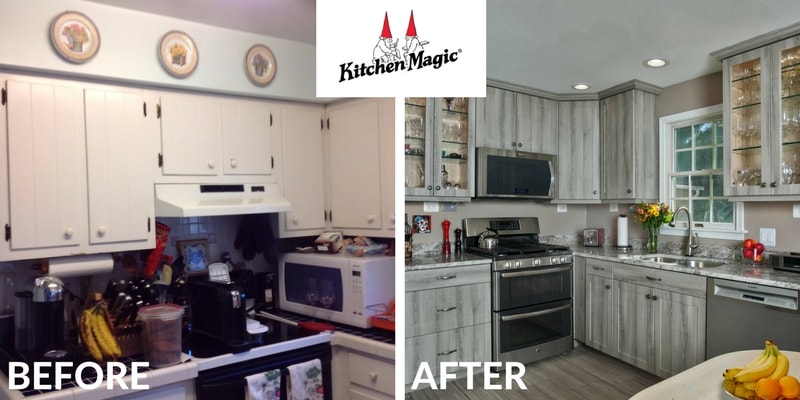 Say a permanent good-bye to countertop clutter
If you love to cook, you love to collect cookware - and that means you need a place to put it all. Unfortunately, outdated and conventional kitchen cabinets won't do the trick.
Our design team took the time to evaluate what these homeowners had, and how they used it. Then we created innovative cabinet storage solutionsto tuck it away in accessible, out-of-site locations. Aaaaah...what a difference that makes in the way a kitchen looks and feels.
Maintenance-free kitchens are ideal for households that love to cook...and eat
The household that cooks and eats together, stays together - but they also make big messes. If your kitchen experiences rigorous, daily wear-and-tear, as this one does, it's essential to design a maintenance-free kitchen. We've done that here by installing laminate cabinet materials that look just like wood along with a beautiful, natural stone countertop for extra sustainability.
Take these textural clues and run with them
Every home design benefits from textural additions, and this Pennsylvania kitchen is no different. The grains in the barnwood add eye-catching texture that compliments stone countertops, stainless steel appliances and glass paneled cabinet doors.
Another benefit of textured cabinet doorsis they do more for hiding the splash, splatter and smudges that are bound to happen in a busy kitchen, regardless of how diligent you are about cleaning up.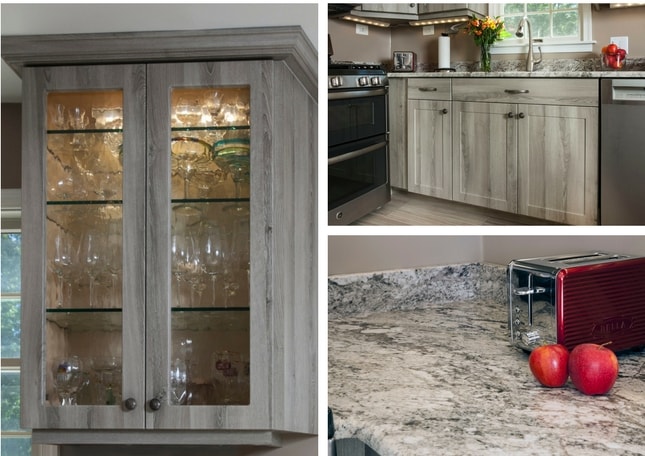 Get Your Remodeling Dream Out of a Holding Pattern and into Real Life
Are you ready to design a kitchen that pairs two seemingly-at-odds design styles? There's always a way to do it, and the pros here at Kitchen Magic are the ones to make that magic happen.
Contact us to schedule your free, in-home consultation. You're never obligated to use us and we're always happy to provide references from real-world, real-people who've designed real kitchens. Give us a call at (800) 272-5490.