For this Toms River, New Jersey, couple, family is everything. That's why when they moved into their active adult community, they needed to remodel the dated kitchen into a new gathering place for family and friends.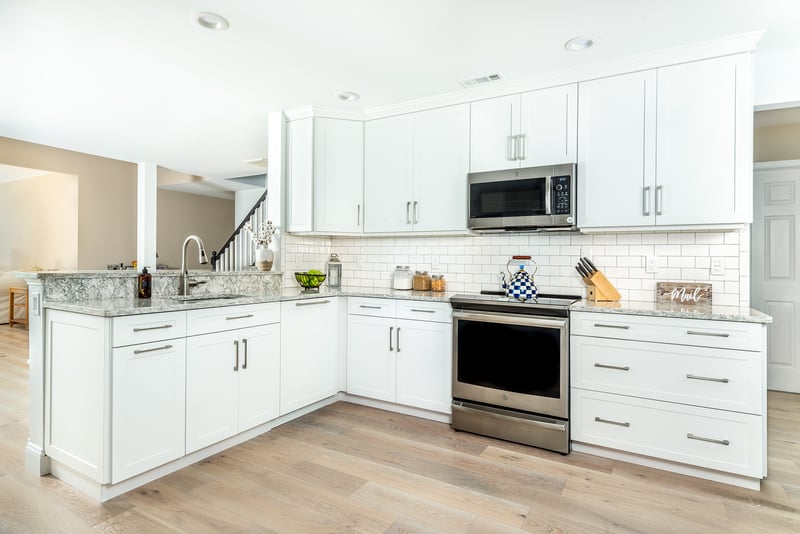 Like many homeowners in established 55+ communities, they enjoy the many amenities the neighborhood offered, but they missed having a big kitchen for holidays and family get-togethers. In their first year in the home, with the approaching holidays on their minds, the couple decided enjoying a new kitchen that was truly the heart of their new home was not something they wanted to wait for any longer.
Opening Up the Space
It was important to un-sequester the kitchen from the dining room. "It made both rooms feel smaller and colder," says Jill Moskowitz, the couple's Kitchen Magic design consultant. "The wall between these rooms was removed by their contractor, and it was a game changer. It was a huge difference!"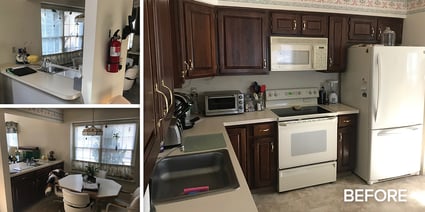 Now the family is all together no matter who is cooking or party prepping. With the wall gone and the dishwasher moved, there was plenty of space for a much-desired wine rack and faux butler station. The two-tiered countertop by the sink, where the wall used to be, now beautifully opens out to quartz-topped built-in buffet station. The gorgeous storage space was seamlessly coordinated with the Statesman kitchen cabinetry in Frosty White.
"They turned that counter space into a beautiful peninsula that lets the light and social life into the kitchen area," says Moskowitz. "The new stainless-steel appliances fit the contemporary style of this kitchen, too."
Moving to a Smaller Home Had Storage Challenges
This well-thought-out kitchen remodel went beyond creating a fresh and contemporary style. The homeowners also created more kitchen storage space within the same square footage as well. "When you are designing a kitchen with more open space, you have to remember your storage needs," says Moskowitz. "Cabinets that extend to the ceiling without soffits help, as do extra-large drawers that can hold pots, pans and large cooking and serving items."
Making Less Housework with Low-Maintenance Cabinetry
The choice of maintenance-free cabinets adds to this kitchen's appeal, according to Moskowitz: "Why move into a 55-and-over community and then tie yourself down with extra cleaning and maintenance?" Durable and attractive, maintenance-free laminate doors offer ease of cleaning and exceptional warranties. Since 1979, our Lifetime of Home Ownership Warranty on selected maintenance-free styles has provided our customers with the peace of mind that Kitchen Magic products and service are the finest available anywhere. "We can offer these kinds of warranties because our cabinets are made to withstand the test of time," she explains.
Creating Subtle Richness With Cambria Quartz Countertops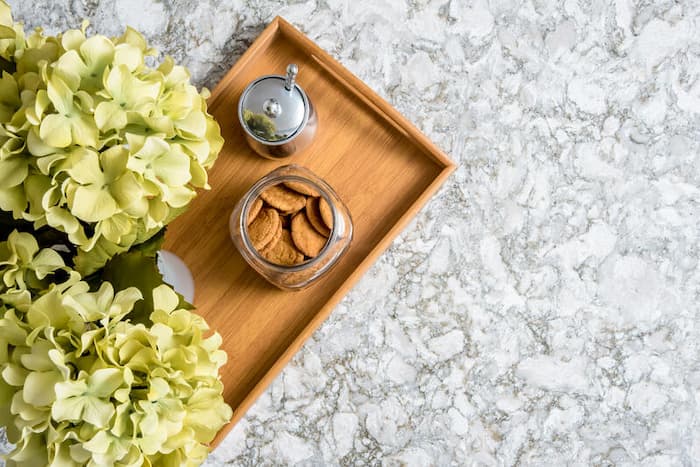 One of the most striking elements in this kitchen are the countertops. Rich and full of earth tones, the Cambria quartz countertops in Berwyn have soothing heather and moss veining, with just a touch of silvery luster. Made in America, this product is scratch and stain resistant, making it a cook's dream surface, and it comes in a variety of edge options to choose from. Plus, its nonporous, nonabsorbent surface resists harmful bacteria and like all Cambria surfaces, it's certified by GREENGUARD®.
Beyond beautiful and sturdy, quartz countertops are also a low-maintenance choice. Just use warm water and mild soap to clean, with no sealing or polishing required.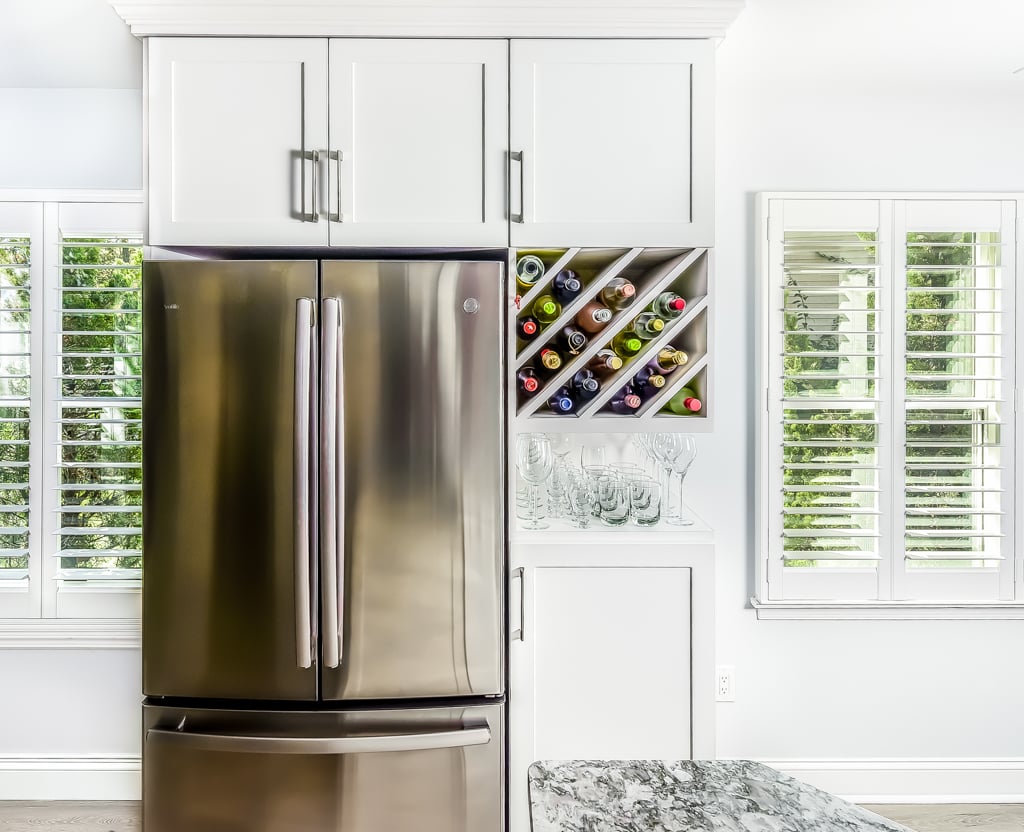 KITCHEN PHOTO CREDIT: PhotoSynthesis Photography, 2019
In the Homeowner's Own Words:
"I love my kitchen now, which was not the case at all when we bought the house. Our kitchen remodel totally transformed my home. I really enjoy having people over and look forward to entertaining here. It feels like my home now."
From way too dark and cut off from the rest of the house, to a brighter, lighter and open space, this kitchen is truly the heart of the home now. It's built for entertaining and for daily life. The new contemporary style and smart design have dramatically improved the look of the kitchen. They have brought immeasurable satisfaction and joy to the people who live there, making their new house finally feel like their home.
Items in This Remodel of the Month

Like what you see in this Remodel of the Month? Here's where you can find out more:
These homeowners' new kitchen transformed their entire house. Expertly installed with quality materials, the remodel gave them the space and style they needed to really feel at home in their new place. Why not see what Kitchen Magic can do for you? Schedule your free in-home consultation today!
To view more stunning transformations check out these remodels: