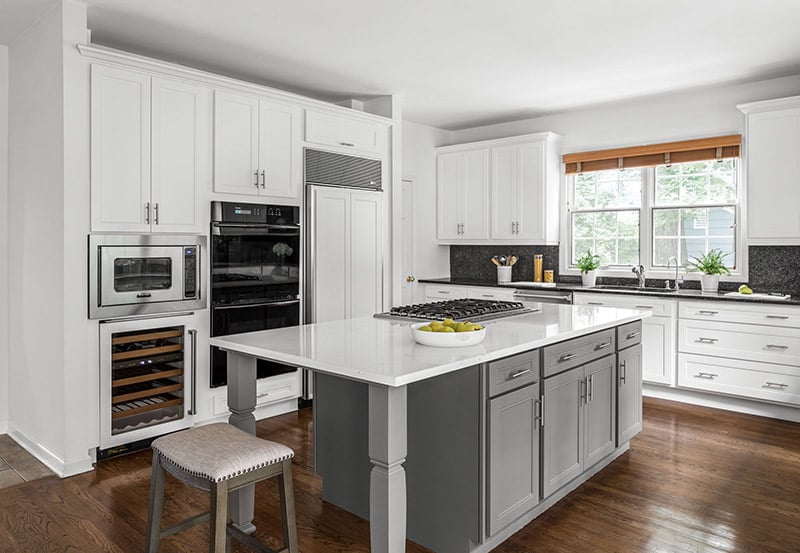 If we had a mantra here at Kitchen Magic, it might be "Cabinet refacing is the quickest solution for a total transformation." And, in case you need to see it to believe it, we offer you this beautiful contemporary South Orange, NJ kitchen remodel!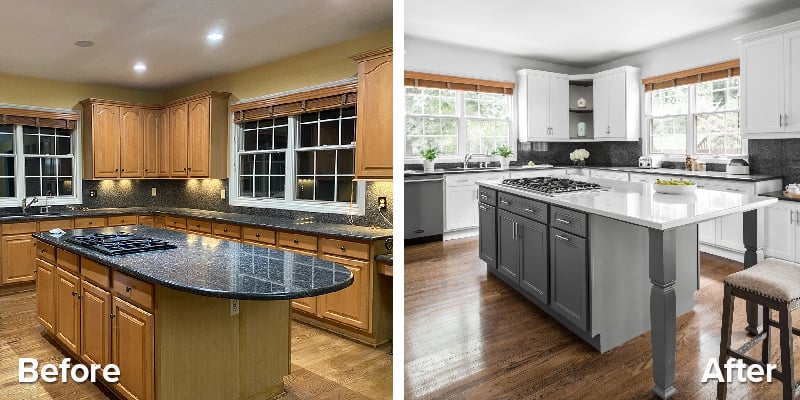 The homeowner's dream was "bringing the kitchen into the 21st century with a more contemporary feel, and a space that felt more open and fresh without a total renovation."
In other words, it was time for Kitchen Magic to do what we do best: re-envision what our homeowner wants without requiring it all to be brand new.
From Traditional to Contemporary with Kitchen Cabinet Refacing
This kitchen didn't reflect the home's overall, contemporary design. The owner preferred a more clean, bright and cool aesthetic in contrast to the inherited traditional style kitchen that featured woodgrain cabinets and mustard-yellow walls.
Transform and repurpose
Resisting the urge to tear everything out and start anew, these homeowners trusted Kitchen Magic's recommendation to reface their existing cabinet boxes. Cabinet refacing minimizes landfill waste while optimizing your existing cabinet framework and layouts. Your kitchen remodel can also be completed in less time and refacing costs less than all new cabinetry.
For these homeowners, the old cabinet boxes were renewed to a gorgeous new color palette with stylish flat-panel and beaded-edge doors — the definition of contemporary design.
Creative customization
You may notice that the kitchen layout remained virtually the same, but our professional kitchen designer, Jill Moskowitz, redesigned the cabinet interiors to increase storage efficiency while simultaneously adding some homeowner-inspired extras:
Built-in additions: Redesigned cabinet interiors and transforming an outdated pantry space to house an upscale wine cooler and microwave shelf.
Countertops: Dark countertops on the island were replaced with durable, eco-friendly and germ-resistant, snowy-white quartz.
Color palette: A white and gray "two-toned" color palette helps to anchor the center of the room with a Suede Gray cabinet base. Contrasting Satin White cabinets help to visually open the room everywhere else.
The "little" extras
Our designer, Jill Moskowwitz stated, "The homeowner has a fabulous sense of style, and his home was reflective of that in every room. In keeping with his vision, the new color palette opened up the space. It was extremely important to him to add a wine fridge and microwave within the existing footprint—that's where we magically repurposed half of the pantry cabinet."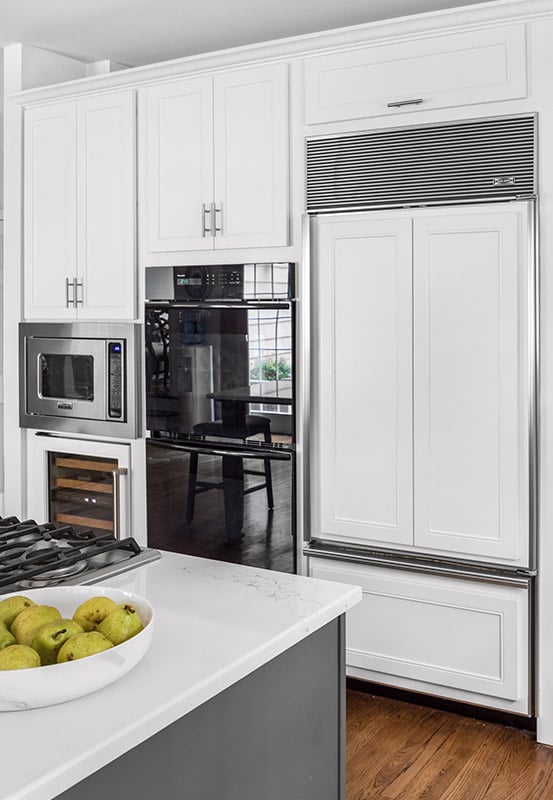 Seamless cabinet flow
The fully integrated refrigerator panel creates a continuous cabinet line. Plus, the homeowners didn't have to replace a perfectly functioning refrigerator just because of its color.
Cabinet bar pulls
Contemporary designs are known for clean lines and angles. Cabinet bar pulls are a clever way to break up any design monotony using horizontal/vertical installations.
Swap cabinets for shelves
Don't forget about the option of replacing a cabinet with shelving. This was done in the corner with the upper-cabinets, offering a way to bring in more open visual space and allow room for splashes of color using displays or seasonal decor.
We couldn't have said it better
REMODELED KITCHEN PHOTO CREDIT: Andy Ryan Photographer, 2021
The homeowner added, "Jill kept in touch throughout the process and was an absolute joy to work with. I feel very lucky to have had her as my design consultant. She truly understood the assignment! Cabinet refacing was the perfect solution for me given the kitchen (though dated) already had good bones and a good layout."
Ready to Transform Your Kitchen?
Are you ready to explore how Kitchen Magic can help you completely transform your kitchen? Give us a call us at 800.272.5490 to request your free design consultation with one of our design experts - we'll bring samples and ideas to help you make your kitchen dream a reality.
Looking for more inspiration? You don't want to miss this FREE download!