For May's Remodel of the Month, we brought an outdated oak kitchen into the 21st century, and we even switched a round peg for a square one (and by "peg", we mean island!). The result was a contemporary kitchen design that's an entertainer's dream.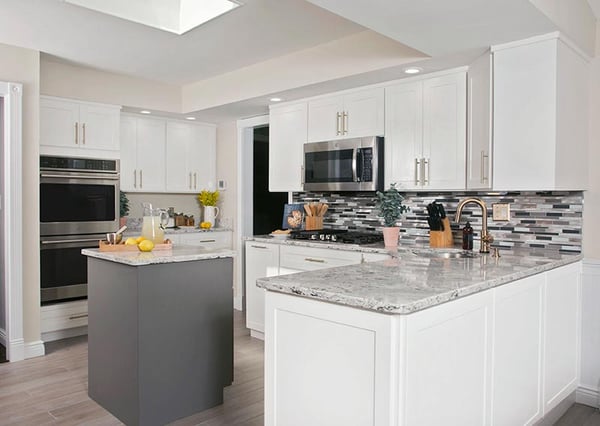 Refacing Says, "Bye-Bye, Outdated Oak," "Hello, Timeless White"
You could almost hear the audible sighs of relief when these Northern New Jersey homeowners bid farewell to dated, oak doors and superfluous kitchen accents. Instead, welcoming timeless Statesman cabinet doors in Satin White. This fresh palette, quite literally, cleared the canvas so they could think clearly through the rest of their design.
Kitchen transformations start with a neutral color palette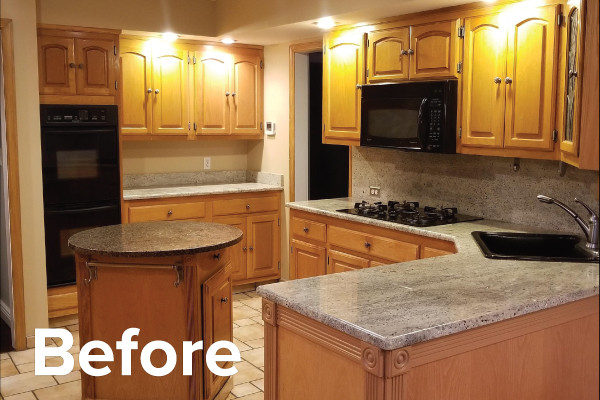 Kitchen at a Glance
Problem: Outdated arch-style cabinets in oak and solid surface countertops
Keep: Existing layout and quality cabinet boxes
Replace: Cabinet refacing, countertops, backsplash flooring
Design Consultant: John Zambolla
Location: River Vale, New Jersey
Added Bonus: Money saved by refacing their cabinetry meant more room in the kitchen remodeling budget for gorgeous ceramic plank floors. In addition to adding texture to their space, the faux-wood planks were selected in a driftwood finish, for a shabby-chic effect.
Cambria quartz countertops pair fancy and function
Homeowners who entertain want finishes that are luxurious because kitchens are the stars of the home. They also need finishes that are durable. Cambria quartz countertops in Summerhill were just the ticket.
The white, gray and black color palette offer a nice, yet subtle contrast to the all-white perimeter cabinetry. At the same time, these counters can be spilled on, dropped on and easily wiped down without a care in the world about etching, staining or damage.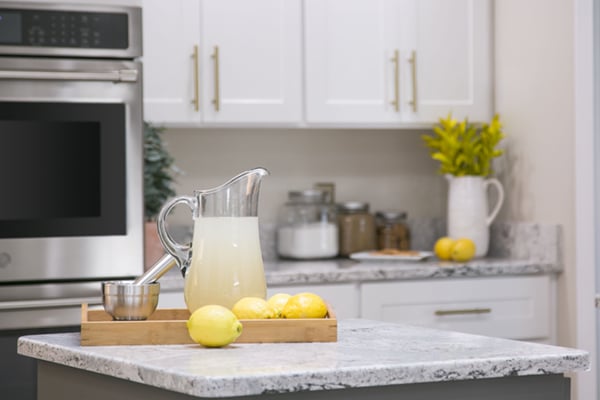 Square beats round in the kitchen island department
Kudos to the previous kitchen designers who thought they'd add interest to the kitchen island, by making it round, instead of square. Unfortunately, this wasn't as efficient as planned.
The round surface didn't create an effective prep area on a regular basis, so this time around the owners opted to replace the round top with a square one. The lines look better with the existing kitchen layout and the island is more functional in terms of food prep, dining and entertaining.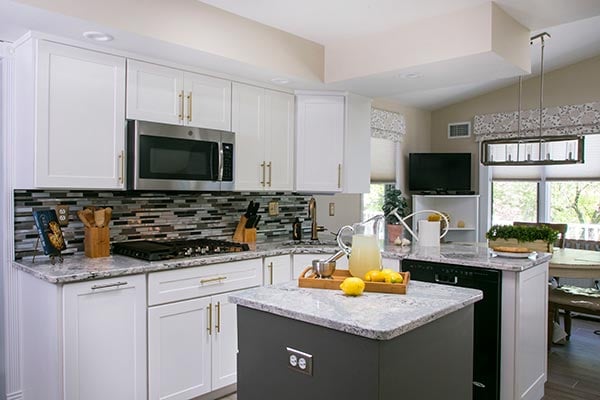 Encountering contrast on the countertops
While the homeowners loved the simple elegance of all-white cabinets, they still wanted color contrast with a stately appeal. We accomplished that in multiple ways:
Using a Suede Gray color on the kitchen island adds contrast while also echoing the same gray-hued swirls in the countertop.
Blending ceramic, glass and metal tiles (contrast and texture!) in the backsplash, and focusing on darker shades of neutral colors (brown, gray and white) for a little drama.
Swapping out some of the black appliances for stainless steel options—playing with that gray color scheme. That also included un-integrating their refrigerator, so it's visible rather than hidden by expansive cabinet panels.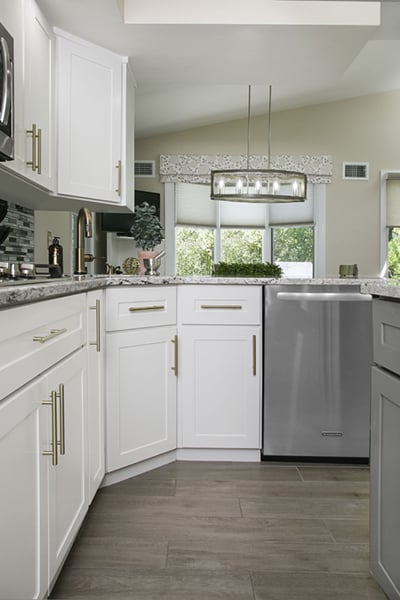 Entertain a better entertaining layout
Our clients opted to remove a built-in message center/workstation, replacing it with lower-cabinets for added storage, display space and flow. They're thrilled with the finished kitchen; one that is ultra-conducive to entertaining as these homeowners spend quality time with friends and family.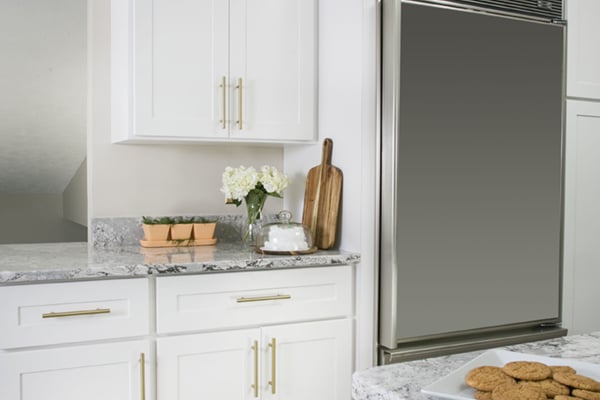 Customer praise
"From the moment we moved into our home a year ago, we knew our kitchen needed a face-lift. We loved the layout however, the style and color were extremely outdated. Enter John, our salesman from Kitchen Magic. He took our vision a step beyond we ever imagined. He guided us through all the selections and took time to answer our questions.
Everyone we dealt with were friendly, responsive, and very accommodating to changes we made along the way. We truly love our kitchen as it has become the most used space in our home! Thank you Kitchen Magic!!"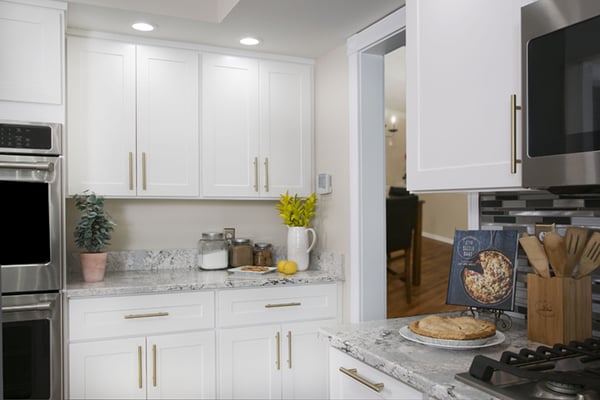 The island, the nucleus of the kitchen
The island is the centerpiece of this kitchen design. It grounds the space, creating a focal point in the room's design. The multiple zones provide a place for guests to congregate, while the island can serve as a food and drink station—the perfect recipe for a great party.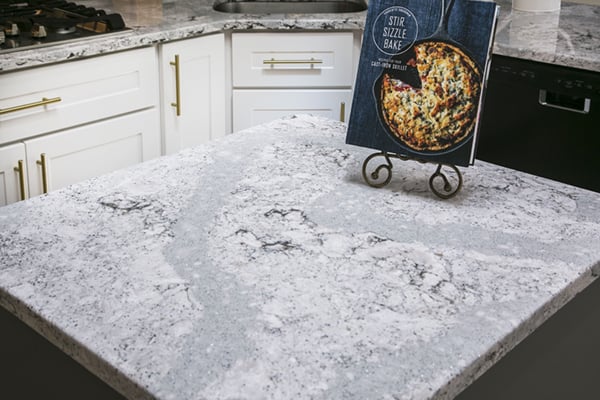 The finished product
Result: A white kitchen with contrast and interest
Kept: The layout stays the same
Replace: Cabinet refacing for new color style, countertops, backsplash flooring
Changed: A brilliant Contemporary design
Our experienced kitchen professionals will work closely with you to help you choose the perfect palette, matching materials, and flooring solutions that best fit your specific needs and overall vision. Are you ready to make some magic in your kitchen? For your convenience, you can schedule your free consultation online today! Simply click or call 800.272.5490.
To view more stunning transformations check out these remodels: