You know the expression, "oldie but goody?" That's often the case with older, well-built New England homes whose contractors took pride in quality craftsmanship. Our Remodel of the Month features just such a home, nestled against the Rhode Island border. It had strong bones but was ready for a more stylish face.
Kitchen at a Glance: Refaced cabinets, quartz countertops & backsplash
Homeowner: Massachusetts Family
Location: Blackstone, Massachusetts
Size: 140 square feet (10' by 14' feet)
Designer: Rich Mooradian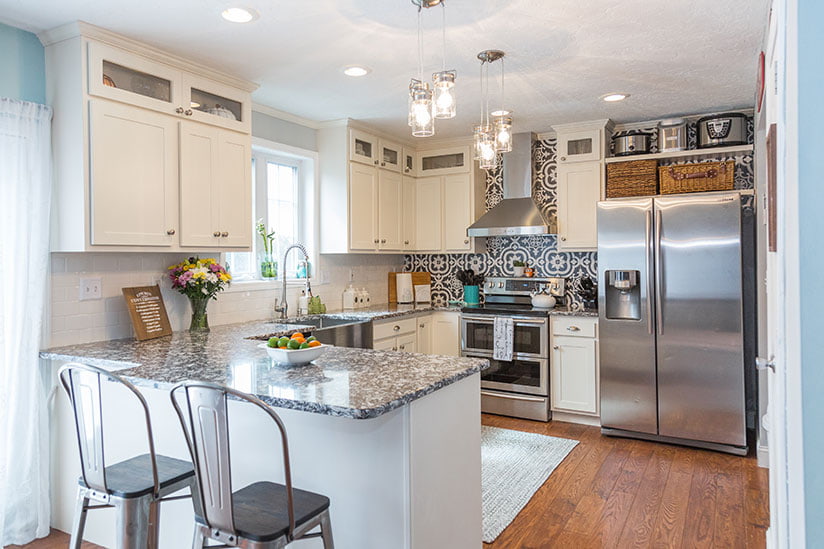 Stylish cabinet refacing, contemporary but cozy finishes for this efficient, U-shaped design—including a compatible peninsula hang-out—is just what the designer ordered. And, of course, it was all done while maintaining a New England feel and flavor.
When a Kitchen Doesn't Match the Homeowner's Style
Problem: Oak cabinets are looking shoddy
Keep: Existing cabinet boxes
Replace: Doors, drawers, countertop & new backsplash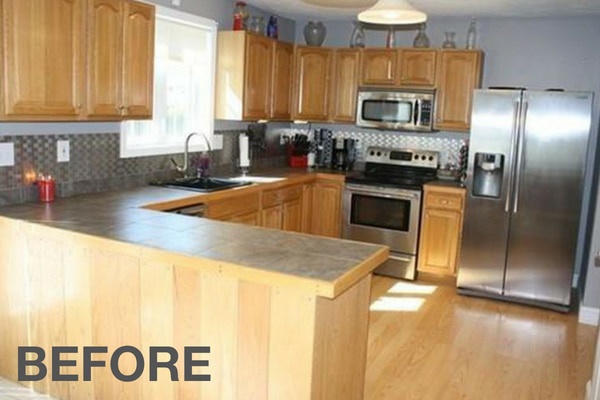 While the homeowners were satisfied with the function of their sturdy, decades-old cabinets, they desperately desired a revamped aesthetic, including an efficient kitchen design that would satisfy the needs of their very busy, blended family - comprised of five children and two dogs!
Family friendly kitchen accommodates kids, pets, friends & more!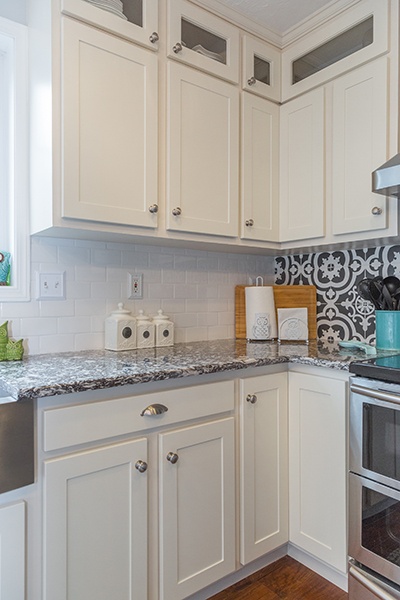 First Step: Reface cabinetry and install a new countertop
Since the cabinets were in great shape, these homeowners wanted to save the landfills, but get rid of the oak. We refaced their cabinets with Statesman Style cabinet doors in Satin White, which reflects their Providence-area look. The simple doors have a transitional look, but the raised panel border adds a hint of traditional to the mix. Their choice of Satin White is a smart one because white kitchens are timelessly in vogue.
Second Step: Design a backsplash that adds pizzazz!
Since their countertops had seen better days, we tore them out and replaced them with a beautiful Cambria quartz slab in Braemer—a black-and-white duo. While the countertop looks like granite, virtually-indestructible quartz is the better choice for a kitchen that experiences extensive wear-and-tear on a daily basis.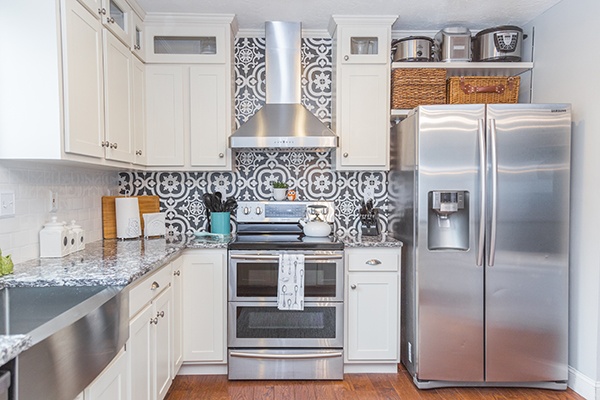 Functional kitchens are great, but that doesn't mean they should sacrifice pizzazz. This kitchen has all that and more, largely the result of an exceptional backsplash design that pops on the wall above and behind the stove top, continuing smartly behind the fridge.
The bold pattern is dramatic—but the use of white subway tiles for the rest of the countertop backsplash keeps it in check.
Step three: Use hardwood flooring & glass cabinet inserts to give the room personality
By changing from the busy-grained oak cabinets to a painted white look, these homeowners felt they finally had the chance to install the hardwood flooring they've always wanted. The warm flooring combined with glass-inserts along the top row of cabinet doors add both charm and personality.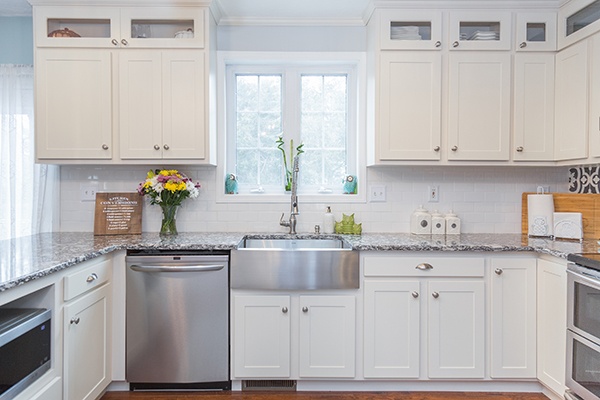 Additionally, the glass inserts provide a perfect, protected, space to display colorful heirloom and/or seasonal items for bursts of accent color throughout the year.
Refacing provided a kitchen design the whole family can enjoy
Our clients were thrilled with the results, and told us,
"When we decided to redo our kitchen, we knew cost would be a large factor. Then we met with Rich from Kitchen Magic. He was professional and patient with us. He spoke about ways to obtain the kitchen we wanted within the parameters of our budget. Our installer Gavin was also amazing. He paid attention to detail and asked for input daily from my husband and myself.
It is impossible to tell that our kitchen cabinets are mostly just refaced. They look like new. The white cabinets and open shelving give the kitchen a light and airy feel to it, which we desperately wanted. In the end we have a beautifully unique kitchen to be proud of."
Finally...
Result: A fresh New England design
Kept: Cabinet boxes and layout the same
Replace: Doors, drawers, backsplash, countertops and floors
The couple was thrilled Kitchen Magic was able to provide the high-quality kitchen remodel they were looking for with respect to their family-conscious budget. Does that sound familiar? Work with Kitchen Magic, and who knows? Your kitchen could be our next Remodel of the Month.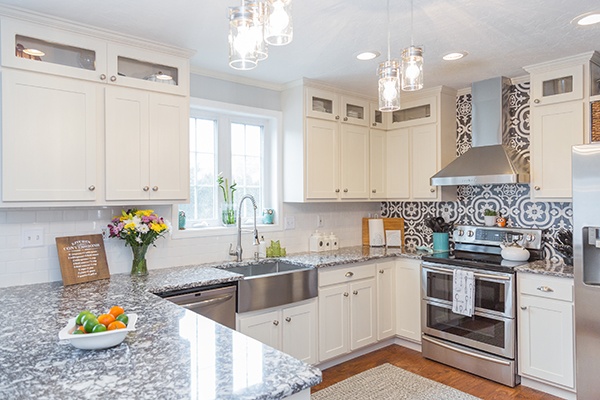 When you're looking for a new kitchen style, contact Kitchen Magic for a free estimate on cabinet refacing, new countertop and backsplash too. Request a free in-home estimate or call to schedule an appointment (800) 272-5490.