Philadelphia is a place rooted in deep patriotic history. That's why we are honored to share one of our latest kitchen transformations featuring stunning Colonial Blue and Satin White cabinets located in the storied city of Philadelphia. The March Remodel of the Month showcases an updated kitchen that would make our forefathers proud. Let's take a look!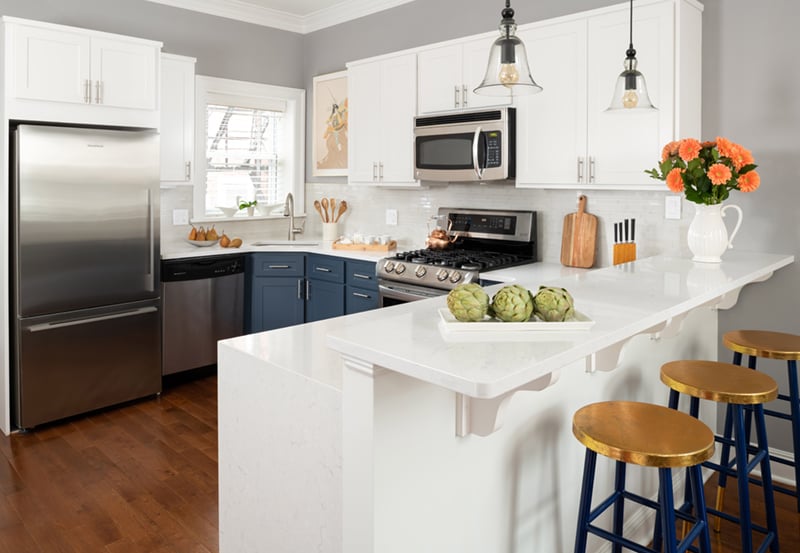 Kitchen Remodel at a Glance: Kitchen is outdated and dark
Keep: Existing layout and quality cabinets
Location: Philadelphia, Pennsylvania
Size: 96 square feet (10 by 12 feet)
Designer: Joe Rayesky
This 100-year-old brownstone already has great bones and plenty of charm. Initially, this space featured dark oak cabinetry with similar dark toned countertops, making the kitchen feel small and outdated. Cabinet refacing helped to save the budget and created a state-of-the-art design—emphasis on design. Here's how we did it.
A Navy and White Cabinet Duo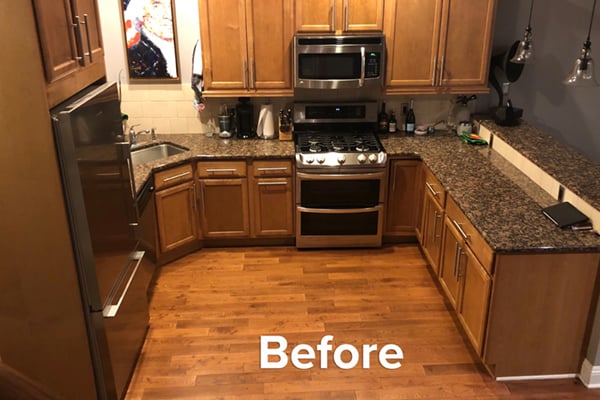 This kitchen transformation begins with a dramatic pairing and continues with unique detailing that brings everything full circle. The clean, crisp lines and bold, contrasting color of the blue base cabinetry creates stimulating aesthetics. Shaker style cabinets were the perfect choice for this brownstone due to the timeless look and versatile design elements—displaying a current trend that is really growing in kitchen design popularity.
"Navy and white have both been used in kitchens for many years. Blue is one of the most popular colors after natural wood tones and white for kitchen cabinets and kitchens in general. Using them together creates balance in the space, which can add a lot of appeal." states Cristina Miguelez, Content Manager at Fixr.com.
Winning Weybourne Quartz Countertops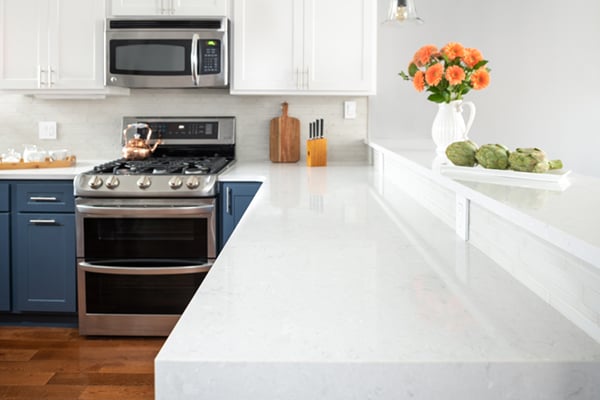 For the countertops, we used Cambria's Weybourne quartz to mimic the upper cabinets in a similar hue. Weybourne's palette of off-white with wisps of gray give the striking cabinet duo a softened design element. Cambria is the industry leader in quartz stones with a collection of over 140 colors. Known for their superior durability, quartz has been the front runner in stone countertops for their vein patterns and maintenance free features.
Metallic Finishes for the Finishing Touch
The use of mixed metals in kitchen remodeling has been another growing design movement among homeowners in recent years. To create a cohesive look for these light and dark cabinets, the homeowner added gold and blue bar stools as well as nickel hardware to instill an old-meets-new vibe that perfectly balances the space. Topping off the finishes, are the black and glass pendant lights for a metallic trio of brilliance.
Designer-esqe Kitchen Details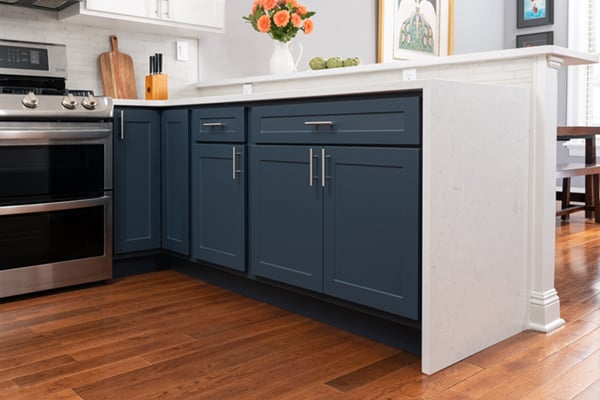 For an elevated level of elegance, the countertops include a waterfall leg on the side of the peninsula, complemented by a half-leg at the end to complete the look. The vertical features add a level of sophistication in the world of design for a sleek, chic detail in this kitchen remodel.
The light taupe colored, ceramic backsplash provides a subtle backdrop to showcase the Colonial Blue cabinetry as the star of this sophisticated contemporary design. The random pattern and contrasting neutral and dark colors makes for a striking impact in this kitchen transformation.
A Few Words of Praise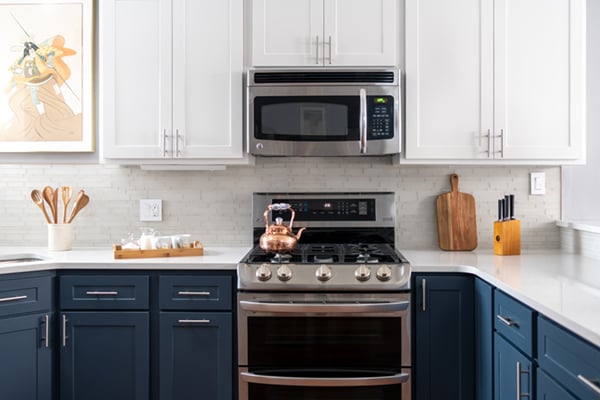 "I bought my home over ten years ago, despite loving the home, I was never keen on the kitchen. The kitchen was of sound quality but bland and severely lacking in character. So, I have long dreamed of a kitchen renovation. Through careful consideration, I chose Kitchen Magic to make my dream a reality.
Kitchen Magic listened to my wants and wishes, then guided me patiently through the various decisions, from cabinet color and design, to countertop and backsplash options. The kitchen renovation has been totally transforming, making the open living areas, as a whole, more beautiful and bright.
Everyone with whom I dealt with was responsive and friendly. Everything was organized and coordinated efficiently, which rendered the process essentially stress-free. It was an exciting time as I saw my vision become reality. I love my new kitchen and see it as a very functional work of art. Thank you Kitchen Magic!"
The Reveal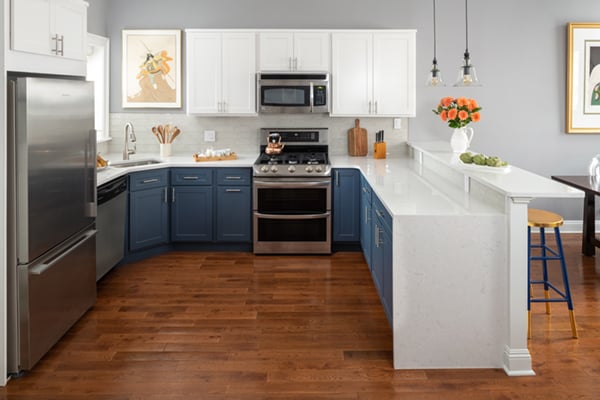 No matter what the vision for your new kitchen, the possibilities are simply endless. Whether you desire—a classically modern design, old-world rustic, or even patriotic, we can take your kitchen from outdated to outstanding. Join the kitchen remodeling revolution!
The Results: Contrasting Colors for a Sleek Contemporary Design
Kept: Footprint the same
Replaced: Cabinet refacing, countertops and backsplash
If you would like to learn more about a kitchen transformation or are ready to schedule your free in-home consultation, contact Kitchen Magic today! A convenience in-home consultation & estimate can be schedule your free consultation online today! Simply click or call (800) 272-5490.