This refaced kitchen has all the hallmarks of traditional styling and design. The simplicity of the flat paneled Shaker style, pairs perfectly with our Suede Gray to exude times past. The homeowners couldn't decide between trendy or classic. Well they got both, joining the latest 'gray movement' in cabinetry trends. Gray seems to be taking the kitchen design world by storm.
Kitchen at a Glance Reface cabinets, new granite countertops & marble backsplash
Homeowner: New Jersey Couple
Location: Highland Park, New Jersey
Size: 168 square feet (12' by 14' feet)
Designer: John Lagan
Existing Cabinetry Gets Refaced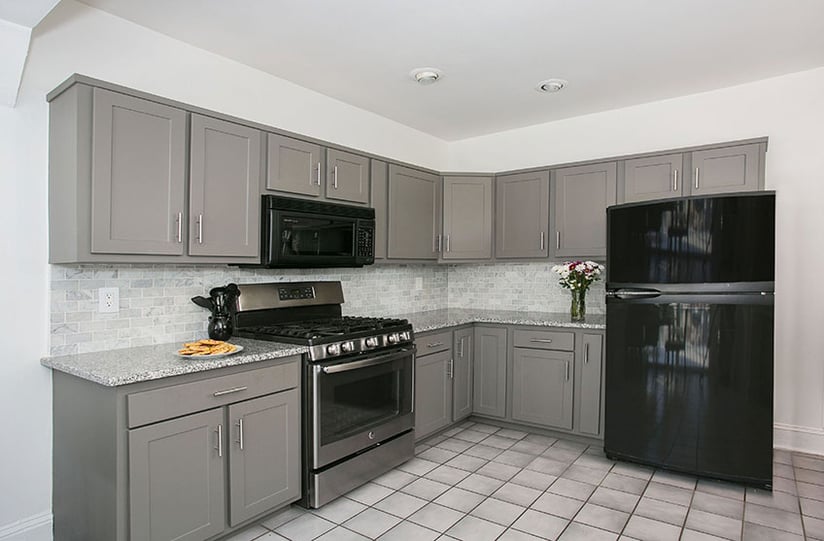 Reminiscent shaker design
They chose our Statesman door, from the Shaker family; it's unpretentious design consisting of a simple frame and flat center panel. Shaker is named after the 'Shakers' (also Quakers)* that believed in a modest lifestyle. The Shaker's guiding principles of simplicity, utility and honesty is reflected in their well-made furniture of minimalist design. Shakers, making their own furniture believed using ornamentation would be perceived and too prideful and showy.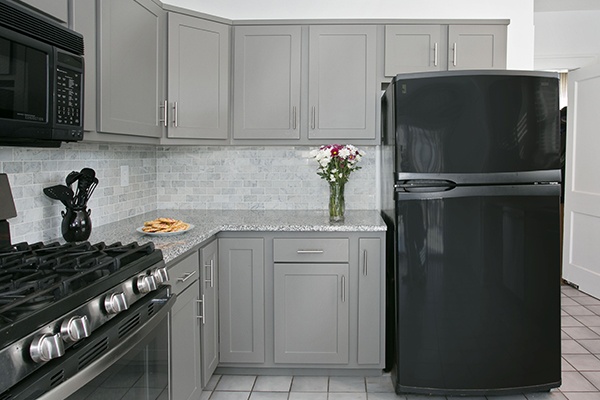 Problem: After 30+ years, a kitchen needs an update
Keep: Existing layout is ideal
Replace: Swap an outdated design with a timeless style
Residing in the home for over 40 years, the homeowners knew they had a well built and sturdy house. The Shaker style fit this century old, craftsman style home like a glove. The existing cabinets are solid, furniture grade and well cared for. The homeowners love their home and decided the existing kitchen motif needed to come into the 21st century.
Dreaming of stone countertops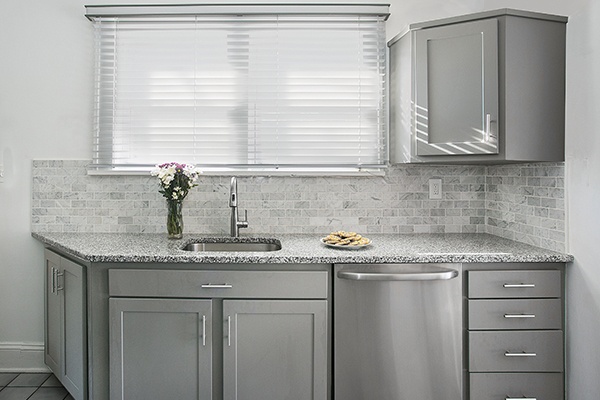 Their last kitchen refacing project was in the 80's (by Kitchen Magic), over 35 years ago. When considering their next update, they yearned for stone countertop. The homeowners found a striking pattern within our granite collection--White Sparkle. It's palette of black, white and gray composition, offering just enough brightness to offset the dark gray door color. Natural granite stone is a classic in kitchen design and if maintained properly, will remain beautiful and functional for decades.
Backing it up with a Carrara marble backsplash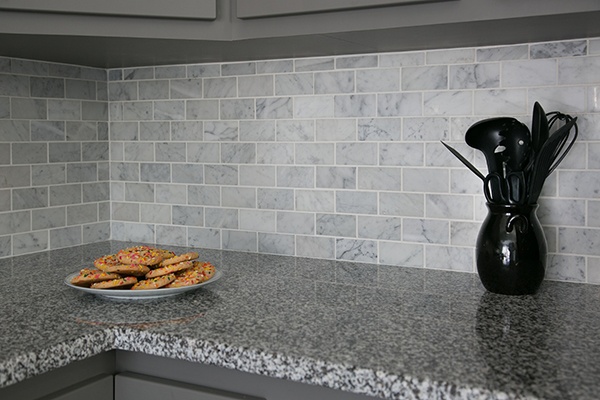 Staying with the minimalistic design vein and monochromatic palette, Carrara marble seemed a natural choice (excuse the pun) for the backsplash. Not wanting to complete with the tight weaved pattern in the granite countertop, the homeowner chose a loosely patterned Carrara marble. The light swirls of gray and white don't detract but complements its surrounding elements. Another timeless choice that enriches this design and gives the kitchen an upscale look without being overstated.
A testament to their work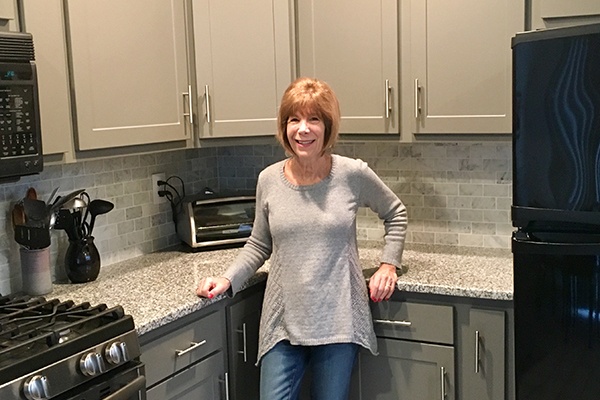 There is not a better compliment to a remodeler than to patronize you twice. This homeowner had their kitchen refaced back in the early 1980s by Kitchen Magic. She loved and enjoyed her kitchen but after thirty years, decided it was time to hit the refresh button and reface her cabinets again. After her latest remodel, she shared a few words with us.
"I love my "new" kitchen. This is the second time I've had my kitchen remodeled by Kitchen Magic in 30 years. The people are great to work with."
Increased storage capacity
Problem: Not enough storage space
Add: Outfit the cabinet interiors with smart storage solutions
Result: Doubled storage capacity with custom storage accessories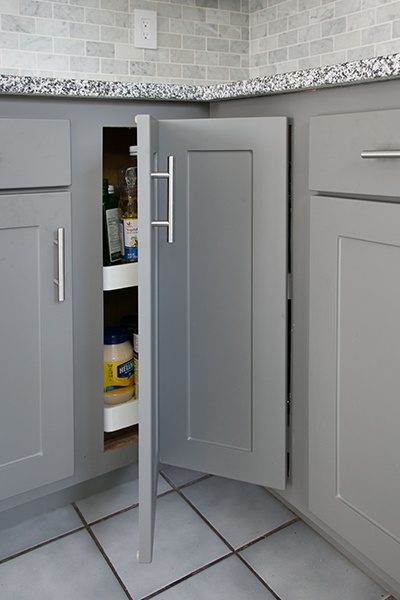 How can you increase storage space without getting more cabinets? Fast forward 30 years and there are many ingenious storage solutions in the market today. We made sure the homeowners were using every inch of their cabinet space to their full advantage. We installed, lazy susans, dividers and roll outs to ensure they were well organized. Now the kitchen is just as functional as it is beautiful.
Ditch that 'gnarly' kitchen style
As long as you have cabinets and appliances, your kitchen will always 'work'. Most times, it's the style that needs to be brought up-to-date. When the 80's call you and tell you they want their kitchen back, give Kitchen Magic a call for a free estimate on cabinet refacing too. Request a free in-home estimate on your kitchen project.