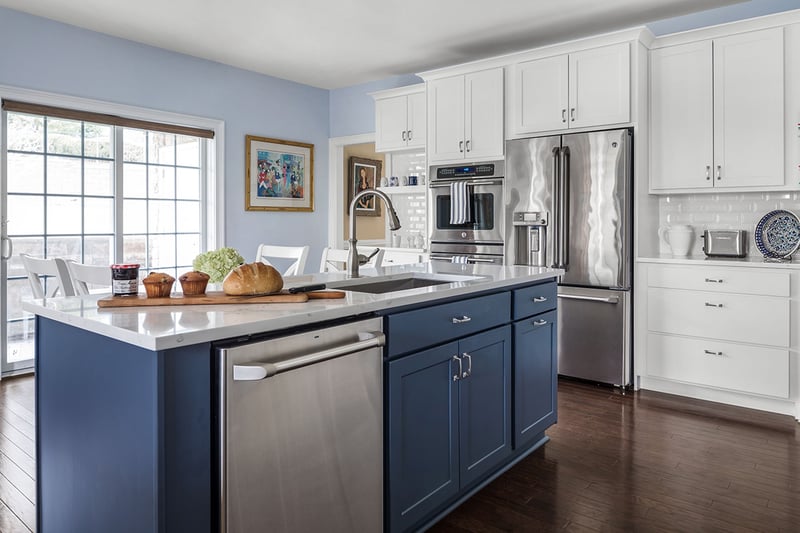 Sometimes, a kitchen remodel can be inspired when arising needs meet a homeowner's long-time favorite design element. This was the scenario when a recent retiree resident of Northern New Jersey began to prioritize hosting mealtimes with her family. Incorporating additional seating into her condominium's open concept kitchen became imperative, along with adding accents of the homeowner's favorite color, blue, in the new design.
Blue and White Kitchen Cabinet Refacing
Cabinet refacing not only completely transforms your kitchen cabinets, but your entire kitchen space. This Montvale, NJ homeowner is a repeat customer, so she was well informed that her existing floorplan is ideal for Kitchen Magic's exclusive refacing process. But, did you know that cabinet refacing saves more than just money? That's right! Refacing is also better for the environment, with far fewer materials going to landfills — up to 75% less!
In this remodel, frosty white refaced cabinets meld with an updated peninsula, extended Colonial Blue table, and Prestige Statesman-styled doors for an envious farmhouse twist on this traditional kitchen design. As for the backsplash, beveled Arctic White subway tiles add a sharp, clean accent. The overall design is further complemented by durable Chantilly quartz countertops by Hanstone®. And, classic Satin Nickel hardware provides a minimal, yet stylish finishing touch.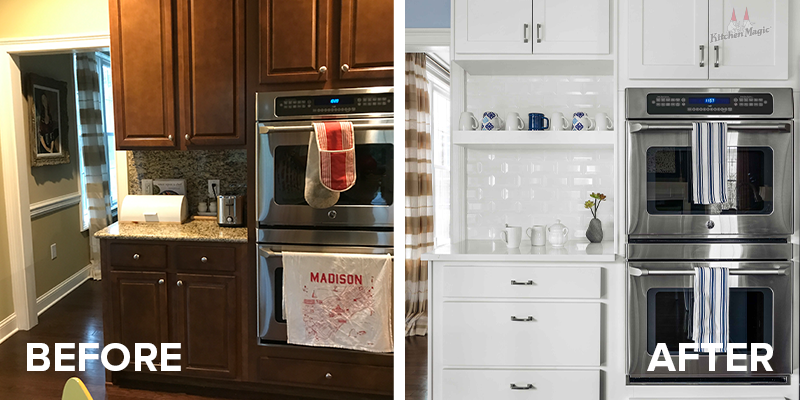 Kitchen Magic Design Consultant, Jill Moskowitz, recalls, "I wanted to create a plan to combine adjacent seating, while eliminating unnecessary remodeling headaches by using cabinet refacing."
Color Outside of the Lines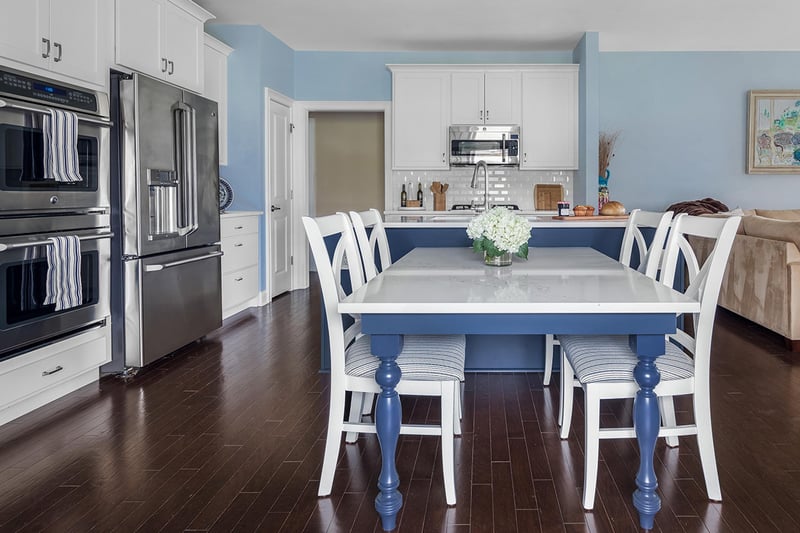 The homeowner noted, "my favorite color is blue," and that it was important for this to be a primary hue in the new kitchen's design. Color adds interest, personality, and energy to a space. She also wanted to transform the existing wood grain cabinets into something with a brighter and cleaner look.
Updating your kitchen's color palette can create an entirely new experience for you and guests. The existing kitchen layout for this homeowner was already highly functional - a real plus! So, it was the stunning update to refaced white and blue cabinetry that makes this remodel truly picturesque.
The new kitchen looks totally refreshed with more storage, additional seating and prep space. Cabinet refacing even allowed this homeowner to shorten one cabinet and add open shelves for a new coffee prep station!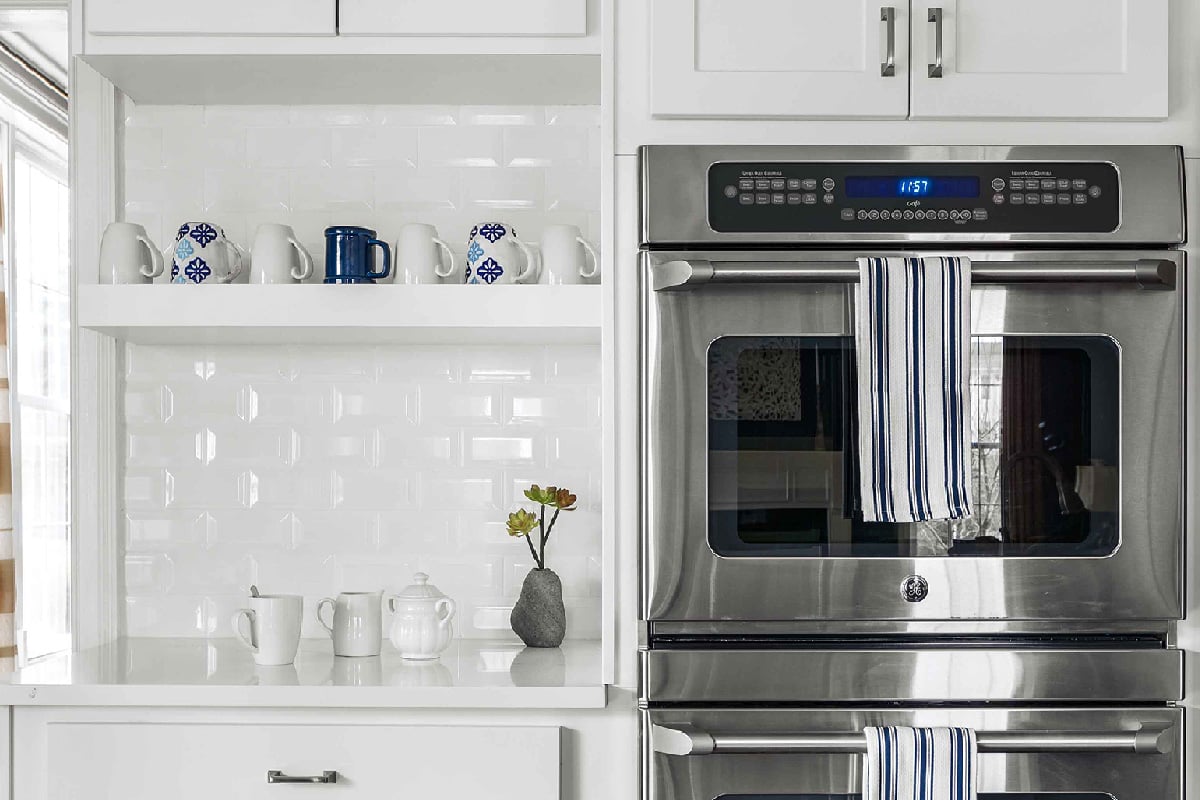 REMODELED KITCHEN PHOTO CREDIT: Andy Ryan Photographer, 2021
How to Get the Look in This Featured Remodel
Like what you see in this kitchen remodel? Here's how to create the look:

In the Homeowner's Own Words
"We used Kitchen Magic 20 years ago. I remembered the company's work, ethics, products, and customer service. When I moved and was ready to remodel again, I didn't hesitate to call Kitchen Magic," recalls this Bergen County, NJ homeowner. She adds that after dealing with other service companies over the years, "I realized how special your team (Kitchen Magic) is, and they care."
Could your kitchen use a little magic?
Ready to change how your kitchen looks and functions? Explore the possibilities with us during your free design consultation. Our experts can help you get your kitchen remodeling project started! Simply click here or call us at 800.272.5490 right now!