Our June Remodel of the Month proves you can enjoy a traditional farmhouse kitchen design without sacrificing one iota of contemporary amenities or luxury.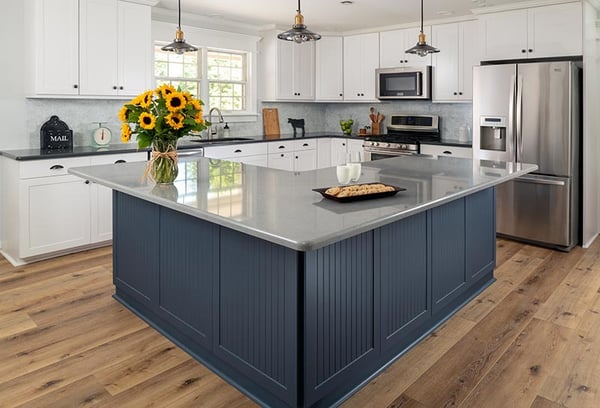 The Farmhouse Kitchen Style Offers A Charming and Homey Appeal
Thanks to shows on HGTV and our favorite Texas couple, the farmhouse kitchen design has been popular for years. Who doesn't love the down-home feel of a rustic and cozy space? This Pennsylvania family's kitchen exemplifies everything wonderful about this style. Their kitchen has an allure that draws you in and details that invite you to stay. It's a remodel worthy of Joanna Gaines' approval and we'll show you why.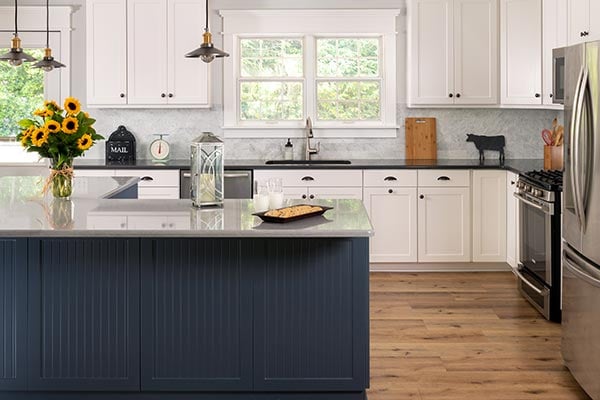 Classic custom kitchen cabinetry
The homeowners knew that tearing out the old, outdated cabinets and replacing them with custom updates was the way to go. While they loved the classic farmhouse style, they were seeking a cabinet door design that would stand the test of time, as well as the daily wear-and-tear experienced by a busy family. This household enjoys cooking, eating, gathering and socializing in the kitchen at any time of day, so something stylish and durable would meet their needs.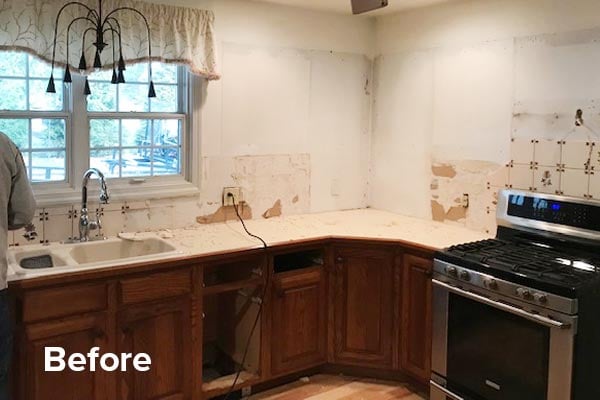 Kitchen at a Glance:
What we changed: New cabinetry, countertops marble backsplash
Location Landenberg, PA
Size: 108 square feet (12 by 9 feet)
Designer: David Knight
The Statesman, shaker-style doors were the answer for the perimeter cabinetry—a fitting choice since 19th-century "Shakers" were concentrated around the homeowner's rural, Landenburg, PA community. These plain-style doors are easy to clean and maintain due to their flat-paneled design making them a plus for this active family.
As a contrast to that, they selected a broad stripe-styled panel door—featuring a beadboard aesthetic—to surround the island. This classic feature is a fitting touch and desirable detail to incorporate in the farmhouse décor. But let's take a closer look at the kitchen island…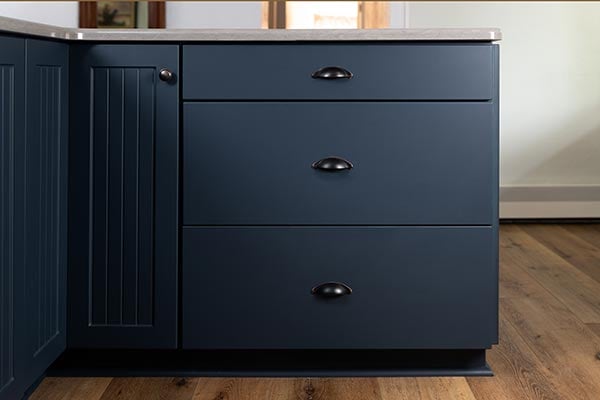 Kitchen island provides convenience contrast
A cook's kitchen deserves an island that's a convenient and functional prep space; as well as a spot for family and friends to congregate and feast. We previously mentioned the island's classic farmhouse broad stripe design, but did you notice the rich contrast in color compared to the rest of the room?
The homeowners opted for Colonial Blue cabinetry on the island, making a beautiful distinction from the white perimeter. Each piece of this design was carefully selected to mix and match in a complementary fashion creating an aesthetically pleasing design for years to come. And, with the addition of the ample L-shape island you can practically smell the fresh coffee, bacon and eggs from the hearty home-cooked breakfast. After all, it is the most important meal of the day—hardworking farmers agree!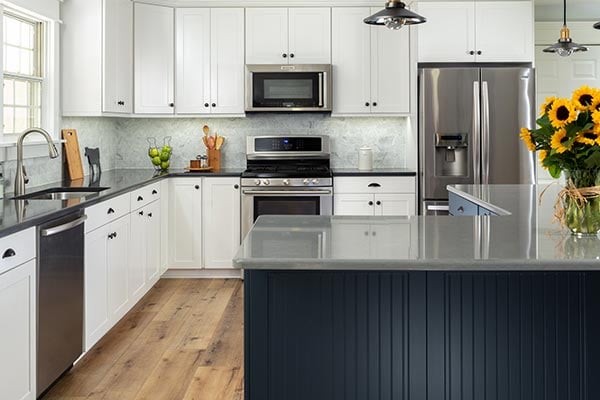 Quartz countertops and a marble backsplash marries the contrasts
Quartz countertops are ultra-durable and eco-friendly, two of the reasons our Pennsylvania homeowners selected them for their remodel. In line with their diverse color scheme, they chose Cambria Quartz slabs in Fieldstone (a charcoal gray) for the surrounding countertops and Carrick (a lighter gray) to top the island. Just as it's A-OK to choose different finishes for cabinetry, it's equally acceptable to mix-and-match your kitchen countertops.
These two shades of gray provide a contrast for the space but also work to seamlessly marry the white and blue cabinetry. The natural marble tile backsplash boasts an old world essence—along with subtle veining, texture and dimension. It's a subtle design point that adds to the overall visual appeal but also infuses a level of sophistication to the room.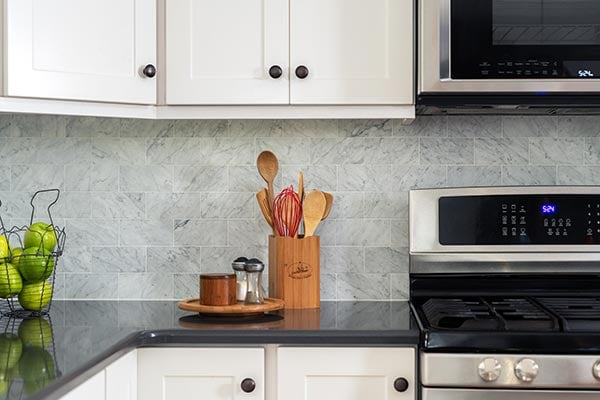 Distressed flooring and other accents are charming finishing touches
Tying together the entire remodel and the farmhouse design are the distressed, knotty hard wood floors. We love the way they bring that farmhouse style to the forefront and add contrast and texture that draws the eye.
Additional design features in this kitchen that exude farmhouse charm include:
The stunning retro-style pendant lights—a wonderful, contemporary take on an antique lighting fixture look. Not to mention the mix of metals throughout the space...
Oil-rubbed bronze cabinet door and drawer hardware add another distressed accent that's considered a traditional classic. Darker hardware finishes like these are making a comeback, and we appreciate the combination of knobs for the cabinets and cup-pulls for the drawers. You can't go wrong with variety!
The country-style décor and accents such as the cutting board, sunflowers and countertop decorations add extra hints of homey warmth and cheer. The design is friendly, inviting you to grab a seat, have a cookie and share a story.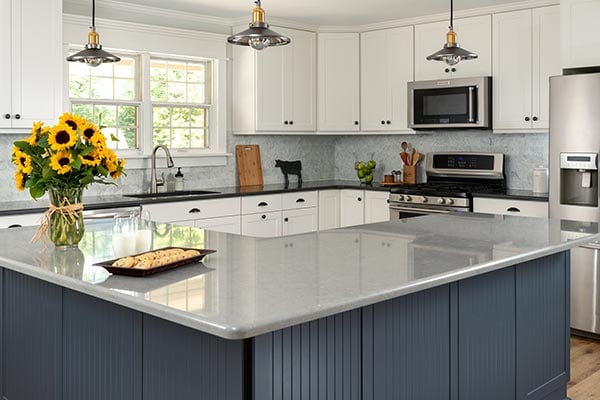 A few words of praise
"My wife and I talked about a new kitchen for years, but we just could not seem to agree upon a color and styles. One day I came across Kitchen Magic and decided to call for an estimate. In no time someone came to our house and got the ball rolling with direction and ideas. He put together a plan and we were on our way to a new kitchen. All throughout the process, our team was great to work with; delivering a beautiful new kitchen for us to enjoy for many years to come. We are sincerely grateful we called Kitchen Magic."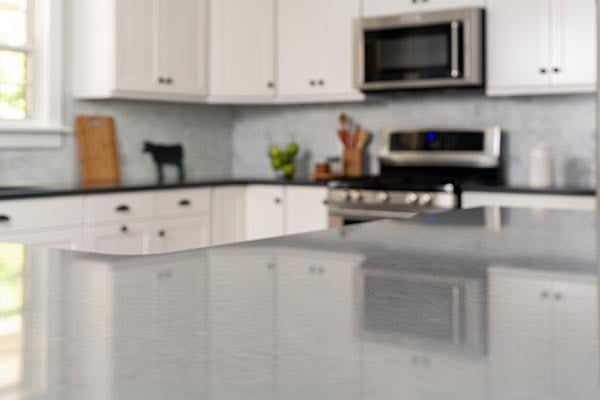 Just finishing up
No matter what the vision for your new kitchen, the style and color combinations are simply endless. Whether you desire a country classic, a mid-century modern or anything in between, we can help!
Result: Classic blue and white for a Farmhouse style kitchen
Kept: Classic L-shape layout
Replaced: Cabinet refacing, new cabinetry, countertops backsplash
Changed: Adding a custom island
Looking for your kitchen to sprout some style too? Kitchens like this are a prime example of how you can have your traditional farmhouse design and make it contemporary, too! It's just the right combination of high-class luxury and down-home charm you're looking for? Contact us here at Kitchen Magic to discuss your options today.
To view more stunning transformations check out these remodels: