The title for this month's Remodel of the Month could be Monochromatic Magic, or perhaps Farmhouse Finesse. It's a shining example of how a monochromatic foundation and traditional Farmhouse features provide a timeless backdrop for any colorful or patterned accents homeowners add and subtract over time.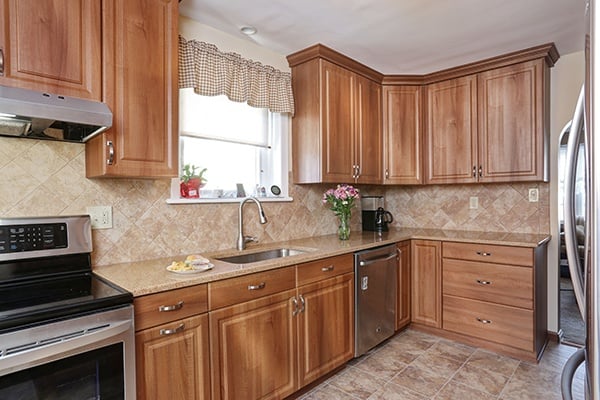 Kitchen at a Glance: New cabinets, countertops, backsplash & flooring
Homeowner: New Jersey couple
Location: Roebling, New Jersey
Size: 126 square feet (9 by 15 feet)
Designer: Rich Mooradian
This rural New Jersey kitchen is also proof that a few simple changes in your kitchen layout can exponentially improve kitchen function and flow.
Revamp Kitchen Layout for Big Impact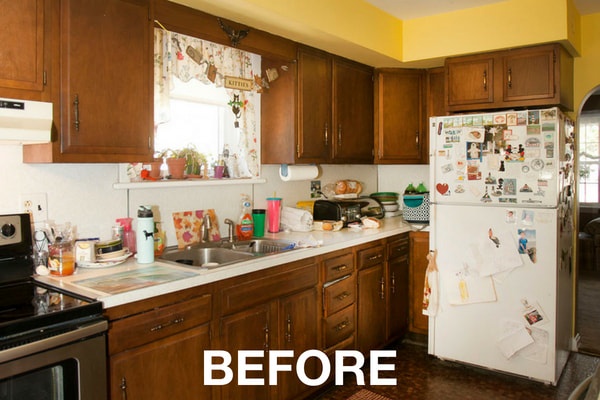 Problem: Layout not functional
Keep: Classic earth tones
Replace: Cabinet, countertops, backsplash & flooring
Re-designing a kitchen layout doesn't mean dramatic reconfiguring. In fact, most of the time it only requires mindful moving one main appliance to save just a few steps and re-envisioning how cabinet and drawer layouts are (and aren't) working. That's exactly where our kitchen designer started when working with this New Jersey couple.
Our clients raised their family in their Roebling New Jersey home, and now it's the hub for family holidays. One of the first steps was to eliminate the soffits and take upper-cabinets to the ceiling. This adds immediate visual square footage, not to mention more storage space that reduces countertop clutter.
By the time we moved the refrigerator over a few feet and revamped the cabinets - we couldn't help but smile thinking about how the new kitchen layout would have been so much better back in the kid-raising era. Needless to say, the revamped kitchen design provided the ability for multiple cooks to work in the kitchen at the same time is greatly appreciated.
Create a Neutral Beige & Brown Palette
As much as they love color, our clients wanted this remodel to be their last, so they opted for a monochromatic design, using a range of beige and brown finishes. They selected Prestige square doors, for a transitional Farmhouse look and a Cambria quartz countertop in Brecon Brown.
The homeowners opted to set the backsplash tile in Marrone Charo on the diagonal, adding contrasting line patterns that's texture-rich. They chose the same tiles for their floor - and you can see what a nice echo it creates, using the same tile, repeated on to perpendicular planes.
Accessible Extras Make All the Difference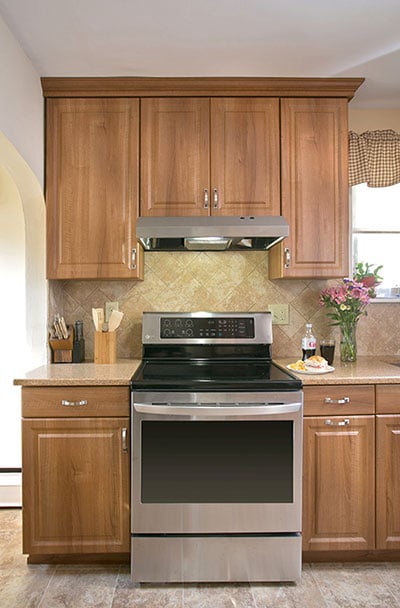 In addition to designing a more accessible layout, the couple were smart about other aspects of their design. This includes a faucet with an easy-on/off lever and wide and bar-style cabinet door and drawer pulls throughout - all of which can be utilized without much effort or grip.
Similarly, their cabinets are designed with customized layouts that include pull-out shelves and minimal deep corner pockets, so it's easy to access cookware, dishware, utensils, etc. without having to reach inside for what they need.
Also, their bright window trim and sheer privacy shade allow lots of natural sunlight for an overall appealing kitchen design.
What the Homeowners Had to Say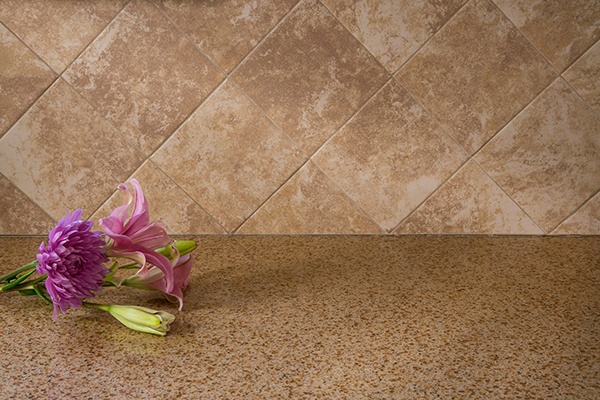 "My wife and I cannot say enough about Rick and Joe. The installers paid special attention to details. We had originally thought of "going local" but your Facebook post created some interest and when David completed his presentation and invited us to Nazareth to see even more it was a no-brainer to go with Kitchen Magic.
Countless emails and calls to and from Maranda pulled it together and areas that needed to be tweaked were done without question. So yes, we are absolutely thrilled and would appreciate your conveying to those involved our sincerest appreciation for making this possible. Not once did we hear from ANY of the aforementioned employees any vulgarity or "that's not my job." Sometimes in life, wives and husbands do not agree on things but this is one we were both in total agreement!"
A Warm Palette Throughout
Result: Full remodel with the additions of endless storage possibilities
Kept: A warming color palette
Replace: Worn out cabinets, countertops & floors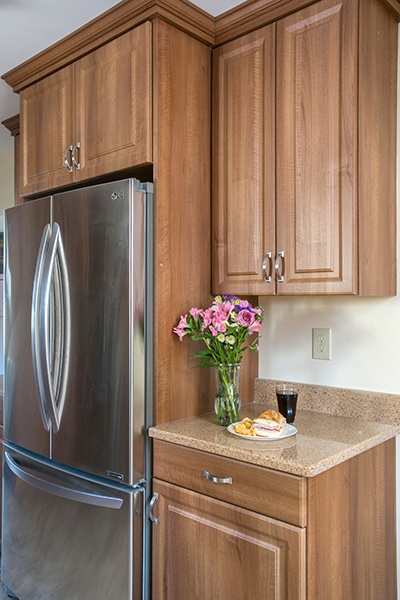 Loving the Classic Wood Tones
Sticking to a neutral color palette will allow you to create a kitchen style that will exude sophistication and change up colors schemes regularly. Changing up accent colors gives you the freedom to instill a whole look to the kitchen. When you're ready to remodel your kitchen, give Kitchen Magic a call for a free consultation & estimate too. Simply click here or call (800) 272-5490.