There's nothing that pleases kitchen designers more than walking into a completely outdated kitchen. We're like kids in a candy store, fantasizing about all the kitchen remodeling possibilities.
That's the high-level of excitement we felt about the transformation of an outdated New Jersey home that we decked out in our NEW Hamilton style.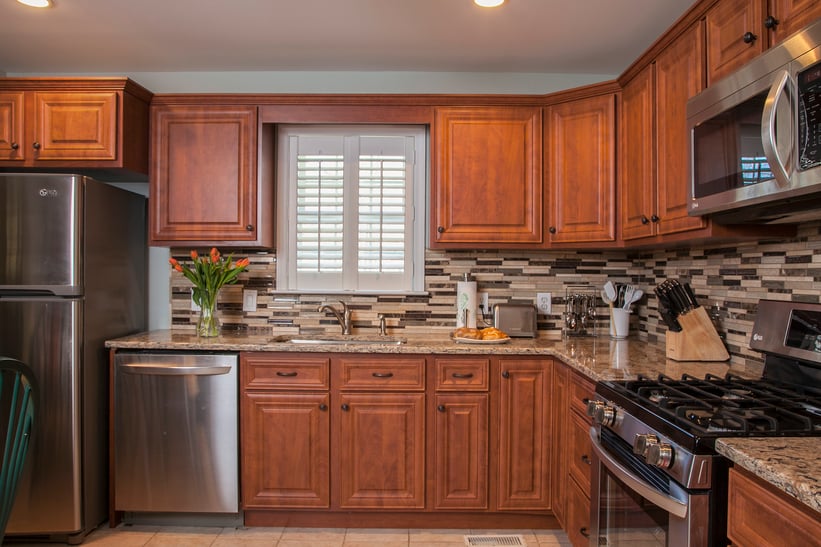 A Worn out Kitchen Transforms into a Stylish & Stately Showpiece
What do you think when we print the words oak and laminate?
We think boring and outdated. That was the basis of this Tinton Falls, New Jersey kitchen and it hasn't seen a hint of an update since 1980! We told the homeowner, let's get this kitchen into the 21st century. We gave it some old-world charm with the Hamilton Style in Classic Cherry. A whole new kitchen-image was on the horizon for this homeowner. With that - our designers and the homeowner went to work.
Cabinet Refacing is a Reliable Cabinet's Dream Makeover
There was no need to replace these faithful and durable oak cabinets. They simply needed a makeover.
We refaced them with Hamilton Cabinet Doors (our newest style collection) to add old-world warmth and dignity. The rich, cherry wood finish adds a distinguished wood-esque touch, but the laminate coating means they're easy to clean and maintenance-free. Hamilton doors are available in raised or flat panels, making them versatile for every kitchen style.
Just because we refaced doesn't mean the interiors have to stay the same. In fact, we added plenty of personalized storage features, including a lazy Susan and a flip-out sink front, keeping clutter out of sight so the new design can shine.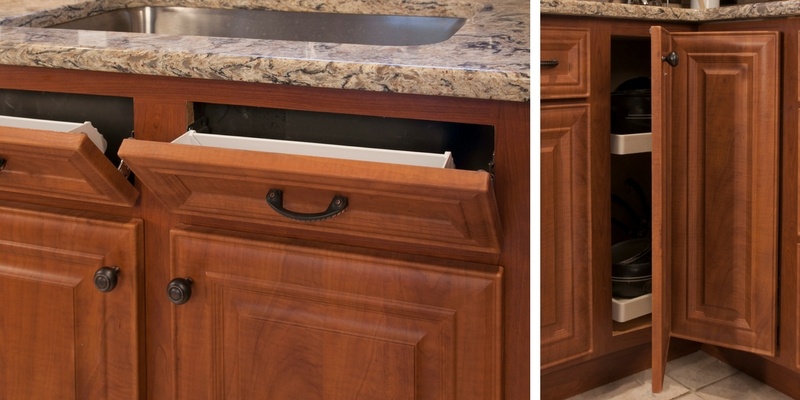 Another benefit of cabinet refacing is that homeowners save thousands of extra budget dollars to go high-end on other features.
Outdated Laminate Countertops Made Way for Sophisticated Quartz
The homeowner was so pleased with the inherent warmth of his Hamilton cabinets that he decided to keep that warmth coming with gorgeous Cambria countertops in Bradshaw, which contain white, brown and beige hues.
All of those hues are represented in the cabinetry as well, making it easy to design a cohesive and transitional backsplash using a fun, linear motif. The stone and glass add a third layer of texture to the kitchen's new design. It's those layers that make a kitchen magazine cover worthy and not simply the room you cook in.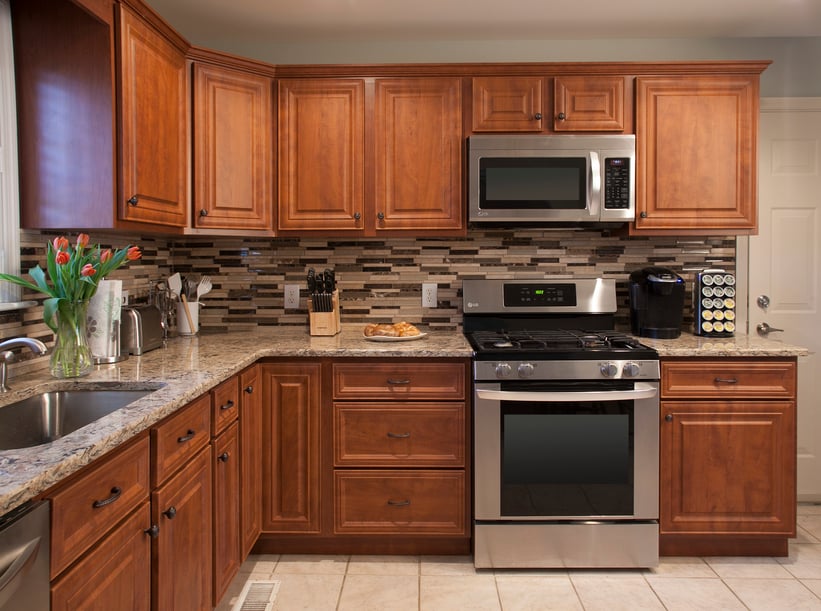 The owner of this home travels weekly for work, but his updated kitchen remodel creates a relaxing haven where he can pursue his love of cooking and entertaining. We're pretty sure that when he's home, his kitchen dances with delight.