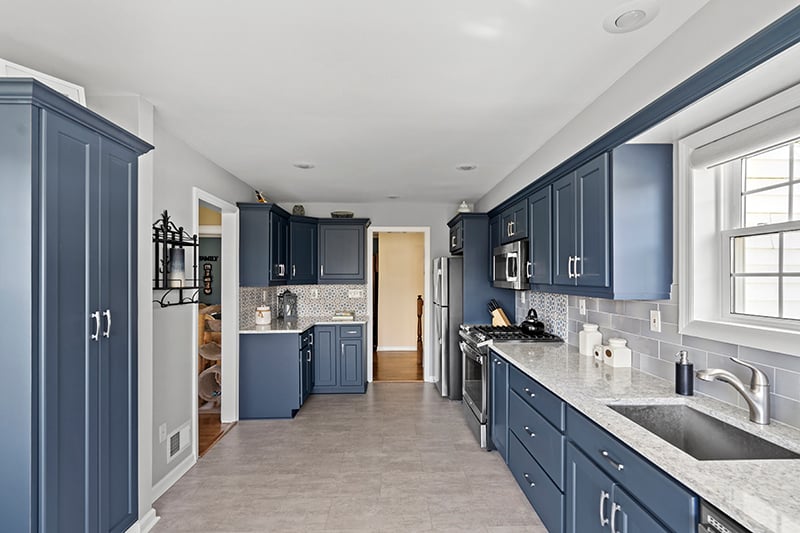 Some kitchen transformations are more dramatic than others, and we'd put this New Jersey kitchen remodel into the dramatic category. It's hard to believe the kitchen of Before is the same as the After.
Not blue about updating to Colonial Blue
In addition to taking a blah, outdated kitchen design and revamping it into a contemporary version of its former self, the new design complements the rest of the home - creating a more cohesive overall home design. Farewell, busy woodgrain and green countertops!
I wanted to make the kitchen reflect my taste and style. Choosing blue and adding

accent tiles was my way of doing that.

- JoAnn W.
Starting fresh
So many posts feature kitchen designs that honor the tried-and-true cook with innovative high-function features. However, just as many homeowners - if not more - simply want a stylish new kitchen design, updating the motif to suit their personal taste. This homeowner is one of them. Maintaining the existing layout, yet infusing personal touches to the design.
To that end, our design and build crew got busy planning a kitchen cabinet refacing project with style while also maintaining function.
Transitional design leads the way
Since food prep space is de-prioritized, there was no need to think about adding a kitchen island or peninsula. Instead, our primary task was updating existing cabinet boxes with transitional cabinet doors.
The client selected Kershaw shaker-style doors for a no-muss-no-frills look and set her sights on Colonial Blue, a cool shade that adds a splash of classy color into a timeless gray color palette. She accented the cabinet doors using chic satin nickel handles for doors and drawers.
Are Everest countertops cool enough?
As you can imagine, a person who was looking to simplify design-wise, wants to keep her kitchen as clean and tidy as possible with minimal maintenance considerations. We transformed the existing pot cabinet into 3 stacked pot drawers for easier access. The color Everest was chosen from the Viatera collection for a brilliant palette of white and gray.
Lucky for her, quartz countertops are as durable and low-fuss as it gets. They replicate gorgeous, higher-maintenance natural stone but can be cleaned with just about anything. So, there's no need to worry about scratching, etching, staining, or sealing.
Whimsical touches

The beautiful gradient backsplash with oversized subway tiles strikes a gorgeous transition between the Colonial Blue cabinetry and grey-and-white countertops. The glossy finish creates an elegant shimmer and offers movement within the design and a reflective effect.
Note how she also selected fun, patterned accent tiles for the backsplash behind the stovetop and corner cabinet blocks. This yields an overall cool yet cozy look rather than cold and austere - always a risk in modern kitchens, yet this addition brings an unexpected charm.
Finally, we added two large doors to the pantry, rather than double-row standard cabinet doors, for a simpler aesthetic. We replaced the credenza, offering another space to add color and texture using cookbooks and seasonal accents. To finish things off, crown molding was installed - visually expanding the vertical space
Modernizing the space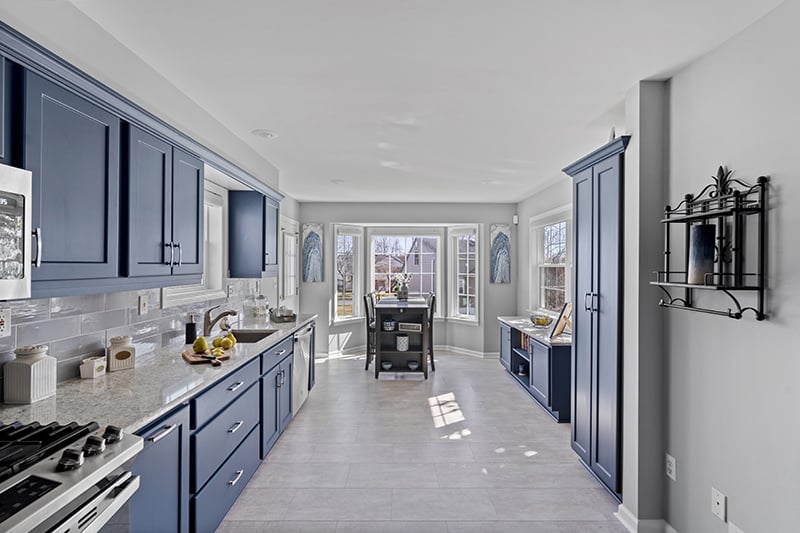 Kitchen Magic design consultant Jill Moskowitz worked together with the homeowner to ensure the kitchen remodel was customized to reflect their vision. One way to accomplish this was by building personal choices and colors into the design mix.
Make the leap from Traditional to Transitional
Have you inherited a kitchen that's more traditional than your more modern style preferences? In just a few short weeks Kitchen Magic can help you make the leap into the 21st century. Contact us to schedule a consultation by emailing us at info@kitchenmagic.com or giving us a call at 800.272.5490.
Wondering what your remodeled kitchen will look like? Try the Kitchen Magic Visualizer!