The July Remodel of the Month project gave these homeowners a new lighter, brighter kitchen design. It's a breath of fresh air, accented with enough classic elements to pay homage to the home's century-old urban roots.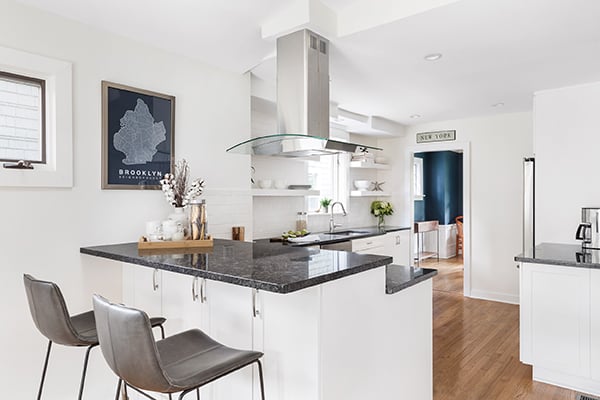 Updated Kitchen Design With Elements of Historic Charm
These homeowners appreciated their Montclair, NJ, home's classic charms; however, they felt closed-in by the kitchen's darker design elements. Relocating from New York City to Northern New Jersey, they wanted to instill some of their urban roots within their new white kitchen design. The result is new and refreshing, yet still offers enough classic accents to preserve the home's historic Americana charm.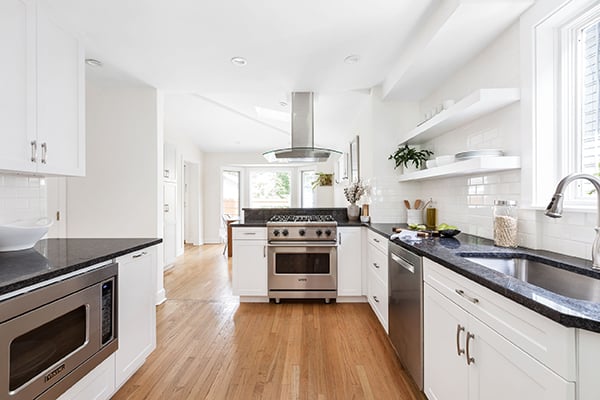 Stylish Custom Kitchen Cabinetry Blends Old with New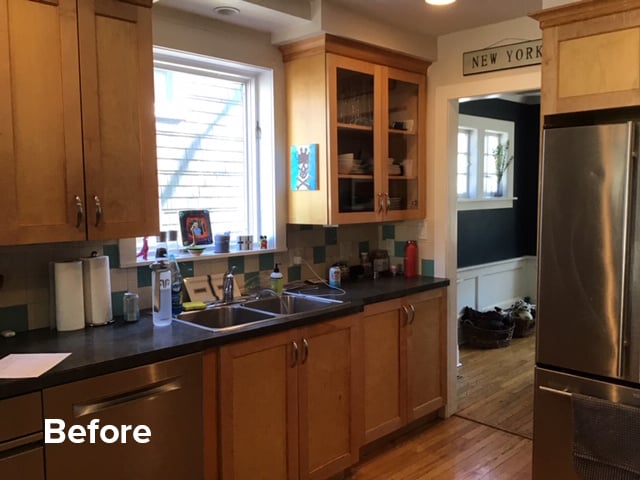 Kitchen at a Glance:
Problem: Closed-in feeling, dark elements in a small space with little natural light
Solution: All-new cabinetry, granite countertops and ceramic backsplash in a classic black-and-white palette
Kept: Existing galley layout
Replaced: Enclosed coffee station with revamped layout
Design Consultant: Suzi Dia of Kitchen Magic
Location: Montclair, New Jersey

We typically think of maple cabinetry as a lighter finish, but not when it's installed in a uniquely shaped kitchen, with filtered light, and black countertops. It wasn't hard at all for our clients to bid the maple cabinet doors farewell, since replacing them with our crisp Prestige Statesman cabinetry in popular Satin White. The new cabinetry brought in an entirely different energy, yet it still pays homage to this century-old home. The Shaker style remains and is honored with a contemporary (but timeless) aesthetic.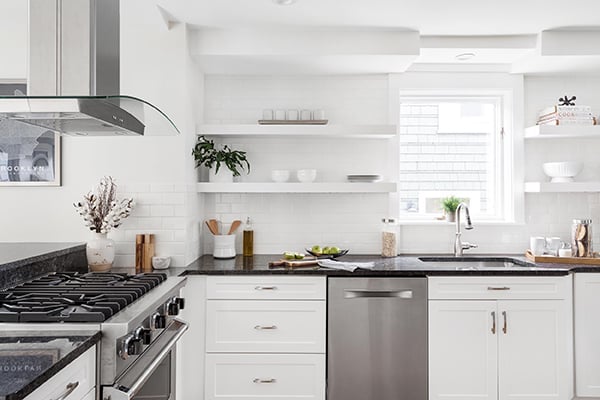 Strong All-Natural Stone Countertops
Granite countertops were the perfect fit for the urban style of this kitchen design. The stately dark-grey slabs of all-natural stone provide contrast to the white cabinetry, and add interest and texture. The grey-and-black pattern of the Steel Grey granite color selection gives a wide-open feel, and the contemporary bar seating and accents are clearly 21st-century. Should a more classic feel be desired, the homeowners could switch to antique-reproduction seating and accents to achieve this effect.
Our clients loved the idea of a natural stone countertop. Granite brings organic characteristics to the kitchen, and its random veining and patterns have a fanciful appeal, while the glistening surface conveys sophistication and a cosmopolitan flavor throughout the design.
New Subway Tile Backsplash Serves as a Retro Shoutout
One of the hardest decisions made in this kitchen remodel was tearing out the vintage backsplash tile. The old tilework was in an iconic, 1950s aqua blue-green theme that added color, but didn't work with the homeowners' new style and color palette. By installing sleek, white ceramic subway tiles, a neutral backdrop was created that can be dressed up with varying colorful or seasonal accents throughout the year—all of which can still echo a chic vintage look.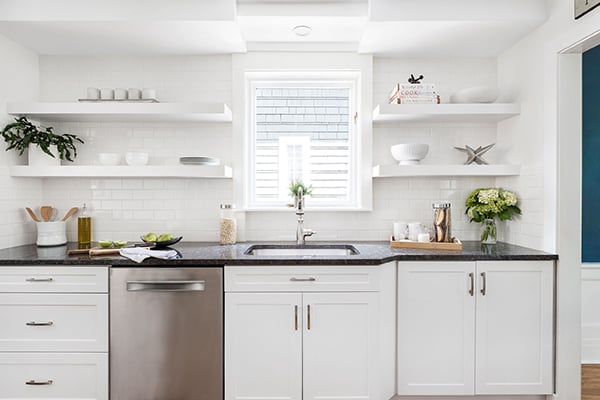 Customized Features Enhance Kitchen Function
We're big believers in beautiful, customized kitchen transformations that integrate how clients use their kitchens day-in and day-out. With this project, design consultations yielded valuable insights that led to some very smart personalized kitchen features, including:
In the Homeowner's Own Words
"When we first moved into our house, there were many elements we loved about it—however, the kitchen was not one of them! It was in dire need of an update, from top to bottom! We really didn't think we had a lot of options. After speaking with many people in town who had experience with Kitchen Magic, we decided to call and see what recommendations they could give us."

"When our kitchen consultant, Suzi, came for the initial visit, she brought great ideas that would allow us to open the space, add more storage options and create a new, modern look that would withstand lots of traffic. We couldn't believe how quickly it happened, and the quality of the products and craftsmanship are amazing. The kitchen is now the space we love most in our home."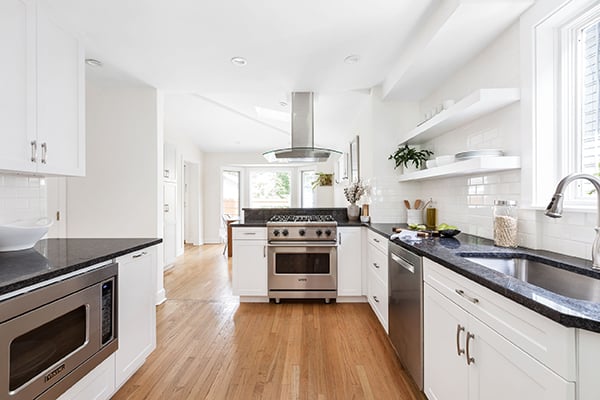 Endless Possibilities
No matter what the vision for your new kitchen is, today's endless combinations of style and color can help make your dreams come true.
Are you ready to revamp your home's kitchen in a way that compliments your lifestyle and design choices? We can help with personalized ideas and recommendations for your unique kitchen design. Contact us here at Kitchen Magic to discuss your options today.

REMODELED KITCHEN PHOTO CREDIT: Andy Ryan Photographer, 2019
To view more stunning transformations check out these remodels: