These homeowners wanted to lighten things up and were also interested in cabinet doors with more personality and pop. They opted to reface the cabinets with Vintage style doors in a white finish. Then, to define all those interesting door contours, and to add some contrast to the all-white effect, they selected a black glaze.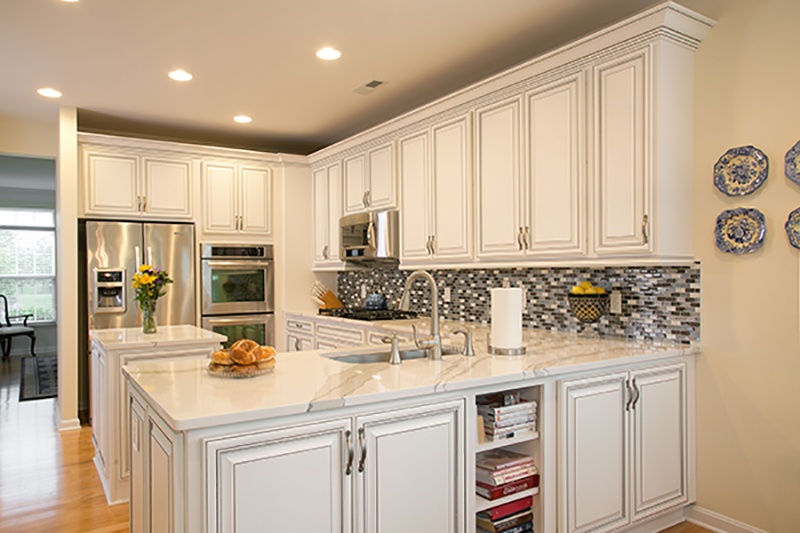 Kitchen Remodel at a Glance: Reface cabinets, new countertops, backsplash & under cabinet lighting
Homeowner: Pennsylvania couple
Location: Lansdale, Pennsylvania
Size: 138 square feet (10 by 14 feet)
Designer: Joshua Bauman
From Dark to Light
That choice to add a black glaze creates a very contemporary edge to a door style that's thought of as traditional. Plus, the option to reface, rather than replace, cabinetry left plenty of budget room to splurge on luxurious countertops and backsplash selections.
The new white color paired with the mable-esqe countertop design of Cambria's Brittanicca is a marriage of traditional and contemporary, creating this Transitionial motif. Cambria is made from the highest quality quartz, for a combination of durability and beauty. The space is designed around the luxurious Cambria quartz design, Brittanicca. Known for his hallmark marble look, this kitchen now has a European flair.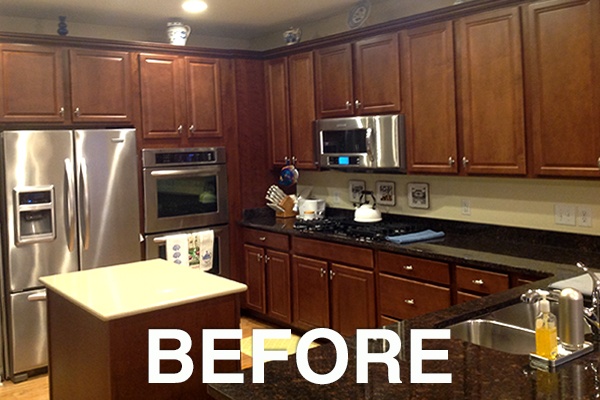 Problem: Aesthetic appeal
Keep: Layout the same
Replace: Cabinet doors, countertops, backsplash & add under-cabinet lighting
Another important aspect of bringing a dark kitchen into the light is the lighting plan. In this case, we retained the existing recessed cans, but added under-cabinet lighting that serves as both task and ambient lighting; it brightens the workspace for creative cooks and gourmet rendezvous, transforming into mood and/or safety night-lighting once the sun goes down. Shining down on the glistening Brittanicca quartz below, the romantic lighting makes this kitchen a designer showplace
Marble-esque countertops that don't etch, stain or chip
Marble is one of the most beautiful natural stones on the market but its tendency to etch, stain and chip makes it a risky option for busy kitchens. Fortunately, Cambria offers several marble-esque options.
This kitchen's Cambria quartz countertops in the new Brittanicca instills an old world quality through its marble look without any of the worry - and none of the maintenance. Are you a fan of marble? Read, Mourning a Marble Countertop? Here are Durable, Affordable Alternative.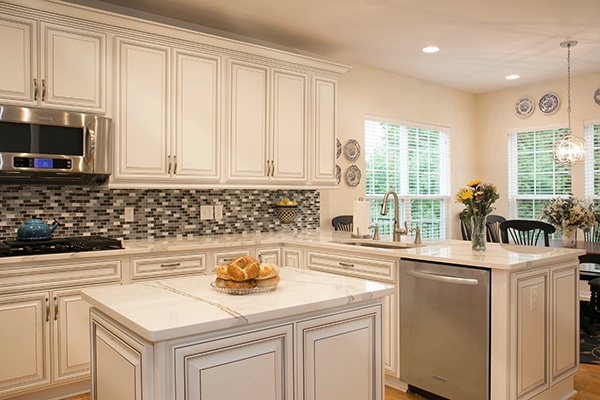 The stunning backsplash creates a virtual splash
Our kitchen designer created a beautiful transition between the white-and-gray-scale countertops and black-glazed cabinetry with a stunning stone and glass backsplash mosaic to complement the Cambria quartz design. These affordable mosaics are created in sheets, rather than tiled one-by-one. This motif is called Emerald Isle and boasts a beautiful black-white-gray color palette.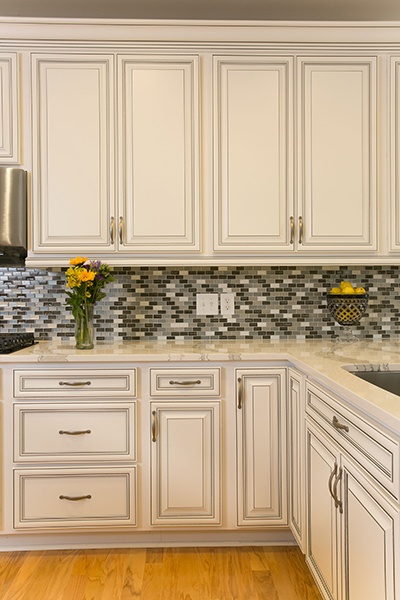 Smart layout and storage offers kitchen efficiency
Finally, we made sure the new cabinet design and layout provides plenty of countertop space for a kitchen that delights in a collaborative atmosphere with multiple cooks. The combination of L-Shaped countertop design, and an extra kitchen island, means there's room for everyone who wants to pitch in. Also, with the fridge, oven, stovetop and microwave installed within close proximity, it's easy for the head chef to keep an eye on all the cooking and preparation efforts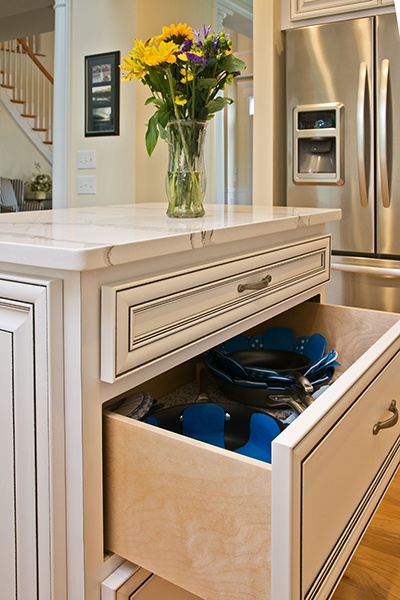 Open storage is trending in kitchen design
Additionally, we simply laminated the open shelves in the end countertop section, allowing space for cookbooks and decorative cookware - also breaking up the visual monotony that occurs when there's bank upon bank of cabinet doors.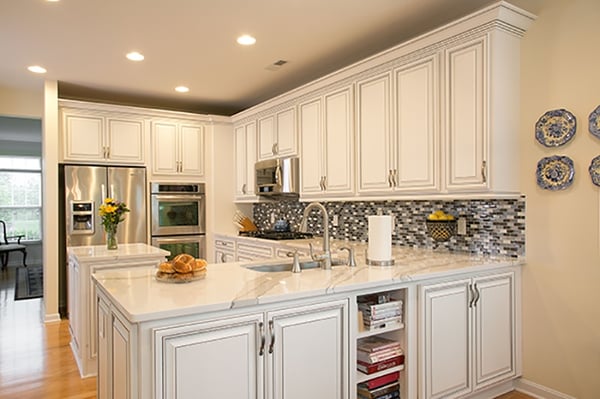 Homeowners are enlightened to cabinet refacing
These homeowners didn't originally consider cabinet refacing. Like most, they thought they needed a full rip-out of their kitchen. However, when you start looking at your cabinets, there is a lot of value in the cabinet boxes themselves. A simple refresh, to match up with the rest of the decor updates you've made over the years, is really what most homeowners need. This Pennsylvania couple were in the same boat—not realizing how cabinet refacing could transform their space, into a showplace. Cooking and entertaining is now more enjoyable than ever.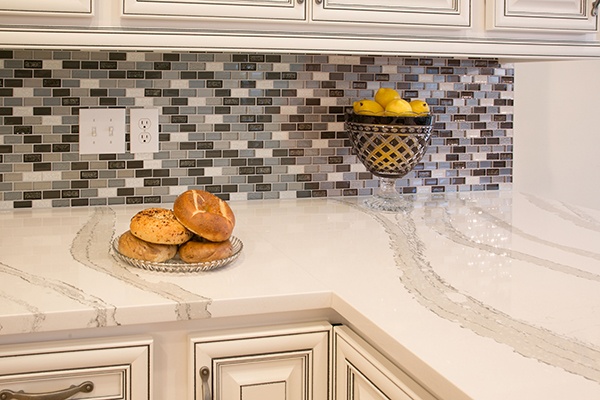 Delighting in a black & white color scheme
The Results: Full remodel, complete with endless appeal.
Kept: Uber-functional layout and quality materials
Replaced: Dark & outdated style
Added: Under cabinet lighting, stone-glass backsplash and storage accessories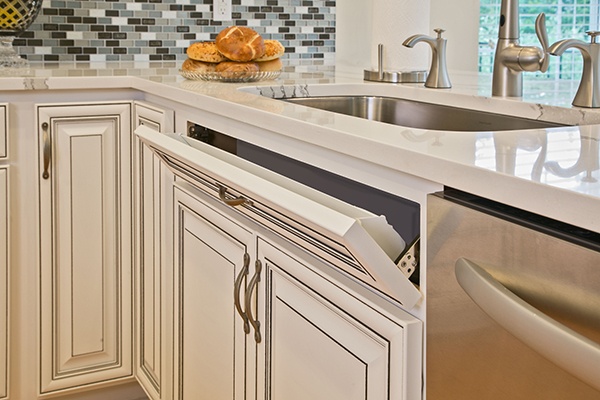 Visit our new and improved, interactive gallery for more design ideas and kitchen inspiration.