Because they were not the original owners who built their home, these Long Valley, New Jersey, homeowners inherited a kitchen design that was decidedly not their own. After living with the jarring color combination for many years, the couple was ready to transform their kitchen into the warmer, inviting and more contemporary space they had always wanted.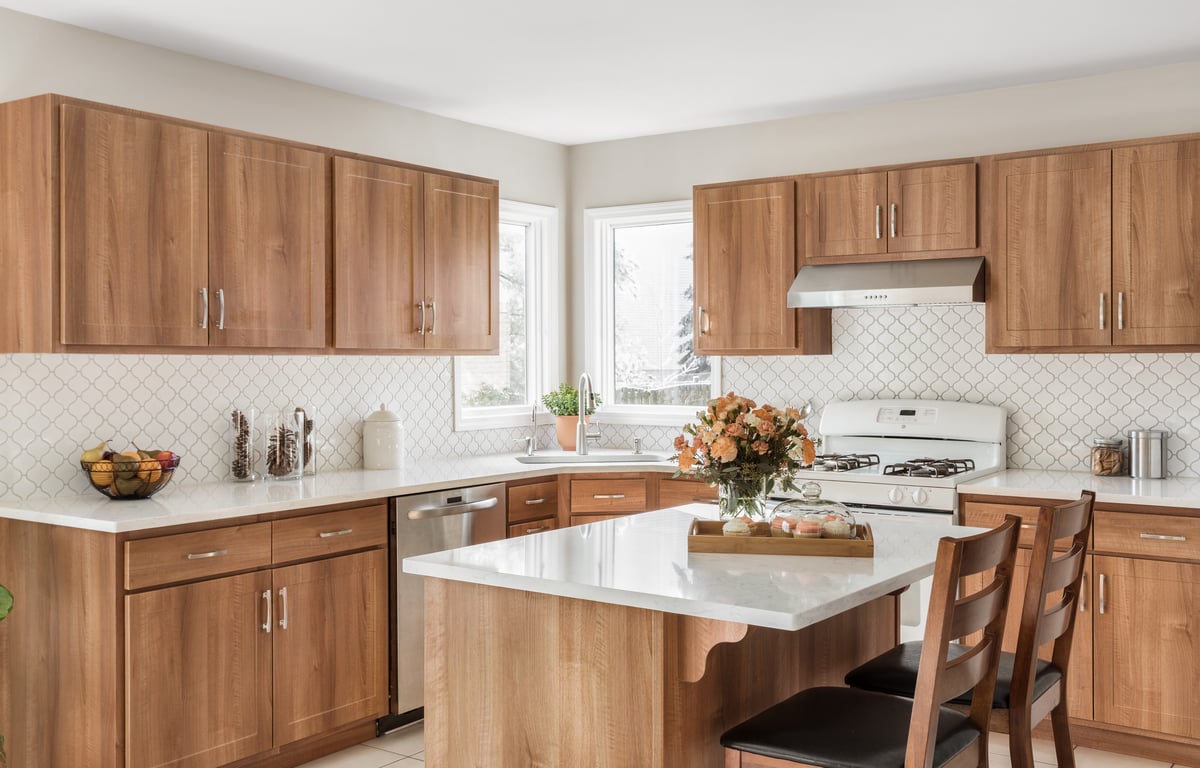 The homeowners worked with Suzi Dia, Kitchen Consultant at Kitchen Magic, to make smart choices that would reflect their personal tastes and needs, yet still allow them to smoothly complete the kitchen remodel with new appliances in phases afterwards. This careful planning paid off. The final project is beautiful to live with now and a true bonus in terms of resale value.
Refacing with Warmer, Richer Maintenance-Free Cabinets and Drawers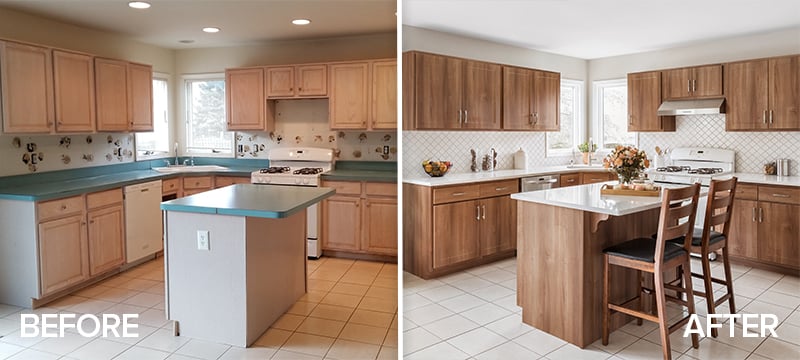 The kitchen colors and style were choices that were made by someone else in 1996, three years before the homeowners bought the house. Life has a funny way of keeping families busy and making time fly, and before they knew it, it was 2018. All this time, the couple had just lived with the harsh color combination and low-quality materials, and they had finally had enough.
"It was time to change out the stark, light wood cabinets and teal-green laminate countertops, as well as the mirrored backsplash that only amplified what they didn't like," recalls Dia. "A Wanting more natural tones, the homeowners selected a style of wood-grained cabinets in a darker and richer hue. Their new Hazelnut Prestige Statesman doors and drawers are not too dark and not too light—and they set the stage for the whole kitchen transformation.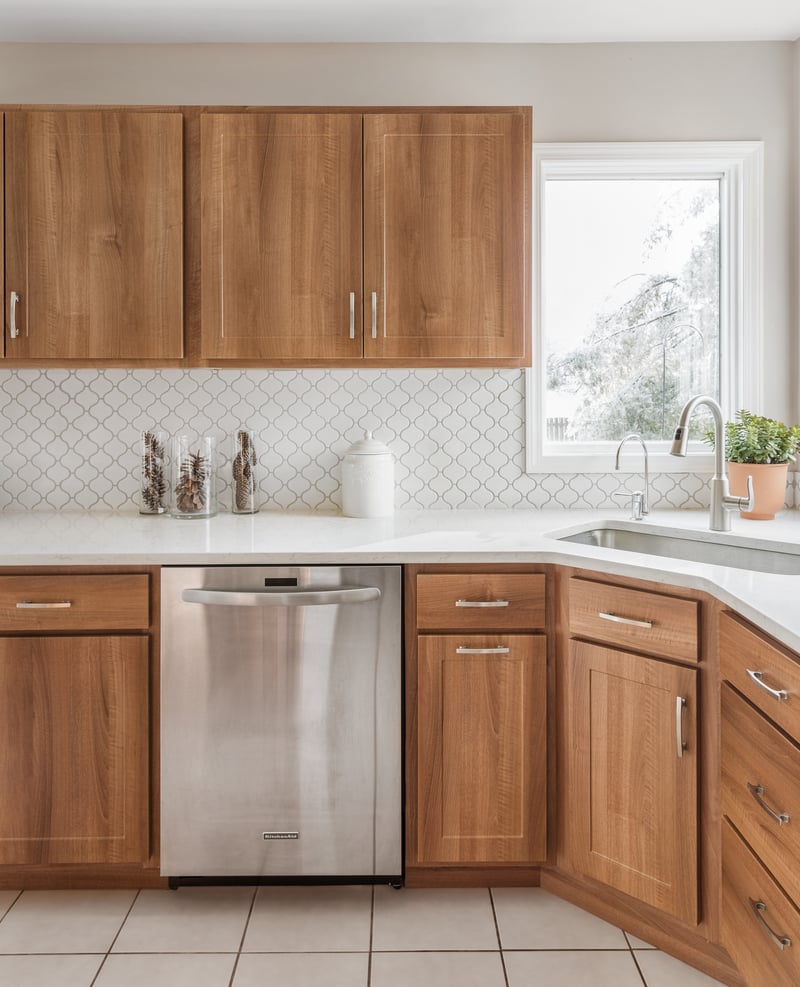 These homeowners selected flat-front doors for a more contemporary feel, and it was easy to accommodate their preferences within their budget. "This was a brilliant idea, because the simplicity of the drawer shape really lets the richness of the color and wood grain come through," says Dia.
The warm earthy tones of the cabinets definitely pulled the whole look together, says Dia. "They selected a very attractive color scheme that they can enjoy now, and that will have a lot of resale appeal someday."
Durable Quartz Countertops With the Look of Marble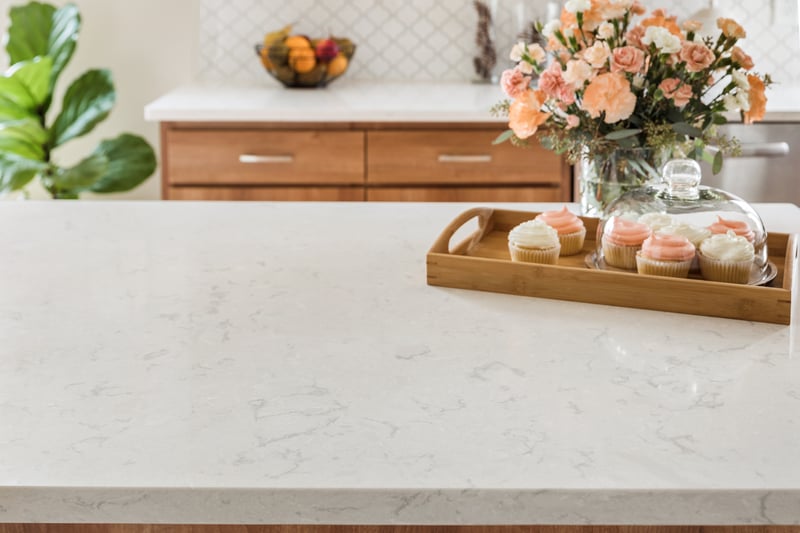 Replacing the teal laminate countertops was a top priority. The homeowners chose a stunning Cambria quartz in Swanbridge that has the classic look and texture of marble, with a tougher surface. "Quartz is actually more durable than marble, which chips and scratches much more easily," says Dia. "It is a wonderful cooking and every-day-living surface, and it requires very little maintenance over time."
A Kitchen Design So Smart and Stunning—and Easy to Upgrade Later on
The homeowners had a happy after-the-fact discovery with this kitchen remodel. Because all the elements they selected work together so nicely, the process of upgrading the appliances has gone very smoothly. If you look closely in these photos, you can see a new stainless-steel dishwasher and exhaust hood installed, but the kitchen still has the same white refrigerator and range a year later. Because all the natural-themed elements of the design take center stage, everything blends beautifully.
"Keep in mind, that they did this all without changing the footprint of the kitchen," says Dia. When the time comes to upgrade the refrigerator or the range, this family is ready. And until then, they still have a stylish and completed look.
"Like a lot of homeowners, they wanted to remove the microwave from over the stove for a more contemporary and uncluttered look," says Dia. "This actually opened up the space quite a bit, and it helps take your focus off the appliances in the room, so you can enjoy all the natural textures and colors more."
Better for the Budget, and Better for the Environment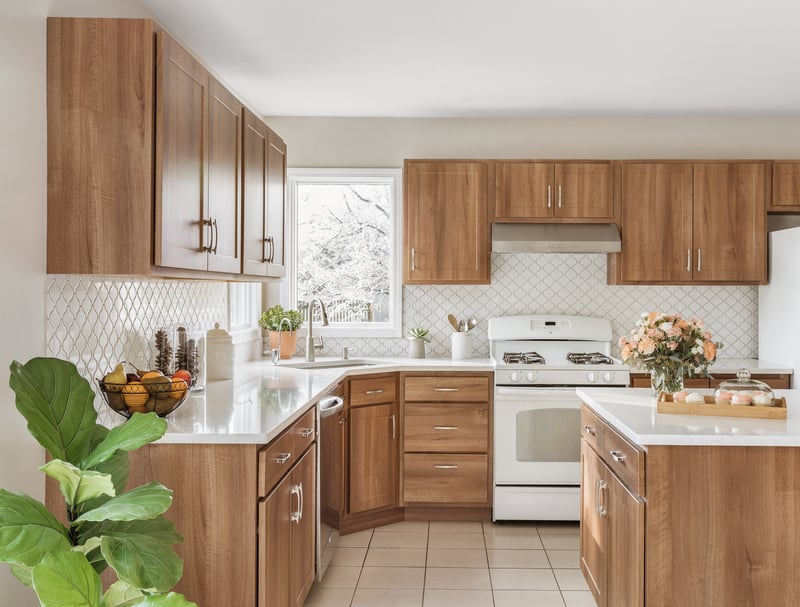 At first mention, the couple were not sure about laminate cabinets, but being able to see the quality of the samples in their own kitchen during their in-home consultation with Dia, they soon saw why these products are so overwhelmingly popular. Kitchen Magic has perfected their craft, creating beautiful-looking and highly-durable products and providing unmatched expert installations. "Maintenance-free cabinet doors are really attractive, hold up incredibly well over time and are more affordable than traditional cabinetry. This allows people to invest more in the areas of the kitchen that get the most wear and tear, like the countertops," says Dia.
Beyond the cost value, this family appreciated how refacing creates much less waste material than a full-cabinetry-rip-out remodeling job. Dia says that many of her customers who choose maintenance-free cabinetry also feel good knowing that the products they selected were made using a more environmentally-friendly process.
Another thing that not a lot of homeowners know is that refacing can allow you to switch up the combinations of drawers and doors within the cabinet boxes affordably, says Dia. "People don't realize that with refacing, we save and reuse the cabinet box, and we can reconfigure within that box. So you usually can mix and match cabinets and drawers, or change up the drawer sizes to create better storage solutions." For this project, the homeowners swapped out an older stack of three identically-sized drawers for a set that had two larger drawers on the bottom.
Everything AND the Kitchen Sink
One of the biggest surprises for these homeowners is just how much they loved their new sink. They expected the new cabinetry and countertops to make a difference, but being able to finally fit a whole lasagna tray in their new deep sink, well, that was unexpectedly awesome! According to a recent Forbes article, they may be on to something here. The magazine recently listed sinks as one of the kitchen trends to watch in its "2020 Residential Design Forecast."
"Sometimes practical changes, like a large stainless-steel sink or some under-the-cabinet lighting, really make daily life so much nicer," notes Dia. "You use your kitchen just about every day, so why shouldn't you make it fit your lifestyle better if you can?"
In the Homeowner's Own Words:
"It was a great surprise to see all the samples Suzi brought with her to our in-house consultation. See them right in our own kitchen, it really inspired us. I could really imagine the cabinetry and the countertops in my own home as we put together combinations and talked about ideas."
"The transformation was just WOW! Compared to what this kitchen looked like before, it's truly amazing. It only took about a week to do the whole job, and our installers were on time and kept their promise to finish the work before for the holidays that year."
"I hope people can see that you can really upgrade your kitchen in stages when you take the time to think it out. We remodeled keeping in mind what we wanted for future appliances, and a year later, I am glad we did."
How to Get the Look in This Remodel of the Month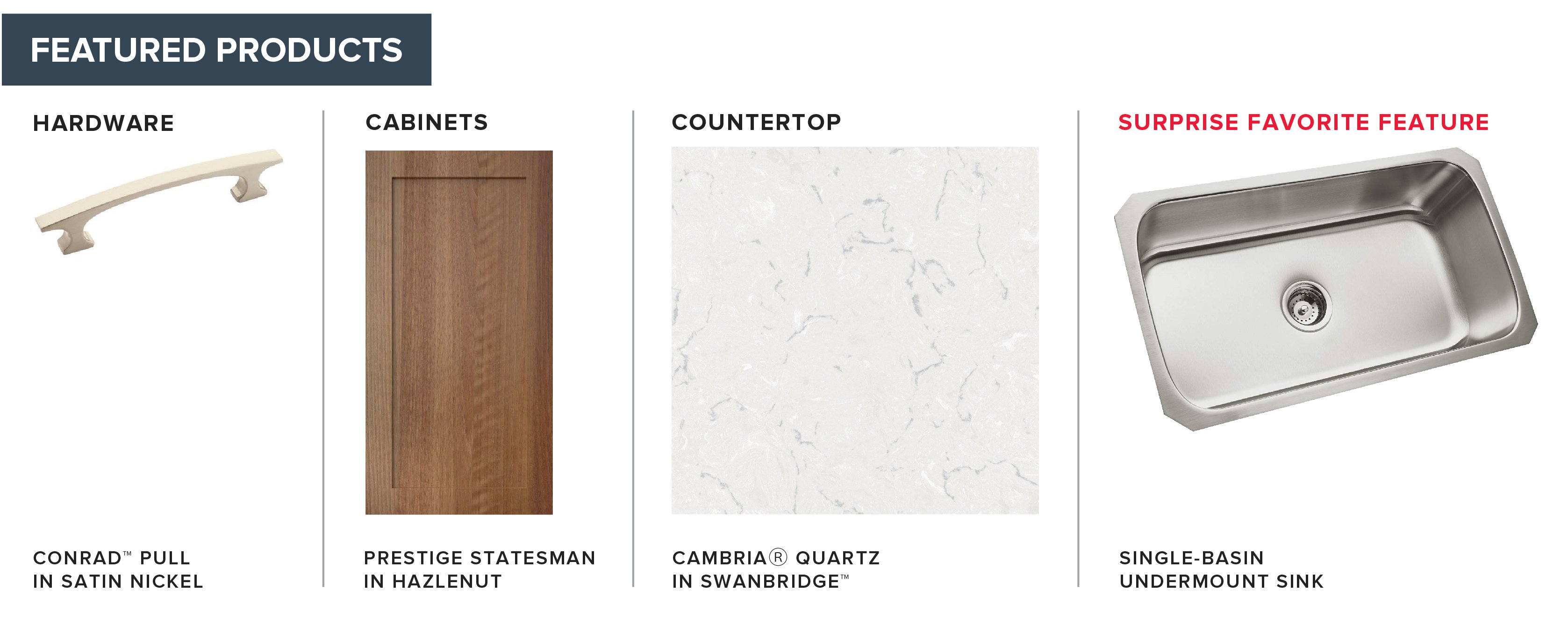 Like what you see in this Remodel of the Month? Here's what went into this look:
These homeowners finally got the contemporary, natural design they wanted, expertly installed with quality materials they chose themselves. Why not see what Kitchen Magic can do for you? Schedule your free in-home consultation today!
REMODELED KITCHEN PHOTO CREDIT: Andy Ryan Photographer, 2020
To view more stunning transformations check out these remodels: