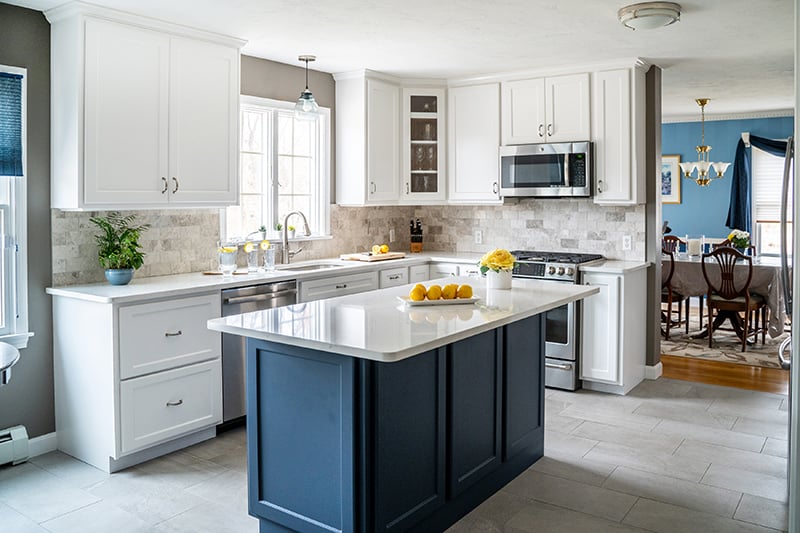 What we love about smaller kitchen remodels is how the little details often have the most impact on a final kitchen design. These Essex County, MA homeowners approached Kitchen Magic with two requests. First, they wanted to bid good riddance to their outdated 1990s oak cabinets. And, second, they were tired of their U-Shaped kitchen with a peninsula, so they wanted to install a new kitchen island for improved functionality and some additional storage.
Whether you have grand plans for your culinary station or just want to add a little flair to it, turning to an experienced kitchen contractor for assistance can help bring your vision to life.
How do I give my kitchen a new look?
Once the new design got underway, these homeowners realized that new kitchen cabinet doors would make their existing countertop look too outdated. So, this Massachusetts couple decided to replace their kitchen countertops at the same time. While they were at it, they also added a gorgeous new backsplash! And the best part? The cost savings from cabinet refacing meant their new kitchen design was built without breaking the budget.
We decided on a central island, giving the space a more open and modernized feel.

- Dawn-Michelle, Kitchen Consultant
1. Spruce up your kitchen with a touch of white and blue
These customers wanted a brighter and relatively timeless look for their new kitchen. Accents of pale earth tones in the new backsplash complement the existing floor tile. And, the new island with Colonial Blue cabinets creates a beautiful focal point, as well as adding a touch of contrast in the overall kitchen design.
The old 90s oak kitchen cabinets were beautiful, but outdated. To give them a new life, we removed the doors and drawer faces, kept the well-built and high-functioning cabinet boxes, and refaced with prestige Kitchen Magic Statesman Kershaw cabinet doors in Satin White. To top it off, the upper cabinets were extended to complete the floor-to-ceiling design.
2. Maximize your space with kitchen island
The homeowners felt the previous peninsula shaped countertops boxed in their kitchen, leaving an expanse of wasted middle space. A longer island helps improve the kitchen flow and adds significant usable space for food prep, gathering of friends and family, extra storage and more.
Quartz countertops are the way to go if you want a product that looks like elegant natural stone, but don't want to worry about sealing, chipping or cracking. The crisp, white quartz countertops in this remodel will stand the test of time with easy maintenance so you never have to worry about stains. Plus, the combination of cabinet refacing, which helps minimize landfill waste, and sophisticated quartz countertops, a renewable material made in the USA, means this kitchen leaves a more eco-friendly imprint!
3. Add interest with touch of texture
The team at Kitchen Magic knew this kitchen needed a little bit of texture to keep it on the transitional edge of design, rather than tipping over into a sleek and more contemporary look. Design consultant Dawn-Michelle recommended fully extending the backsplash from countertop to cabinets, using a marble subway tile. This rich, yet subtle pattern adds a rustic, transitional anchor into the mix.
4. Break up the monotony with glass-front cabinets

Finally, we love how the owners chose reflective glass cabinet door panels above the refrigerator to help visually break up a solid wall cabinetry and let the light shine through. Today, they use the cabinets to store attractive china and glassware. However, they can also display colorful seasonal accents as desired throughout the year.
"This hybrid kitchen remodel, accomplished with cabinet refacing, some new cabinetry and countertops, changed the entire kitchen footprint without the added cost of all new cabinetry", comments Dawn-Michelle. She adds, "the end result is a charming and more functional kitchen with a beautiful new transitional design."
Where can I find a trusted kitchen contractor to help me with my upcoming kitchen upgrade?
Are you ready to change how your kitchen looks and functions? Innovative design and the finest craftsmanship make Kitchen Magic stand out from the crowd. We have a team of experts, committed to meeting your needs in accordance with industry standards. With us, you can count on a wide range of services, including comprehensive planning, material selection, and advanced techniques. Schedule a free design consultation with Kitchen Magic and we'll bring our showroom to you! Give us a call at 866.339.9099 for more information.
Looking for more inspiration? You don't want to miss this FREE download!