November is the month of gratitude for all the abundance in our lives. Here at Kitchen Magic, we're grateful for all the fantastic clients we get to work with daily. This time around, our Kitchen Remodel of the Month is owned by Mr. and Mrs. H. from Flemington, NJ.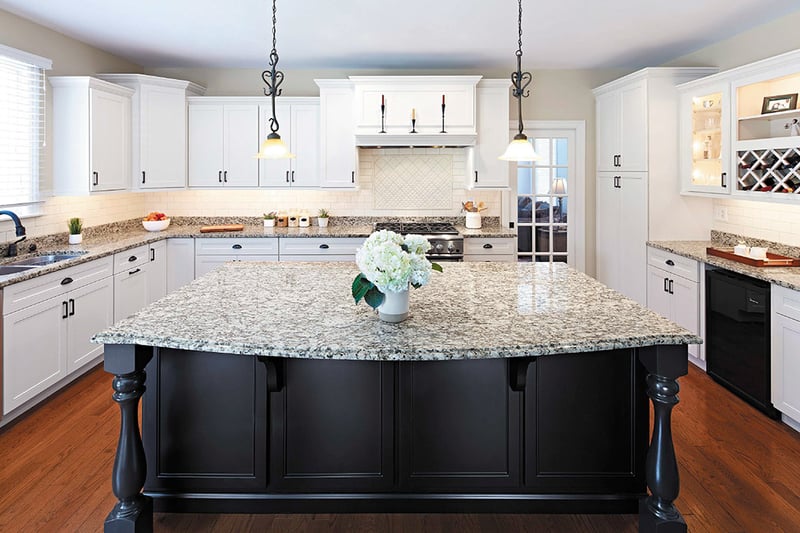 The homeowners were so excited to remodel their kitchen, and for a good reason: they opted for black-and-white kitchen, a timeless kitchen aesthetic. This color contrast is unbeatable, plus, such kitchens are highly customizable.
How we created the perfect black & white kitchen design?
Before we go into the features and finish details, we want you to look closely at their "before" photos. From finish to finish, it all makes sense: stylish traditional cabinet doors, accent colors on the walls for interest, and gorgeous granite countertops. So how is it that the overall appearance wound up drab?
This is a prime example of what happens when people who know what they want piece individual components together without assistance from design pros. Mixing cool and warm colors fall flat, granite patterns with textured staining overwhelm the eyes, and features that look great on their own don't quite "work" altogether.
That's why the design pros at Kitchen Magic make all the difference. We kept what worked - revamped what didn't - and the results are brilliant.
Take advantage of black & white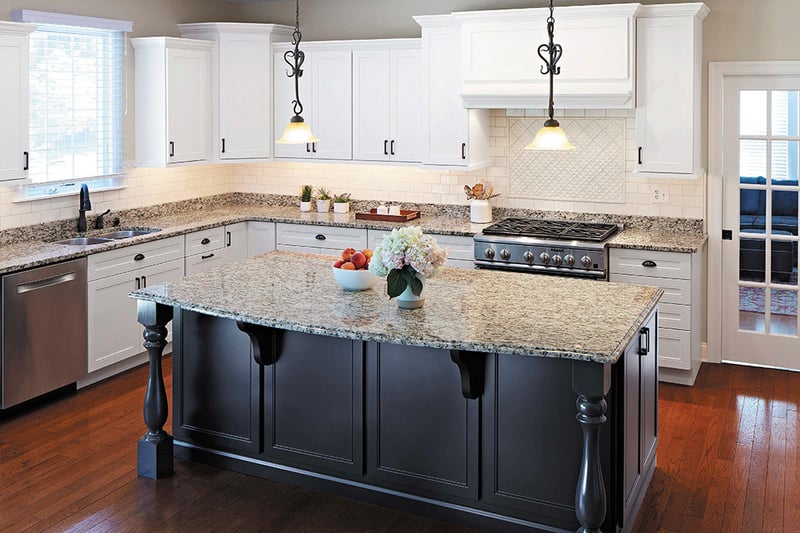 The homeowners are entertainers who love the idea of using white to open and brighten things up. But, unfortunately, their antique glazing on existing white cabinets didn't allow that effect.
With a simple cabinet refacing job, we removed the traditional detailed cabinet doors/drawers and replaced them with transitional Statesman doors & drawers with a beaded edge. There's still a hint of "detail," but in a more streamlined light.
They selected Antique White for the perimeter cabinets and a striking Satin Black for the island. Sleek black cabinets are trending right now, so this was a timely move. However, keeping the black in check makes for a timeless aesthetic that won't need to shift with more transient trends.
Create a high-contrast effect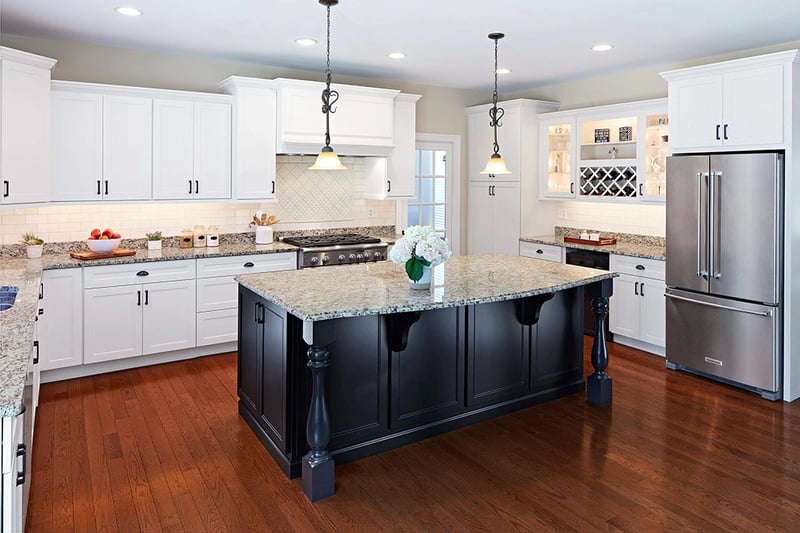 The alternating white perimeter with the black island is a smart choice for contrast. Also, notice how keeping the white above, and the black accents on the lower portion of the visual field maintains a spacious feel. Compare that with their "before" kitchen, where dark colors on the walls up to the top closed things in. Staggered cabinetry also helps to open things up while also providing visual interest.
Adding furniture-style legs on the island offers a hint of New England tradition, but with a sleeker black finish. Then, they selected Black Bronze pulls from our time-honored 2021 collection of knobs and pulls to complete the cabinetry. It's a smart move, with bronze paying homage to traditional roots, while the cut of the handles/pulls is decidedly contemporary.

Be sure to put your stamp on it

There's no need to discard anything you love just because you're doing a kitchen remodel. This black-and-white remodel exemplifies our mantra that you should always keep what you love.
In this case, our clients saved thousands by refacing rather than replacing the cabinetry. In addition, they maintained their beloved granite countertops - which are now a feature with the right color contrasts. They also opted to keep their beautiful cream tile backsplash and some of the gorgeous black bronze cabinet pulls for continuity.
Just in time for Thanksgiving & festive spirit
This chic black-and-white New Jersey kitchen is all about family. To complete things, we installed super-sized appliances that can handle any sized gathering that comes their way. Finally, durable and easy-to-clean laminate and various stone materials, that large kitchen island, and the living space at the end of the room all combine to create a functional, comfortable kitchen that encourages entertaining.
Improved gathering spot & dining area

Looking for a sideboard for buffet-style dining just got easier. This

desk offers ample space

for more than a work-from-home station. This hub of the kitchen offers a place for the family to fill up on appetizers and offers a platform for platters of your

Thanksgiving holiday favorites

. When not celebrating, it's back to a desk and much-needed storage.

The Designer's comments
"This customer was a pleausre to work with. I was delighted to help bring her dream to reality. Making the island the focal point made this kitchen a showplace".

- Jill Moskowitz, Kitchen Design Consultant
Looking for ideas for your Thanksgiving kitchen remodel? Call reputable contractors near you today!
Ready for a kitchen remodel you'll cherish for years to come? As a leading expert in cabinet refacing and fully personalized countertops, Kitchen Magic provides cost-effective and innovative kitchen design solutions to suit your needs.
Take a look at our options to find the right step for your next remodel and get in touch with us to request your free design consultation. No matter if you live near Samuel Fleming House or elsewhere in the area, we can't wait to bring some magic to your kitchen!