Creating an inviting space was top-of-mind when these Allentown, Pennsylvania, homeowners decided to trade-in their old oak cabinets for a warmer, richer transitional cherry kitchen design. They got all the style and functionality they wanted, thanks to their keen eye for detail and Kitchen Magic's exceptional refacing process and products.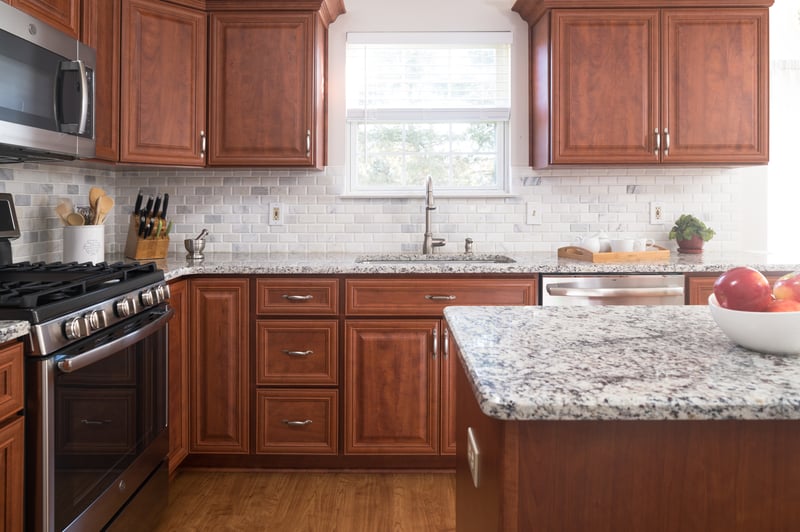 Goodbye Traditional Oak, Hello Transitional Cherry Kitchen Cabinetry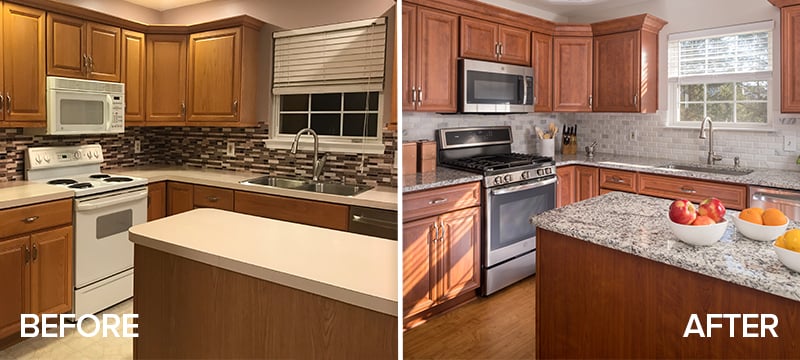 Since most of this project did not involve changing the original footprint, you can really see how the stunning Vintage Raised Panel cabinets in Classic Cherry transformed the kitchen by taking full advantage of the natural light and existing space. Where previously stark oak cabinetry had given a more dated vibe, the new cherry tones warm up the room and create interest.
"I love working with homeowners like these, who really do their homework," says Kitchen Magic Consultant Rick Mugione. Customers like these, who have shopped around a bit, know that Kitchen Magic offers exceptional products. "They knew what quality cabinetry was, and as soon as they got their hands on the door samples, they were able to find what they were looking for."
Mugione also gives kudos to the homeowners for incorporating a larger crown molding than they previously had on top of the upper cabinetry. This subtly raises the gaze upward, giving the space an airy feel. It also complements the handsome details of the raised panel cabinet doors.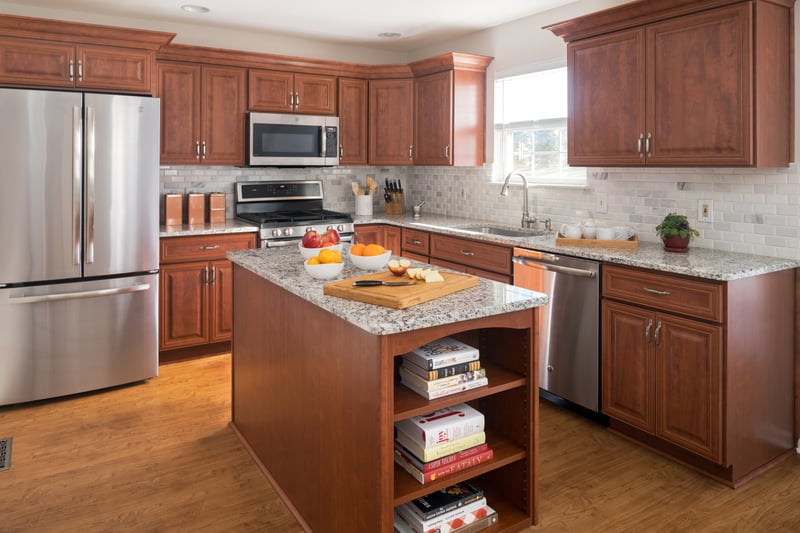 One of the slight changes to the footprint of the original kitchen was the bookcase at the end of the island. The homeowners' idea, this extra bit of cabinetry design is a beautiful touch that does not cut the floorspace off around the appliances. This display area is also a nice focal point when entering the kitchen from the family room.
Complementing the Cherry Cabinets With the Right Granite Countertop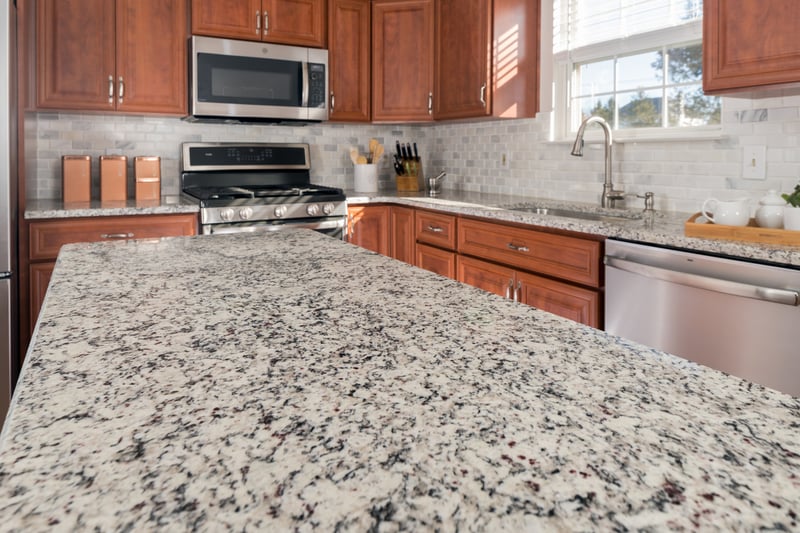 The homeowners selected a beautiful new granite countertop in Blanco Leblon, with slight hints of burgundy that come through and play off the cherry cabinets, says Mugione. The granite style also complements the marble subway-tile backsplash, which is much lighter than the previous one they had in the kitchen. This helps give the counter space a more open feel. We often talk about how to pair countertops with dark cabinets, and this family really shows how beautiful the results can be.
A Lonely Half Wall Becomes a Transitional, Functional High-Top Counter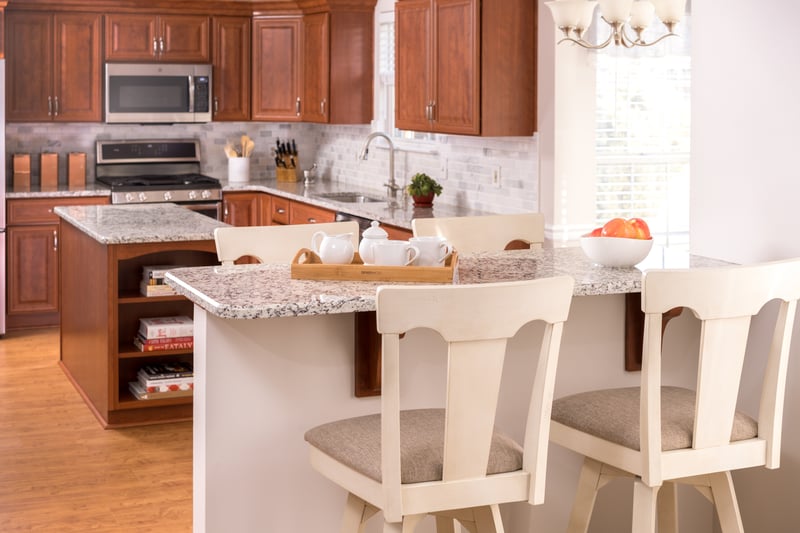 The homeowners also had a smart idea to use the same granite they chose for the kitchen island and countertops to create a bar-top area out of an existing half wall between the kitchen and the family room. It is a cozy, well-used dining space now. And, almost like a second island, it serves as a fantastic "grazing station" when the the family entertains — one that doesn't crowd the food prep areas around the refrigerator, sink and stove. This high-top conversion turns out to be one of the remodeling elements they enjoy the most.
"This was such a great idea for unused space, and a better solution for added seating. Now the family can sit on either side of the high-top to enjoy both the kitchen and family room living spaces," says Mugione. "It's an upgrade we can do with surfaces like granite using supports that we coordinate with the cabinetry. It's stable and secure this way, and it looks great."

In the Homeowner's Own Words:
"We love how our kitchen is now so much more a part of the rest of the living space. The bar-top seating area really blends the kitchen in with our family room, and we use it every day, whether it is just the two of us or whether we are entertaining friends or family. We got the beautiful cherry-wood style we wanted, and it is a dream to maintain — just a little soapy water and it's clean."
"The in-home experience was great. I'm not good at visualizing things, so being able to look through samples in my kitchen helped so much. We had door samples, so we could see and feel the quality and detail, too."
"My advice to other homeowners who are looking to remodel their kitchens is to be sure to share your ideas with your consultant, and to ask questions. This may be your first time remodeling a kitchen, but your consultant has done this a lot and can work with your ideas and budget. That little element that you wind up adding in, like our island bookshelf, could be something you will enjoy and love about your kitchen for years to come."
How to Get the Look in This Remodel of the Month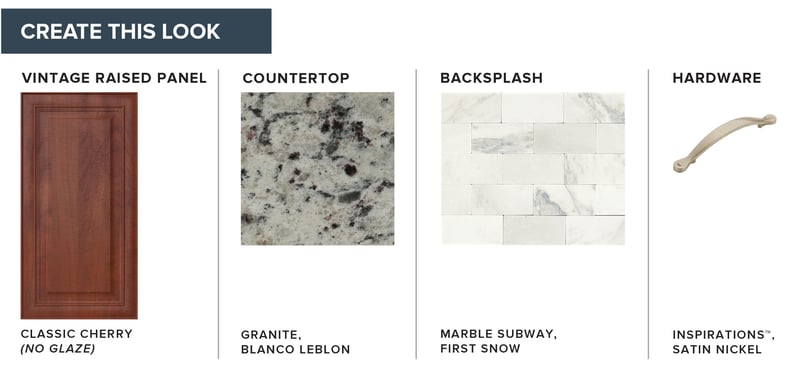 Like what you see in this Remodel of the Month? Here's how to create this look:
With the growing popularity in darker wood cabinets and demand for maintenance-free cabinet refacing, we expect more homeowners to choose styles like these cherry cabinets when they remodel their kitchens. Expertly installed with quality materials they chose themselves. Why not see what Kitchen Magic can do for you? Schedule your free in-home consultation today!
REMODELED KITCHEN PHOTO CREDITS: Christian Giannelli Photography, 2020
To view more stunning transformations check out these remodels: