We love to celebrate the stunning remodels that Kitchen Magic has completed on modest budgets. Being able to create a beautiful kitchen within your financial comfort zone, like our February Remodel of the Month, is rewarding on many levels.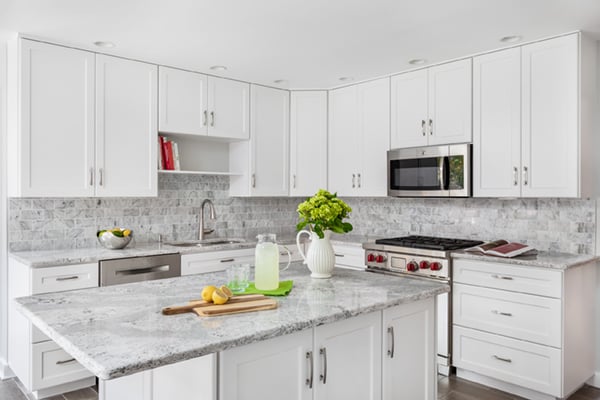 Kitchen Remodel at a Glance: Cabinet color and style, countertops, backsplash and flooring
Location: Greenwich, Connecticut
Size: 140 square feet (14 by 10 feet)
Designer: Kevin Mauro
Modest Kitchen Budgeters Achieve Luxury-level Rewards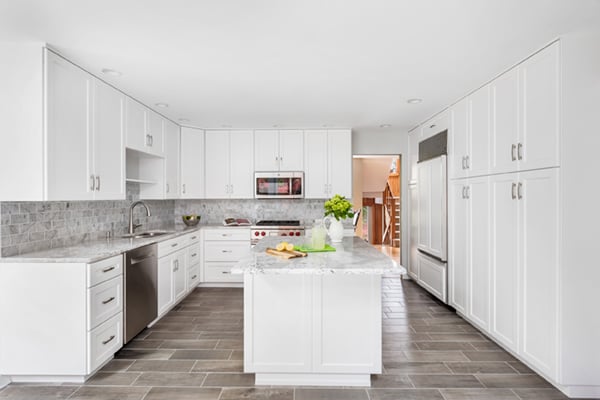 Problem: Kitchen color and style does not reflect homeowners' taste.
Keep: Existing layout and quality cabinets
Replace: Cabinet doors, countertops, backsplash & floor
February's Remodel of the Month is a timely Valentine's feature—it warms our hearts to design and build a kitchen our clients love, especially when it's more affordable than they dreamed possible.
These Ridgewood, Connecticut homeowners are thrilled with their hip and contemporary kitchen - a far cry from the older, dilapidated kitchen they bought into when purchasing their home. Now, the new design boasts stylish and luxurious features that are durable and can easily be wiped down without any muss or fuss.
Refacing Cabinetry is The Key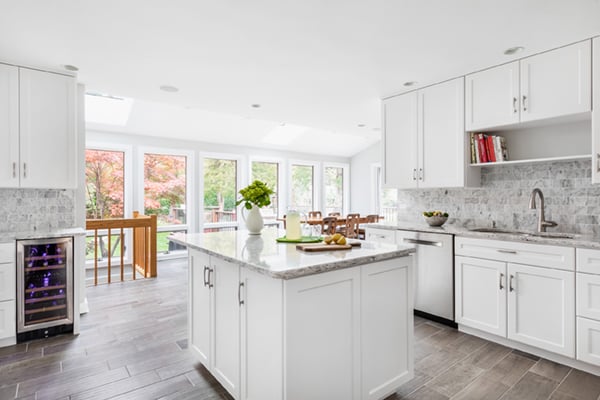 Not surprisingly, gorgeous refaced cabinets are the cornerstone of this large, family-friendly kitchen—emphasis on the refacing. That saved the homeowners about half of the money they would have wasted on custom cabinets if we hadn't educated them! By taking our advice, their budget was slashed by thousands while gaining a completely custom-look.
Shaker-Style Cabinets in Satin White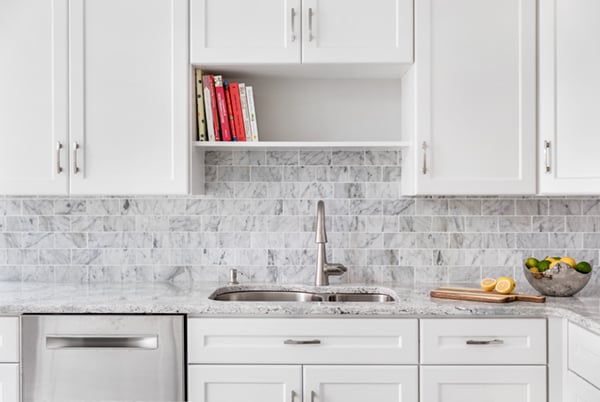 They knew this would be the only remodel they're able to accommodate for at least another decade or two, so our designers focused on timeless features that never go out of style. Kershaw style cabinet doors—which are a take on versatile shaker doors—were finished in Satin White. The simple door style, plus a color that never goes out of style, means their kitchen will remain relevant year after many years to come.
Coordinating Appliance Panels Enrich the Design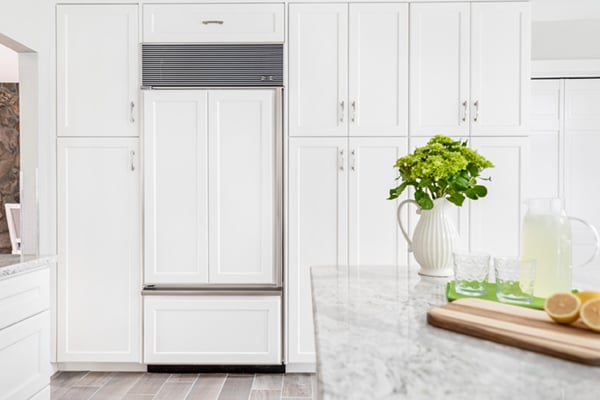 That's right—to blend well with their new design but relieve them of the need to buy an expensive new appliance, we gave the fridge a makeover with new satin white paneling and trim.
Cambria Quartz Countertops for That "Marble Look"
Did you know quartz countertops are Consumer Reports top countertop materials for busy kitchens? They weigh aesthetics, price, durability (really put it to the test!) and maintenance requirements (or lack-there-of).
All of the above is why these wise parents chose Cambria quartz countertops in Summerhill. They loved how it was a close replica of their favorite stone, marble—knowing a marble countertop simply can't hold up to the constant demands placed on their kitchen.
Are you a fan of marble but worry about its soft, porous nature? Check out, Mourning Marble Countertops for examples of durable, quartz alternatives.
A Marble Backsplash in Subway Style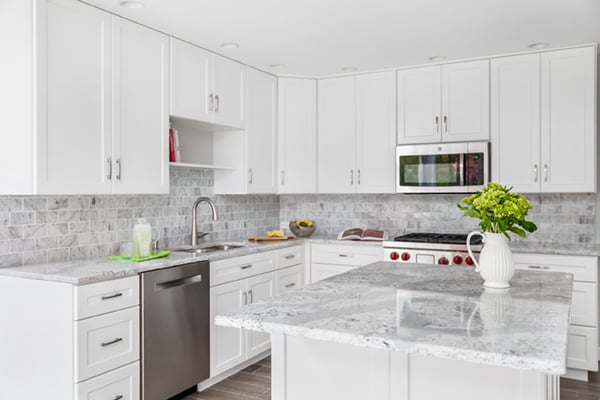 Proof you can have your quartz and enjoy the look of marble too, a Carrara marble backsplash with a subway tile layout was the perfect solution. This creates a gorgeous transition between the cabinets and the counters, keeping marble out of harm's way.
Ceramic Tile "Wood" Floors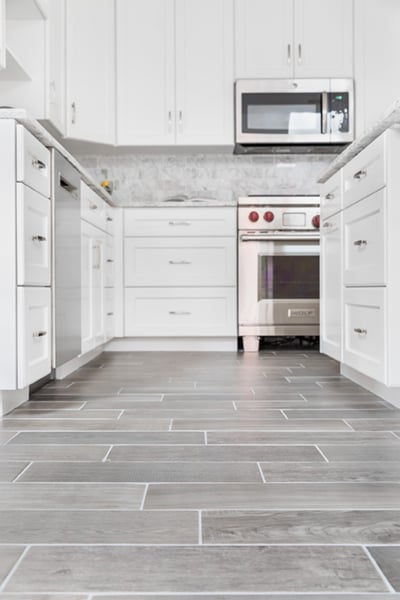 Ceramic tile floors made to look like wood are a phenomenal choice to get the warm and timeless look of wood flooring, without ever worrying about spills, moisture, or refinishing. Their Driftwood Gray floor blends beautifully with the gray-and-white palette.
The Finished Product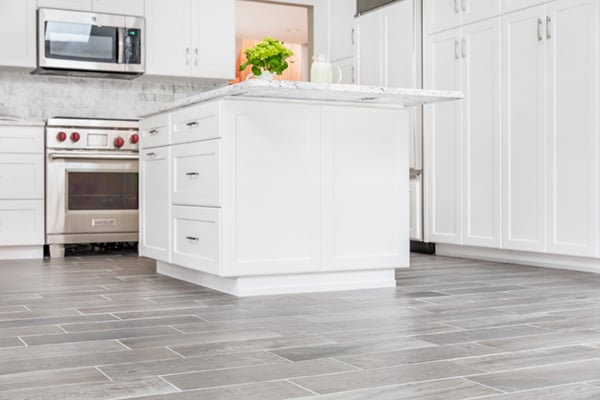 The Results: Coordinating Gray & White Color Scheme Brightens a Kitchen Design
Kept: The Footprint the same
Replaced: Cabinet refacing, new countertops, backsplash & tile flooring
Changed: The style to a Contemporary motif
Convinced your smaller-than-luxurious budget isn't enough to transform your kitchen? We'd love to prove you wrong. Schedule an in-home design consultation with Kitchen Magic and let's work to get your kitchen featured on our Remodel of the Month blog. For your convenience, you can schedule your free in-home consultation online today! Simply click or call (800) 272-5490.