When you have a large kitchen, your options are vast. However, that makes the task of remodeling all that more intimidating. When we visited these New Jersey homeowners, we laid out the samples and discussed their kitchen project needs. It became obvious to our designer Jill, that their kitchen was the hub of the home and used often, as it should be.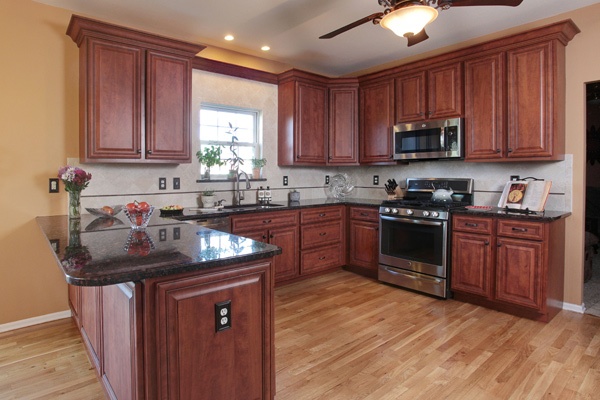 Kitchen at a Glance
Homeowner: A busy New Jersey couple
Location: Hazlet, New Jersey
Size: 120 square feet (10' by 12' feet)
Designer: Jill Moskowitz
When you want traditional style in Classic Cherry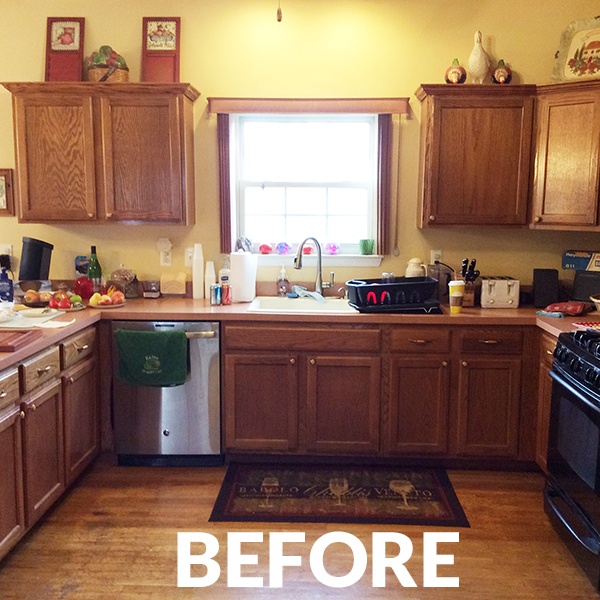 Problem: Homeowners like wood but desire something more durable
Keep: Maintain existing lay out
Replace: Wood doors with maintenance free material
The Remodel of the Month for February highlights a spacious kitchen that simply needed some TLC. The homeowners resided in the home for years and plan to stay for many more. They also mentioned the new kitchen should reflect their own personal style and expressed their distaste for the oak cabinetry. Always desiring a cherry kitchen with stone countertops, we recommended maintenance free doors in Classic Cherry with black glaze for a state-of-the-art makeover with a touch of old world charm.
Warm the space with timeless elements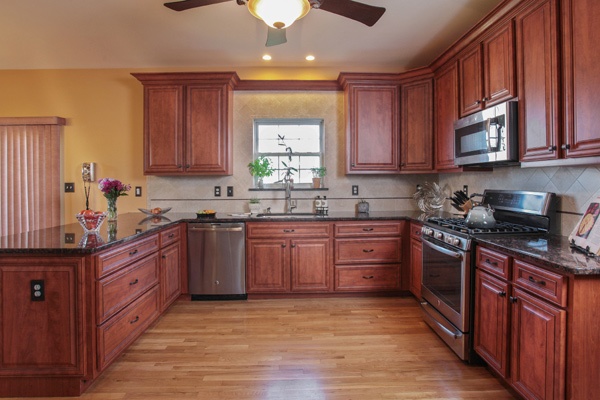 They liked the layout and felt that there was really no need to move cabinets or appliances. Inspired by home & décor websites, they decided that the cherry color with dark granite would maintain the kitchen's existing warmth. The homeowners were drawn to our Vintage style door immediately, as that would complement the rest of their home's motif and their personal taste.
Using the existing 'bones' of the home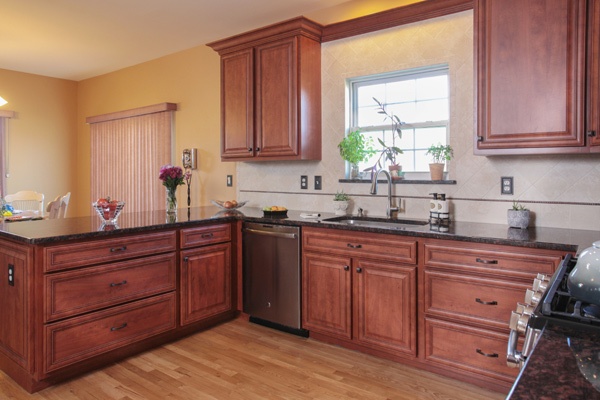 Solution: Cabinet refacing would refresh a grand kitchen that only needed an update.
Considering the cabinets were original to the home, the boxes themselves were of high quality and still in good condition. Refacing would refresh the largest part of the project, the cabinetry. The doors and drawers make up 80% of what you see in the kitchen, meaning replacing that cabinetry would have eaten much of the project budget.
Changing format to enhance functionality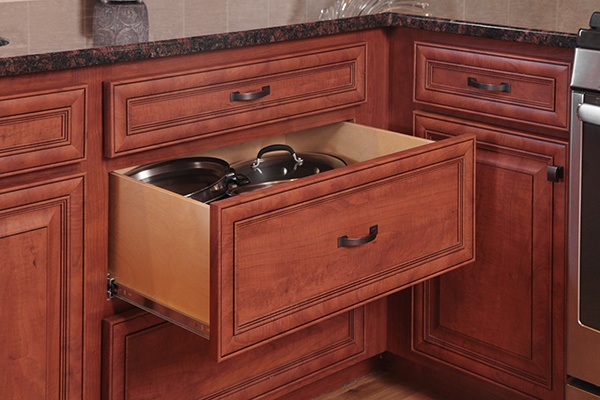 Even with refacing, their choice of upgrades made the kitchen more functional. Restyling the original pot and pans cabinet into pot drawers proved more organized and increased storage capacity. It's updates like this that bring the kitchen into the 21st century.
When we spoke to the homeowners after their remodel, they expressed their delight with their designer and the rest of their Kitchen Magic team:
"Kitchen Magic made it so easy to remodel our kitchen from beginning to end. A short time after our call, Jill came in and spent quality time with us. She made some great suggestions and assisted us in our goal to enhance our home with a kitchen that was perfect for us. She stayed until she was sure we were satisfied with all of our choices. The installers were prompt, courteous and neat. They completed the job on time and were a pleasure to have working on our home. This team is fabulous from beginning, end, and beyond. The support and customer assistance group are superior. We even called them back to put a serving counter in another area of our home! We feel our kitchen has a unique look and is more user friendly than before. Every one of our friends and relations love our kitchen. Kitchen Magic can do it all."
Customize with some new cabinets and shelving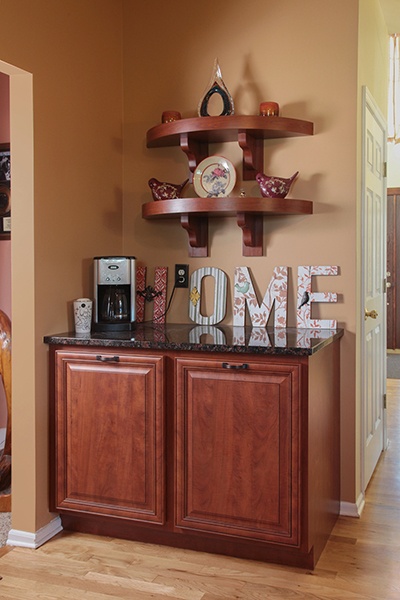 The Final Reveal: Refacing refreshed the kitchen and kept budget in check, allowing the homeowners to splurge on a few designer upgrades. Coordinating shelves and a custom server cabinet expanded the layout visually and elaborated on the design. They also filed in unused corner with a matching server. Add shelving for some coordating decor elements.
Most times, cabinetry only needs a refresh
These homeowners still spend time in the kitchen but now it's more enjoyable and a room they can be proud of. Let Kitchen Magic enlighten you to some custom kitchen solutions. Schedule your Free In-home Estimate today!