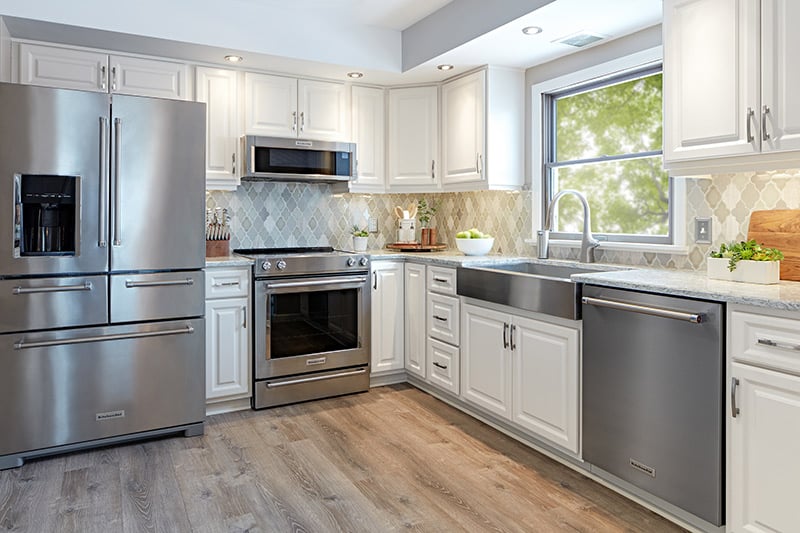 Embarking on this featured kitchen remodeling project was a bit like traveling through time. These Northampton, PA homeowners hadn't done much to update their kitchen in the 25 years they've owned their home, and neither had the previous owners. That is, until the team at Kitchen Magic was given the opportunity to bring this 1960s kitchen into the present era. And, to ensure longevity in the overall design, they focused on neutral colors and features to stylishly update their kitchen into one that they will enjoy for years to come.
A Transitional 21st Century Kitchen Design
Keeping the design versatile was a priority, but so was staying within the budget. These homeowners intentionally sought help from the experts at Kitchen Magic because they were familiar with our great reputation and knew about our flexible, customer-centric approach to kitchen remodeling. The couple also flexed their DIY muscles to save money in some areas, allowing them to splurge on other areas where they preferred professionals to be at the helm.
Kitchen Magic took our dark, outdated kitchen and transformed it into a timeless space we will enjoy for years to come. Everything from the design process to our new cabinetry to the workmanship of their installers who refaced our existing cabinets was exceptional. Our experience with Kitchen Magic exceeded our expectations and the final result made us fall back in love with our kitchen!

- Mr. & Mrs. Robert H., Homeowners
The homeowners were happy with their kitchen layout, which meant they could save thousands using kitchen cabinet refacing - rather than replacement - for the majority of the cabinets. Refacing cabinets keeps existing cabinet boxes in place, minimizing demo time and mess, and implementing design elements to create a brand-new look. For this remodel, we refaced the '60s style cabinetry with Prestige Square raised panel doors in Antique White. The finished look is crisp and bright, while still adding a bit of elevated style.
Accented with glass cabinet doors
After two-and-a-half decades looking at solid, woodgrain cabinet fronts, these homeowners were really ready for a change. So, they upgraded the overall look by adding Villa-style glass cabinet door fronts as an accent . This is a savvy way to honor a timeless and neutral foundational kitchen design while retaining the homeowners' ability to display pops of color and seasonal décor.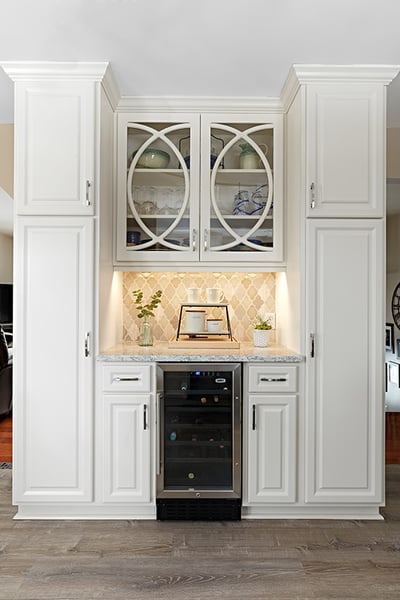 Gorgeous, low maintenance countertops
Whenever the words gorgeous, low-maintenance and countertops appear in the same sentence, you can bet we're talking about quartz countertops. Quartz countertops imbue any kitchen with luxury while remaining as durable and low maintenance as can be. In this case, the homeowners selected Cambria quartz countertops in Berwyn with a beveled edge to add an upscale finish.
A contrasting approach
The homeowners did opt to reface the cabinets on their existing island and they made the stylish decision to replace the perimeter countertops with light gray quartz accented by black on the island. This is a designer trick to keep the eye moving and add contrast within this mostly light kitchen color scheme.
Ready to update your kitchen?
Are you ready to change how your kitchen looks and functions? Schedule a free design consultation with Kitchen Magic and we'll bring our showroom to you! Give us a call at 800.272.5490 for more information.
Looking for more design inspiration? Try our new visualizer tool - it's fun, easy and free!