For these Newtown, Pennsylvania, homeowners, righting the wrongs of old painted cabinets was an imperative. Custom refacing with maintenance-free transitional cabinet doors and drawers in a striking two-tone design saved the day…and quite possibly a wedding!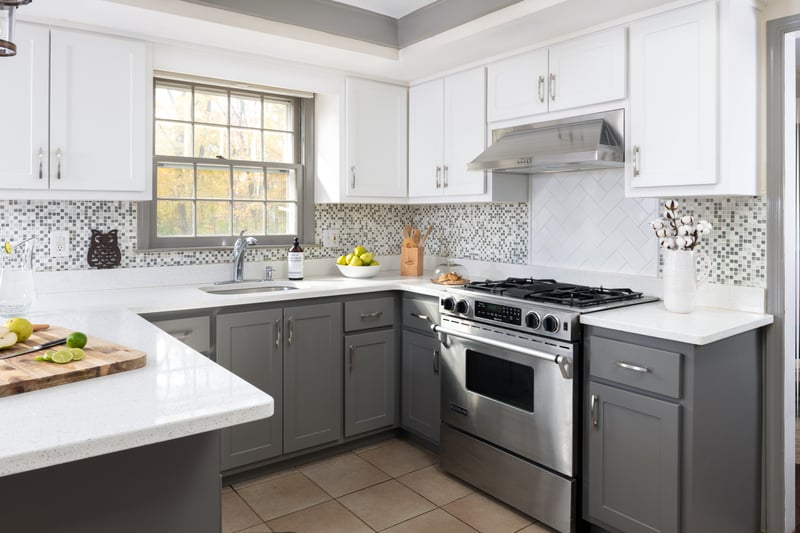 Imagine having just a couple of months to fix up your kitchen in time to host 150 people for your niece's wedding. Now, imagine that your old kitchen cabinets' paint job was chipping and preventing the doors from shutting correctly. Oh, and throw in a busy family life and ideas for a bigger, fuller kitchen refresh at a later date.
This was the problematic reality facing our December Remodel of the Month homeowners. The solution: Kitchen Magic.
A Stylish Transitional Kitchen That Pays Homage to the 1970s-Era Home
The family loves their mid-century home and sought to include its style and history in their kitchen refresh. They also wanted to infuse their own personality into the space and brighten it up a bit. Surprised by the huge selection of refacing styles to choose from, they were able to create the transitional look they wanted and stay on budget by refacing with two-tone Prestige Statesman cabinets and Prestige Plain drawers in Suede Grey and Frosty White.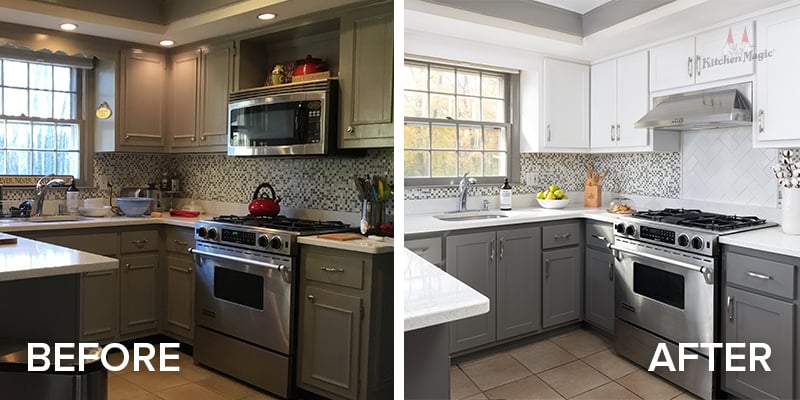 From Initial Consultation to Beautiful New Cabinets, in Just Six Weeks
With a house full of kids and pets, and a wedding to host in the near future, these homeowners were thrilled with how quickly refacing their cabinets and drawers went. It took just about six weeks from the time they first met with Kitchen Consultant Jimmy Sgammato to the completion of the job.
How can that be? For one thing, their kitchen consultant brought the showroom to them on the first visit—complete with samples of cabinets, tiles, countertops, flooring and more. They were able to see how the products looked in their kitchens on the first meeting, without a trip to a store on a later date. They also received an exact same-day quote. The other time-saving aspect of refacing is that the process doesn't rip out the home's existing cabinet boxes, which makes the installation faster and less messy. And since Kitchen Magic crafts all our maintenance-free cabinets and drawers ourselves in the USA, we can create the right fit and the right look faster than most.
For these homeowners, the entire process was quick and they loved the results. They had their refreshed kitchen in time for their niece's wedding, and will have it to enjoy for themselves for years to come.
BONUS: Refacing can cost about half the price of a full rip-out cabinet remodel as well.
Refacing vs. Repainting Cabinets: There Really Is No Contest
When the homeowners first invited Kitchen Magic over for an in-home consultation, they knew they needed to replace their old existing cabinetry, which they had tried painting in the rich gray they wanted. The paint started to chip almost immediately, and doors wouldn't shut right. Stylistically, the doors and drawers just never really looked as sharp and crisp as they had hoped they would, either.
"I see this problem a lot with customers who have cabinet doors painted," says Sgammato. "At first, they might like the color, but as the old doors shrink and expand with changes in temperature and humidity, and the paint starts to crack, chip and bubble. The doors don't look good, and they may not even close right anymore. Then the homeowners hate it. Our maintenance-free cabinet door refacing makes so much more sense."
Sgammato explains that when you have a solid door with a high-quality finish, you don't have to repaint it, ever. And, unlike post-manufacturing wood cabinets that do get painted over, high-quality laminate door surfaces stay smooth and the color stays truer. "It's beautiful cabinetry that is going to last you a really long time and stay looking great," he says. What's more, durable and attractive, maintenance-free laminate doors offer ease of cleaning and exceptional warranties.
Since 1979, our Lifetime of Home Ownership Warranty on selected maintenance-free styles gives our customers peace of mind. Kitchen Magic products and service are the finest available anywhere, which is why we can back them up with some of the best warranties in the industry.
Stay Tuned for More Amazing Transformations in This Kitchen
With just cabinet refacing alone, these homeowners were able to see their vision of a late-mid-century transitional kitchen starting to come to life. They are currently working with Kitchen Magic on "Phase II," which will include turning their peninsula into island, repurposing the beautiful quartz countertop they already have to do it. Also part of the project: maintenance-free cabinetry installation that includes replacing the closet-style pantry door with customized 24" pantry doors with rollouts for more useable storage space and make life a lot easier for the busy family. Other details include opening up an old-fashioned storage/laundry room space to be part of the kitchen, and new flooring.
We will be sure to check back with these homeowners to see how Phase II transforms their kitchen even more, and keep you posted. Stay tuned!
Financing Options That Fit Their Needs
The homeowners were impressed with the many finance options available to Kitchen Magic customers, and they selected one that fit their needs. The process was clear and easy, and Sgammato helped them set up a payment plan that was right for their family. It all made the decision to move forward with the second phase of their kitchen remodel even easier.
In the Homeowner's Own Words:
"We had a definite look we were going for, and the clock was ticking for the wedding we were hosting at our home. It was all fixed up so fast, and we found the cabinets we wanted in the big selection of styles and colors. Everything look great for the wedding, and we are so happy with the results. With five kids and two dogs, we needed cabinets that can take a beating. We are so pleased with the quality and look, and we can't wait for the second phase of our kitchen remodel."
How to Get The Look in This Remodel of the Month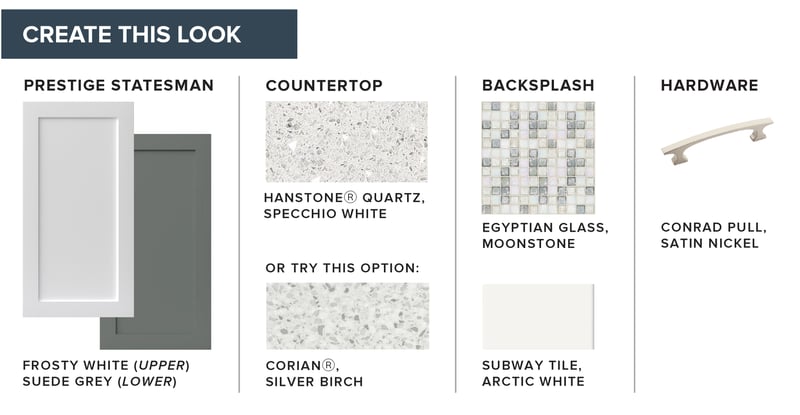 Like what you see in this Remodel of the Month? Here's where you can find out more:
These homeowners got the distinct look they wanted, expertly installed with quality materials, in the time frame they needed and at an amazing value. The could not be happier with the results, which makes us extremely happy and proud. Why not see what Kitchen Magic can do for you? Schedule your free in-home consultation today!
REMODELED KITCHEN PHOTO CREDITS: Christian Giannelli Photography, 2019
To view more stunning transformations check out these remodels: