Maintenance-free cabinet refacing, durable quartz countertops and a neutral color palette gave this New Jersey couple's kitchen a new lease on life. By incorporating modern design elements, these homeowners created an inviting space with clutter-free functionality they can enjoy for years to come. And they did it all without the time and expense associated with changing the kitchen's existing footprint.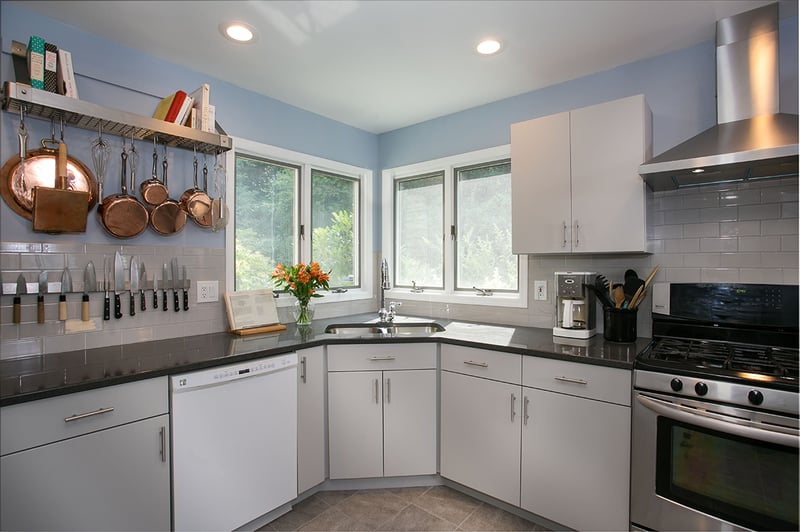 Kitchen Remodel at a Glance: Cabinet refacing, corian quartz countertops, ceramic tile backsplash, ceramic tile flooring & under cabinet lighting
Location: Morristown, New Jersey
Size: 168 square feet (12 by 14 feet)
Designer: John Zambolla
Keeping an Open Mind With Cabinets
Problem: Homeowners desired an updated kitchen design
Keep: Layout the same
Replace: Cabinets, countertops, backsplash and flooring
Swapping dated cabinetry for a combination of o floating shelves with modern, flat-panel Prestige cabinet doors created the perfect foundation for these homeowners to build the kitchen of their dreams. They painted the walls a soothing shade of light blue, providing the perfect backdrop for traditional kitchen accents.
For example, the pot rack not only serves as a space-saving storage solution, but also showcases copper clad cookware in a way that adds traditional warmth. Even cookbooks on the shelf above the hanging rack adds personal charm, yet they remain accessible and out of the way to maintain the clutter-free space the homeowners desired.
Incorporating Traditional Accents With Modern Design

Along those same lines, a couple of other items in this kitchen help convey the welcoming feeling you'd expect in a kitchen where cooking and gathering are the norm.
Consider the following:
Classic subway tile backsplash: This enduring tile pattern adds a traditional essence that's versatile enough for almost any kitchen style.
Wall-mounted magnetic cutlery strip: When your kitchen is centered around the preparation and enjoyment of food, you'll like having the tools of the trade handy!
Keep What Works
When updating your space, holding on to kitchen appliances that still work helps retain a sense of familiarity in a new kitchen. Maintaining the same footprint also reduces the overall remodeling costs. In this case, the owners chose to keep their stainless steel oven, stove top, and dishwasher.

Function Matters
Speaking of appliances, transitional kitchens focus more on integrating various components rather than on making "perfect matches." Thus, appliances with different finishes can look perfectly at home in a transitional kitchen design when integrated with existing features.
For these homeowners, a stainless steel faucet and cabinet pulls complement their existing stainless range. Their white dishwasher also blends seamlessly with the lighter gray cabinetry.
What the Homeowners Had to Say
"Our objectives were to significantly increase the quality and style of the kitchen within the existing physical space. Specifically, we wanted to increase the usable cabinet storage space, food preparation area and upgrade the to a new design, using a common color palette to unify the new space.
"Kitchen Magic managed the entire effort; new flooring, new cabinets with sliding shelving, new countertops, new sink, on-time and on-budget. The results were a dramatic change to the kitchen, both in functionality, and in style."
Like what you see in this Remodel of the Month? Here's where you can find out more about the:
These homeowners got a beautiful new kitchen, expertly installed and with quality materials. What's more, it fit their budget and exceeded their style expectations. Why not see what Kitchen Magic can do for you? Schedule your free in-home consultation today!
To view more stunning transformations check out these remodels: