Wondering exactly what the term Contemporary Kitchen really means? Confused about how to create a regal kitchen design while incorporating "wow" factors inherent in many traditional designs? Take a peek into this northern New Jersey Kitchen Remodel of the Month to provide valuable insight...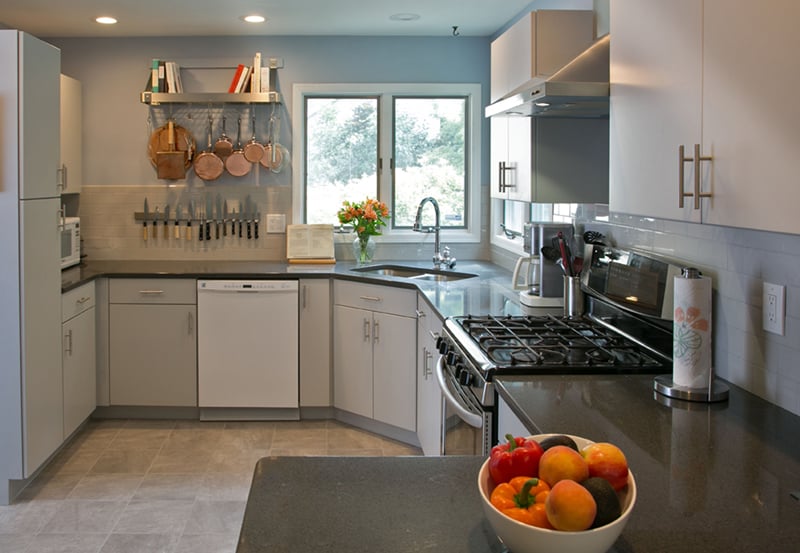 Kitchen Remodel at a Glance: Cabinet refacing, quartz countertops, backsplash, flooring & under cabinet lighting
Homeowner: New Jersey couple
Location: Morristown, New Jersey
Size: 168 square feet (12 by 14 feet)
Designer: John Zambolla
You Can Be Cool Without Sacrificing Warmth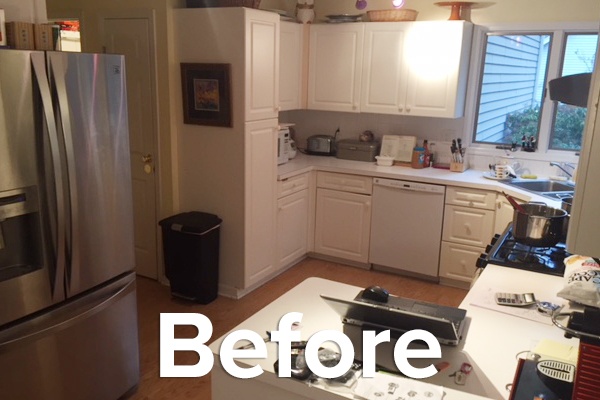 Problem: Homeowners wanted a more contemporary kitchen design
Keep: Layout the same
Replace: Cabinets, countertops, backsplash and floors to create a cohesive palette
If you create a bullet point list of this kitchen's basic feature selections, you might think that it reads a little too sleek and cool for your taste. Here's the list of features:
Modern, flat-paneled cabinet doors in a pale (nearly-white) Fashion Gray
Sleek quartz countertops in Storm Gray
Backsplash tiles in Largo Light Grey
Ceramic tile flooring in Avondale Castle Rock
All that gray may set you on alert, and yet, with all it's cool and modern options - the accents and supporting features are warmed up and softened by a few important design features, creating a peaceful and calming ambiance.
No Need to be Blue in This Kitchen
First, let's start with wall colors. Once owners selected their modern-themed cabinets and foundation of gray finishes, they opted to paint the walls a beautiful shade of blue (read, Boost Your Mood with a Blue Kitchen, to learn more about choosing the right shade of blue for your kitchen). It's proof that the right cool colors can still create a soothing backdrop for warm accents.
For example, check out that pot hanger, complete with copper-bottomed pans. Not only do the "bright copper kettles" shine brilliantly, they offer a traditional and homey warmth that keeps the contemporary design scheme from being too cold or sterile.
Cookbooks perched on the shelving above the hanging rack add more personal charm, yet they are up and out of the way to maintain the clutter-free space the homeowners desired.
Contemporary and Homey Accents Throughout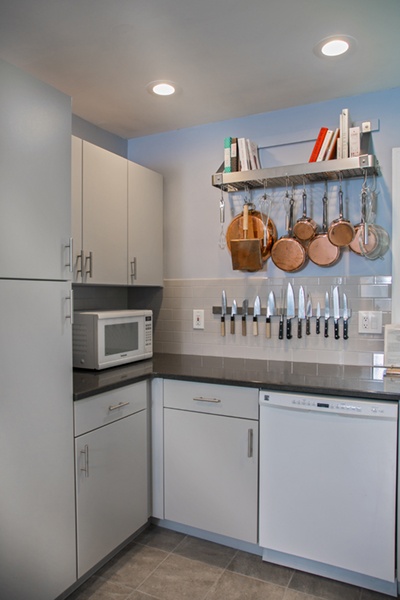 Continuing along those lines, there are a few other contemporary additions that convey the homey feeling desired for a kitchen where cooking and gathering are the norm. These include things like:
A subway tile backsplash. The subway pattern is a classic style that adds a traditional essence to any design.
Upscale knife set on display. The wall-mounted magnetic knife set is chic, but also proof that this is a kitchen centered around the preparation and enjoyment of good food and culinary delights.
Don't Shelve the Idea of Eliminating Cabinets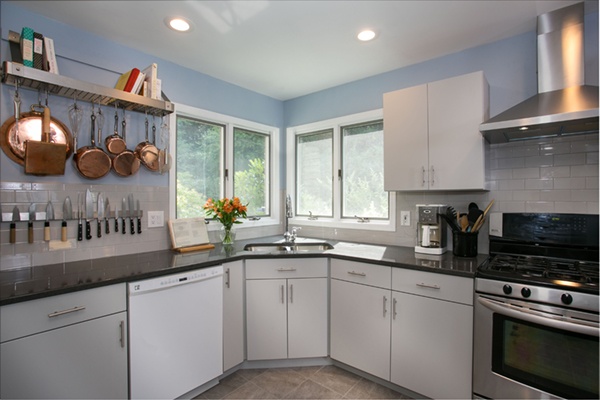 Holding on to what works. For a household or family, holding on to some of the familiar items that still work just fine help a new kitchen remodel retain a sense of familiarity and comfort. In this case, owners chose to keep their stainless steel oven and stove top, as well as the dishwasher.
What the Homeowners Had to Say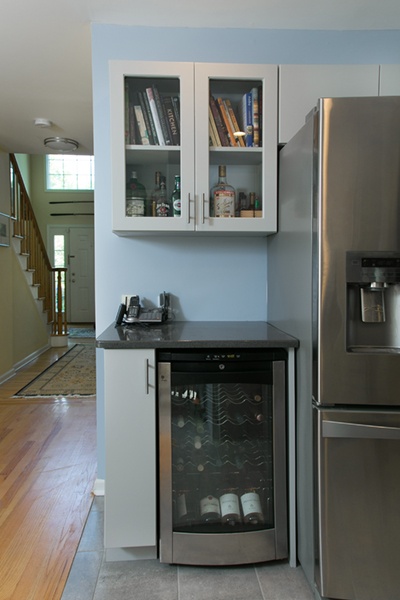 ""Our kitchen, unchanged since the house was purchased in 2007, was a poorly designed, with inefficient layout and low end materials, whose numerous problems finally motivated us into a complete renovation.
Our objectives were to significantly increase the quality and style of the kitchen within the existing physical space. Specifically, we wanted to increase the usable cabinet storage space, food preparation area and upgrade the to a new design, using a common color palette to unify the new space.
Kitchen Magic managed the entire effort; new flooring, new cabinets with sliding shelving, new countertop, new sink, on time and on budget. The results were a dramatic change to the kitchen, both in functionality, and in style. The project was completed on time and on budget (which was significantly less than two other competing quotes)."
Functional Kitchen Details Matter
Speaking of stainless steel and white appliances...contemporary kitchens focus more on integration of various features than they do on "perfect matches." Thus, appliances with different finishes look perfectly at home in a contemporary design when integrated with existing features and finishes.
Both stainless and white coordinate with a contemporary palette. The seamless appearance of both complement a cool palette, the stainless matching the pulls and faucet, while the white fades into the lighter cabinetry.
A Classic Contemporary Kitchen Remodel Defined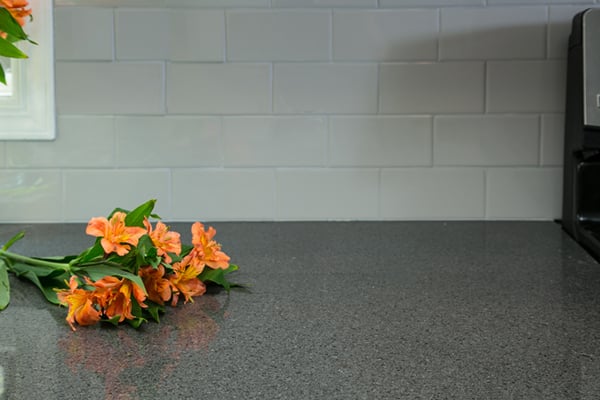 When designing a space that has contemporary appeal and warmth, make sure to incorporate personalized details that reflect your style for a kitchen remodel that feels like home.
A Regal Kitchen Design with Personality
The Results: A Contemporary beauty with sophisticated style & colors
Kept: Footprint the same
Replaced: Cabinet style & color, countertops, backsplash, under cabinet lighting & flooring
Interested in designing a regal kitchen design of your own? Complete with a warm, yet contemporary finish? It's the sleek, clean details that are the hallmarks of this contemporary style. Schedule a consultation with Kitchen Magic. The experts here at Kitchen Magic will design a custom design just for you. Simply click or call (800) 272-5490. Or discover more design ideas with our 2019 Design Forecast, filled with current style trends to ensure your new kitchen is in vogue as well. Happy remodeling!