From a comfy suburban hamlet just north of Manhattan, these New City, New York homeowners express overwhelming enthusiasm for their newly remodeled kitchen. "We definitely spend far more time in the kitchen than we used to," says the homeowner, noting that she loves experiencing the newly redone space. "I walk into the kitchen, and I still get excited. The entire family spends far more time here now," she continues.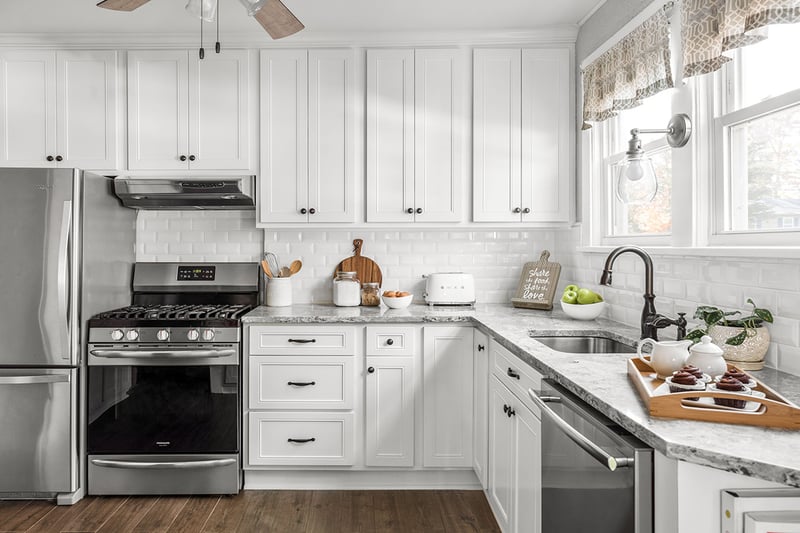 A Drastic Before & After Transformation
The couple had been eager to update their dark, aging kitchen for some time. However, one detail always kept holding the project back — thinking they needed to expand to a bigger kitchen.
Working the Work-Triangle

All changed when they discovered that a beautiful, remodeled kitchen was achievable using their existing floor plan. That is, after meeting with one of Kitchen Magic's awarding-winning design consultants, Suzi Dia. The Kitchen Magic team suggested keeping the same floor plan and refacing the existing cabinetry with extensions for a streamlined, floor to ceiling design. Another refacing perk meant the remodeling process would be far quicker and less expensive. Plus, Kitchen Magic's exclusive refacing method also allows homeowners to incur less kitchen downtime, so you can start enjoying your new kitchen sooner!

Glamorously Understated Cabinets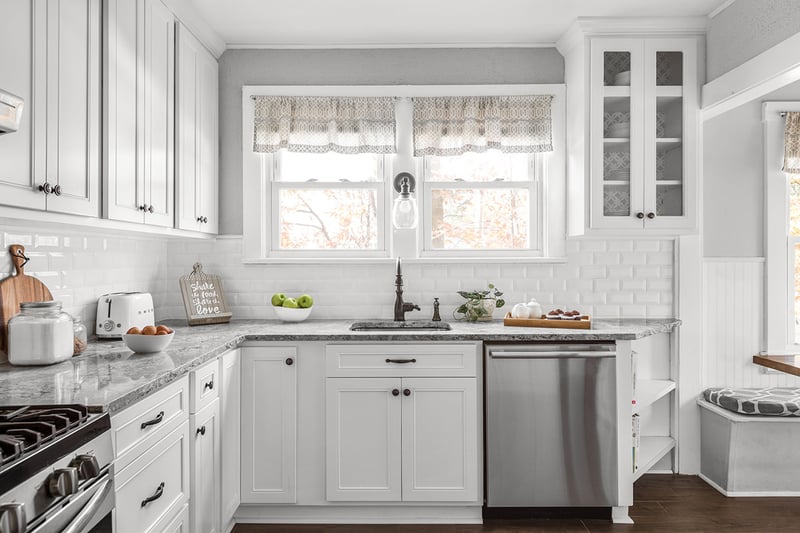 The new Prestige Statesman Beaded style doors in Satin White give this kitchen a cleaner, brighter and overall fresh look. Neutral colors are always a safe bet with interior design and whites and greys provide flexibility for any personal style preference.
"What I love about the beaded edge door is it is timeless and stylish all at the same time, without being overstated", says JT Norman, Product Development, Design & Innovation.
Giving the Space Dimension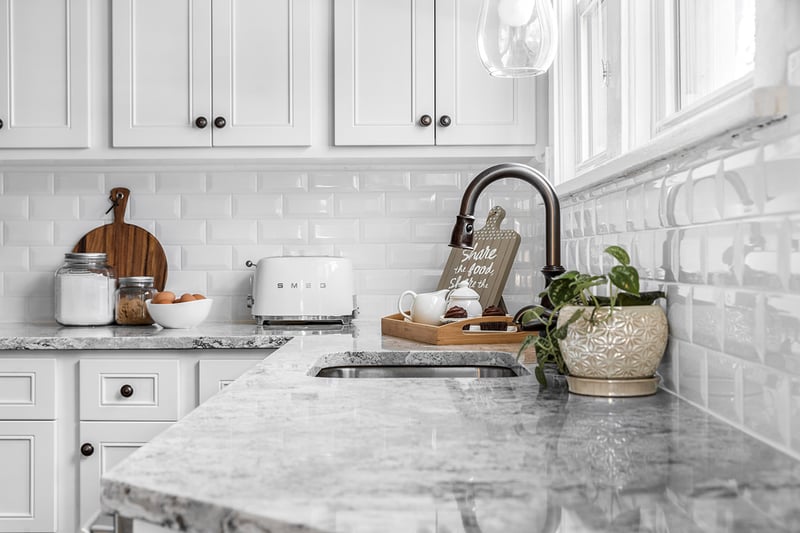 Additional kitchen details include an Artic White ceramic subway tile with a beveled design for a crisp, sophisticated accent. Meanwhile, for the countertop, this couple selected Cambria® quartz in Summerhill™. The selection is a neutral countertop featuring a cream backdrop offset with soft, natural gray marbling and tiny black flecks. Quartz has a more glamorous look, but it is easy to keep clean, and is stain resistant. Summerhill™ brings the classic look of marble without the marble price tag.
Walking the Plank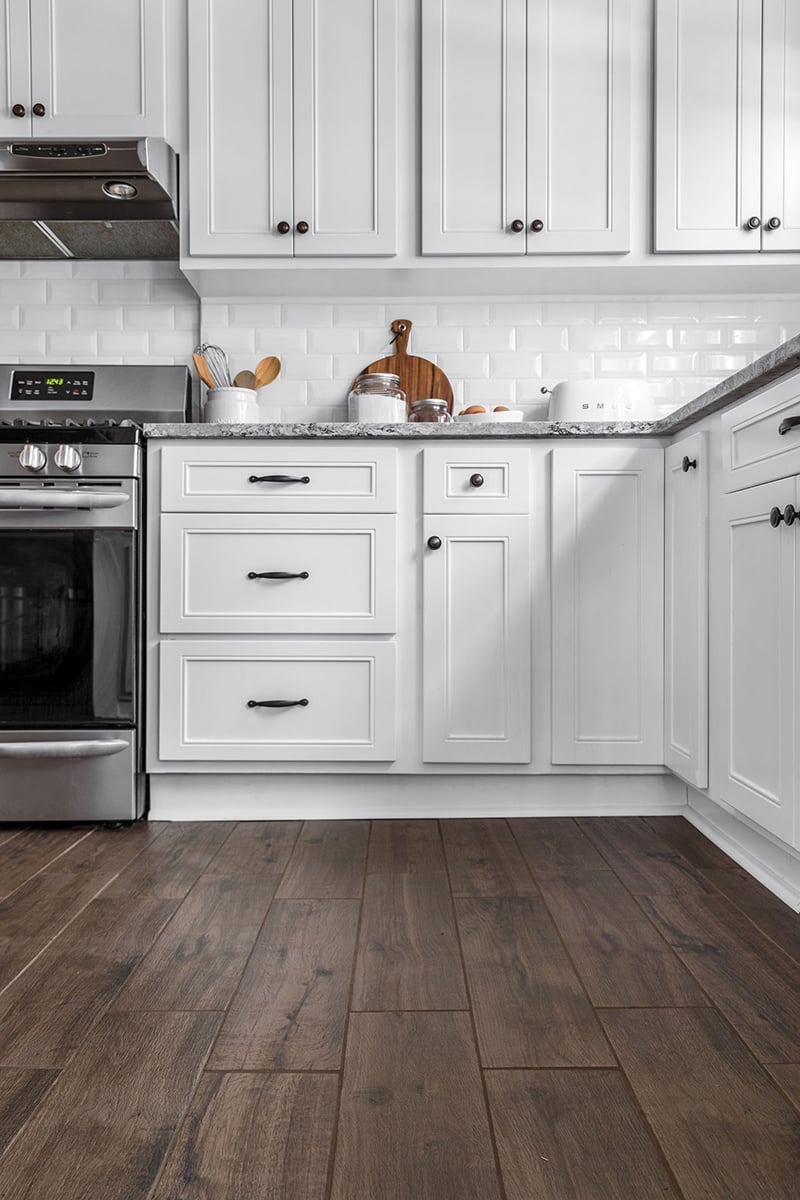 As for the kitchen flooring, the porcelain plank Gainswood® Collection in Walnut completes the sophisticated neutral effect.
For the final kitchen remodel, a once crowded footprint is newly transformed into a beaming bright kitchen with expanded storage, workspaces, and an aesthetically pleasing design.
How to Get the Look in This Remodel of the Month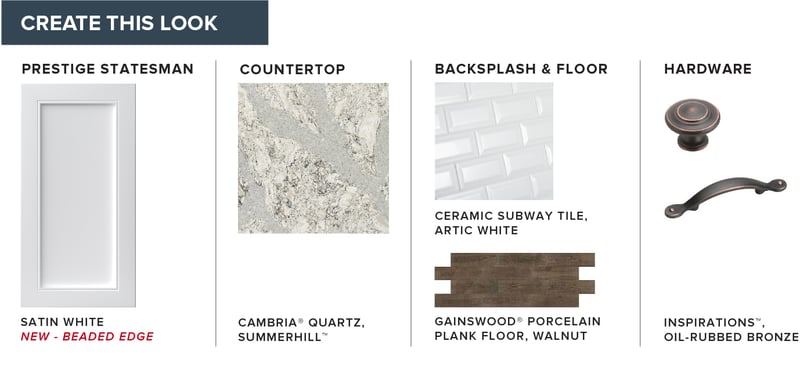 Like what you see in this Remodel of the Month? Here's how to create this look:
In our Customers Words:
"We met with Suzi, and we just fell in love with her and her ideas on how to update within the existing space," recalls the homeowner.
"It was a pleasure, and Kitchen Magic made it so easy," she adds, and continues that she appreciated how the company "worked just as hard on my little kitchen as they would have on a big job. The attention to detail and guidance was excellent. The office was always there to answer my questions."
Window Shopping at Home
Additionally, the homeowners appreciated Kitchen Magic's one-stop-shop feature, even given samples to keep in the home until they made their final decisions.
These homeowners are proud of their home and newly remodeled kitchen, enjoying the finished results and excited about all of the new memories they will be making for many years to come.
Isn't it time to stop dreaming about your remodeled kitchen and finally make it happen? You could be enjoying your "happy place" every day, too! Kitchen Magic will expertly install your dream kitchen using the quality materials you choose from our extensive selection. Schedule your free design consultation today!
REMODELED KITCHEN PHOTO CREDIT: Andy Ryan Photographer, 2020
To view more stunning transformations check out these remodels: