Whether you live in a coastal town or your home lies somewhere inland, our August Remodel of the Month shows how you can bring contemporary, beautiful beach-inspired designs into your home year-round.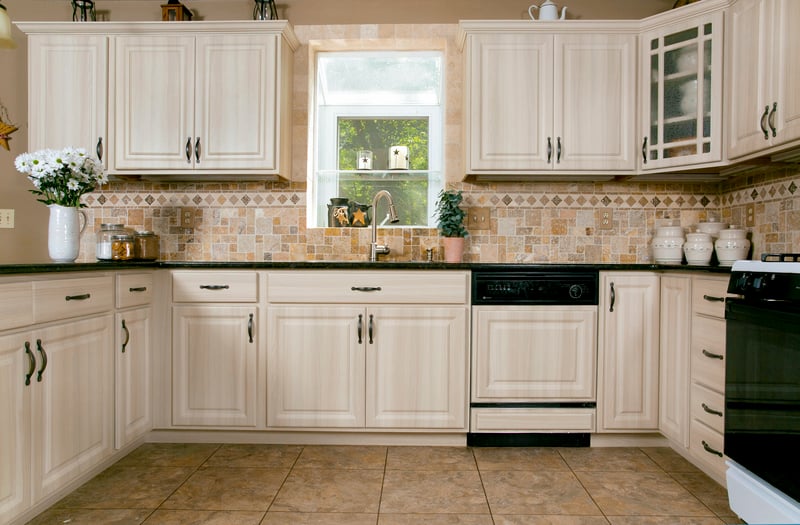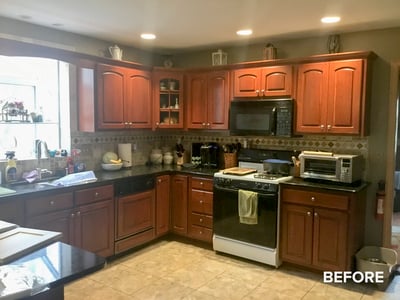 Located only one mile from the bay in Ocean Township, New Jersey, these homeowners felt their kitchen was weighed down with too-dark-for-comfort traditional cherry cabinetry. Beyond the desire to lighten up the space, the years of open windows and sea breezes resulted in salt air damage to the cabinets' finish. It was time for a change.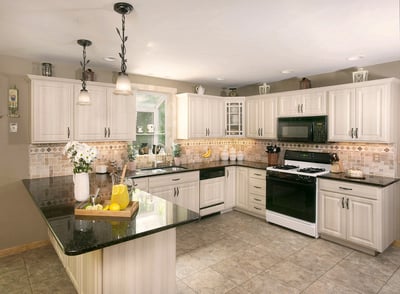 This was definitely a case of cabinet refacing to the rescue. In addition to wanting to reface the cabinets using materials that are more durable, the homeowners also wanted something that better reflected their beach-town lifestyle. After reviewing all their options, they took our recommendations and refaced their existing cabinets using the timeless look of our Prestige Square doors in Bergen Ash. In addition to adding a weathered, driftwood effect that gave a shout-out to charming coastal bungalow cottages, these low-maintenance cabinets will keep their natural wood aesthetic no matter how much refreshing salt air flows through the kitchen over time.
Worth Noting: This kitchen remodel proves how a single change—in this case, refacing the cabinets—can catalyze a kitchen transformation. It's the perfect example of how to design a kitchen on a budget.
Additional Features That Enhance a Beach-Inspired Kitchen Design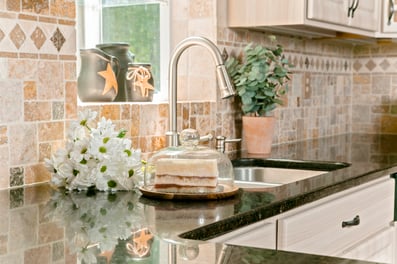 The addition of new, lighter-colored cabinets completely elevated the existing features in this kitchen, all of which fit the homeowners' desire for a fresher, more costal appearance. A single custom glass door in our Oxford style paired with etched Glue Chip glass, placed where two rows of cabinet doors meet, is a delightful focal-point element in the kitchen.
Rustic Ceramic Tile Backsplash
The existing gorgeous rustic ceramic tile backsplash plays perfectly with the distressed hues in the new cabinetry. It's comprised of sandstone colored tiles that look as if the mosaic patterns were lifted directly from the legendary city of Atlantis. A soothing mix of cream, taupe and strawberry blond shades add rosy, warm color.
Classic Black Granite Countertop Anchors the Design
The owners also decided to keep their gorgeous, black granite countertop, and we think that was a wise choice. It's in great shape, and they don't mind the routine annual/bi-annual sealing recommended for natural stone countertops. In addition to contrast, the countertop ties in nicely with the black appliance accents.
We also appreciate that the owners opted to partially integrate the dishwasher with the rest of the cabinetry by using a matching cover panel. This created a better balance between appliance and cabinet faces.

Customized Cabinet Organization
While they were refacing, the homeowners found that this was a good time to reorganize the cabinets as well. By creating customized storage spaces, using enhancements like a lazy Susan and flip-front sink, they were able to keep the countertop free of miscellaneous appliances and extras. This helped reduce a cluttered look and further protected their granite investment.
Once the kitchen refacing project was complete, the owners could enjoy their bright, open, beach-themed space. It's one that reflects their laid-back coastal lifestyle. Simply put: Their life's a beach!
In the Homeowner's Own Words
"Once the first couple of cabinets went up, I completely fell in love. The color blended perfectly with the stone work and countertops I already had in place. My kitchen went from something drab and dark to open, spacious and vibrant. The new handles look amazing and my kitchen brings a smile to my face every time I walk into it."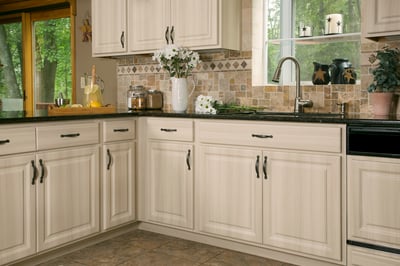 "My entire experience with Kitchen Magic was simply wonderful. From the immediate response when I asked for a quote and the amazing insight the saleswoman provided, to the friendly, clean and courteous installer. I was overwhelmingly pleased."
Interested in seeing how cabinet refacing can create your own kitchen transformation? Schedule a free design consultation with the pros here at Kitchen Magic.
---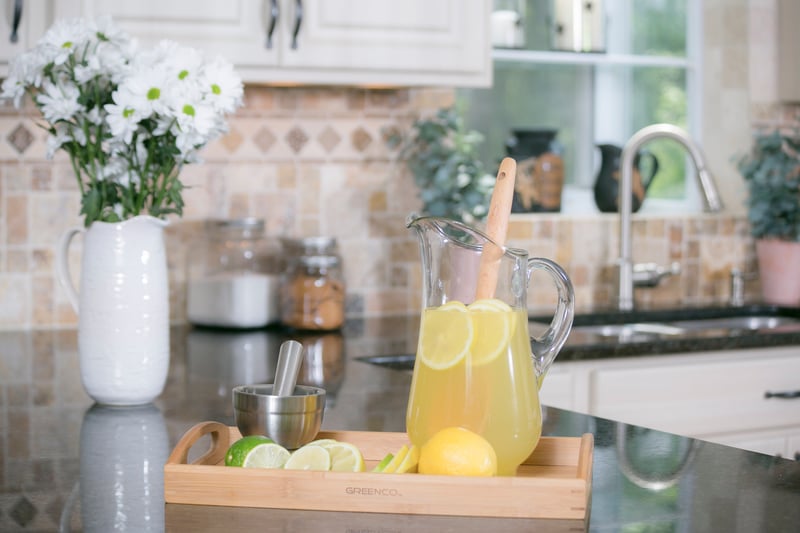 To view more stunning transformations check out these remodels: