Our Allentown, PA clients loved their big kitchen, but they didn't love how the dark-stained, outdated cabinets completely clashed with the countertops and backsplash. As a household that loves to cook, make meals and entertain family members and friends, the couple was ready for a kitchen remodel with a common style theme and a whole lot of contemporary class.
With Kitchen Magic's help, their kitchen went from kitchen style mish-mash to streamlined and contemporary in a flash - and we didn't even have to change the shelving or layout.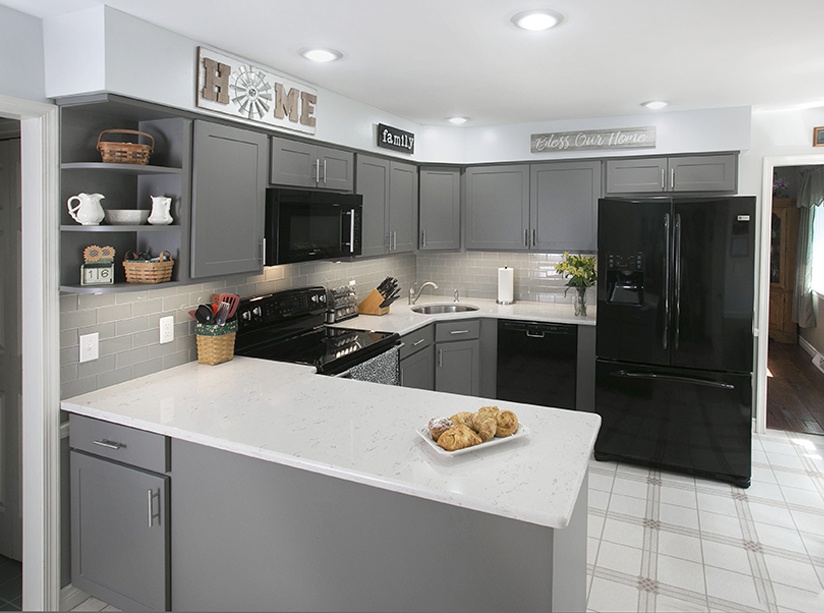 Kitchen Remodel at a Glance: Cabinet refacing, New cabinets, Cambria countertops, backsplash & Under cabinet lighting
Homeowner: Pennsylvania couple
Location: Allentown, Pennsylvania
Size: 180 square feet (12 by 15 feet)
Designer: Micheal Wharton
Emphasis on Gray Scale
They did love the gray scale tones in their existing backsplash, so our kitchen designer went with that and re-vamped their old look into the gorgeous, Gray Shaker Masterpiece they now enjoy every day.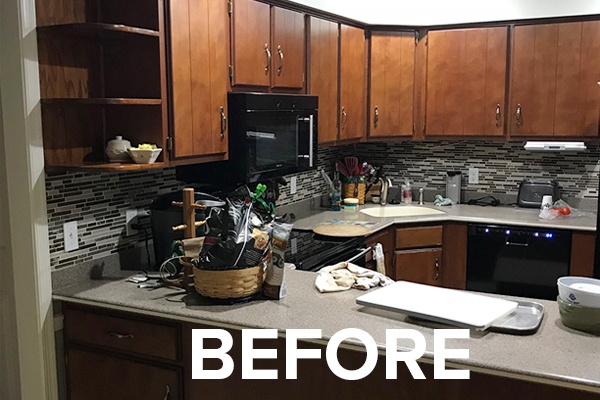 Problem: Current style is dark & outdated
Keep: Layout the same
Replace: Reface cabinets, add some cabinets, replace countertops, backsplash & add under lighting
Cabinet refacing was the first place we started. By refacing the cabinets using versatile and transitional Suede Gray Shaker-inspired cabinet doors, we instantly elevated the overall look of the space. Then, they selected a slightly different drawer style (Prestige Plain) to keep things interesting; it's proof that mixing-and-matching cabinet door and drawer styles is absolutely okay - and often preferred - as long as styles are complementary.
Use Lighter Cambria Countertops to Brighten Things Up!
If you like darker cabinet colors, we recommend balancing them with a lighter countertop to brighten things up. In this case, indestructible Cambria quartz in the Waverton design pattern is light in color but includes streams of gray that tie the room together. Cambria's Marble Collection is inspired by this natural stone's inherent beauty. The roundover edges provide a more understated Transitional look. This also keeps the kitchen more kid-friendly for the grand kids, as it mitigates the ouch factor when little ones bump up against the edges.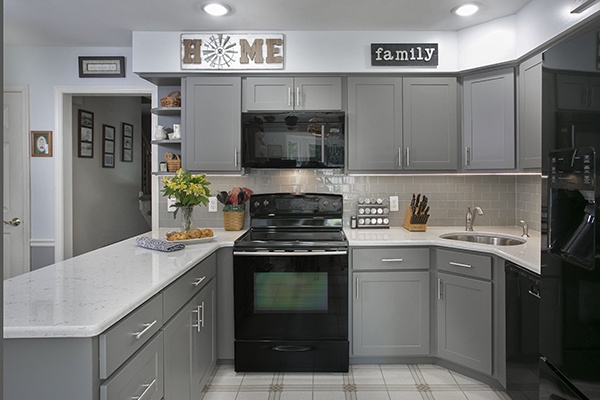 Cambria Bonus: Cambria quartz slabs are made right here in the USA (hooray for buying local!) and are as easy as pie to clean and maintain. Their non-porous surface never requires sealing and can be wiped down and cleaned up any ol' way without risking etching, staining or damage.
Clean, Glass Subway Tiles
The existing backsplash had lots of wow factor, but our clients wanted something less showy. We used glass backsplash tiles in Feather white, laid in a stately subway pattern. The off-white shade creates a synchronized transition between countertops and cabinets, and the glass tiles add shimmer and sheen without being too glitzy.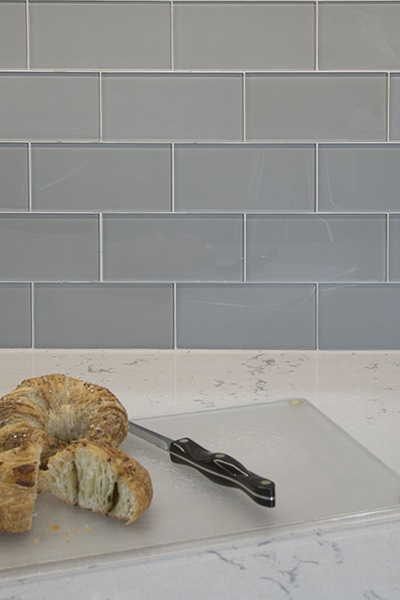 Under Rated Undermount Sink
Similarly, their undermount sink & cabinets are designed with customized layouts. This includes pull-out shelves and minimal deep corner pockets, so it's easy to access cookware, dishware, utensils, etc. without having to reach inside.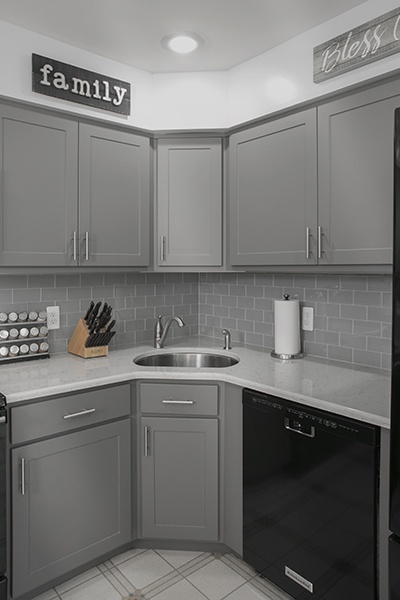 What the Homeowner Had to Say
"I feel like I'm cooking in a whole new kitchen, not a refaced kitchen. And the added piece in the breakfast area is my favorite part. It completes the look and gives me more storage. This keeps my kitchen and countertops more orderly. Everyone that comes in, says it really makes such a big difference. The under cabinet lighting is like the icing on the cake and completes the whole look of the design."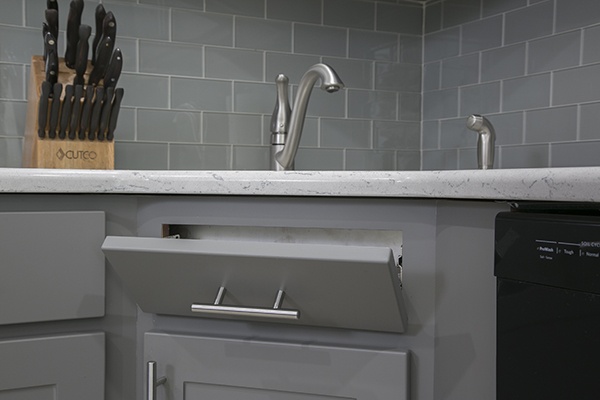 These Ties That Bind
Finally, we added the dining server in the same color and style as the cabinetry, uniting the kitchen with the dining room for the perfect 'coffee station'. An important style consideration in any open concept kitchen design to maintain a cohesive palette.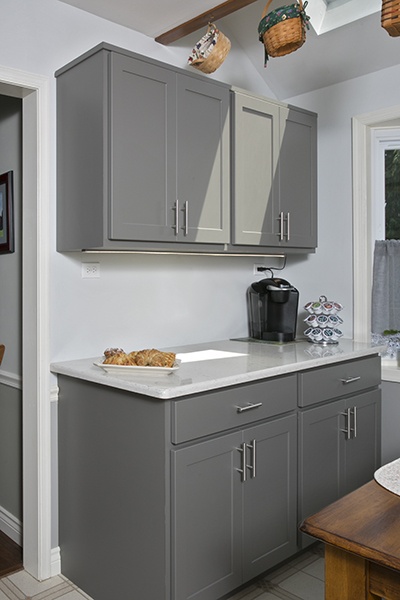 A 'Gray Area' is Crystal Clear
The Results: Fully updated kitchen with new colors & styles
Kept: Footprint the same
Replaced: Worn out cabinets, countertops and backsplash
Added: Under cabinet lighting and custom storage
To learn more about cabinet refacing, check out our video below! And, be sure to visit our new and improved, interactive gallery for more design ideas and kitchen inspiration.