How would you like to take your late-1980s kitchen and flash it forward into the 2020s? That's exactly what our Monroe Township, NJ clients did when they transformed a still-functional - but seriously outdated - kitchen into a sophisticated, contemporary showpiece.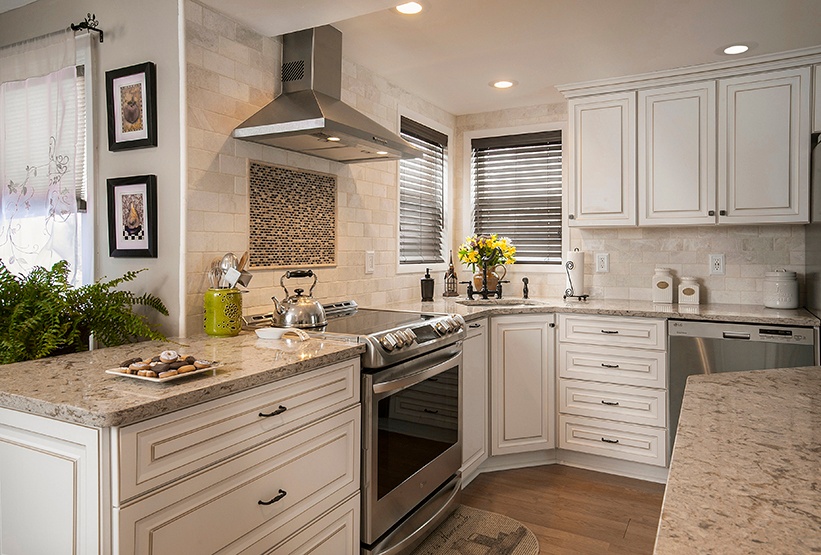 From their style to your style
Purchasing a new-to-you home is thrilling, but it can have some drawbacks. Namely, it's often dated and infused with somebody else's style and energy. When these patient homeowners bought the home, they figured they could live a while with the oak cabinets, which were a beautiful, golden oak color - - - back then.
Now, the cabinets were turning a less-desirable orange and the dated style was impossible to ignore. Add outdated hardware and the fact that doors and drawers didn't close right - and it was more than time to whip things into shape.
From lit to light
One of the first things our designer, Jill, said when she walked into the kitchen was, "Um, that cabinet blocks the beautiful natural light from your only available window - it needs to move."
Daylighting works wonders to lighten, brighten and open things up. Plus, innovative interior storage makes it possible to eliminate or relocate cabinet boxes.
We added: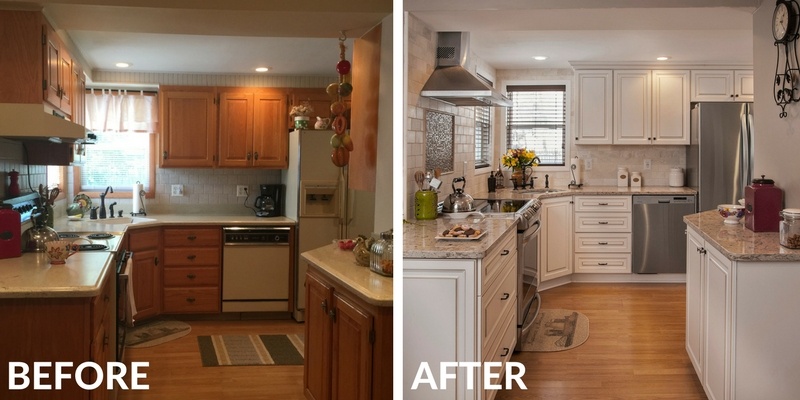 From country to city
Another issue? The country look of oak wasn't the homeowners' style at all. Our clients prefer a more sophisticated, urban design, so they chose Breckenridge-style cabinet doors, in Winter White, with a walnut glaze. The door style and glaze prove sophistication doesn't mean sacrificing a warm and cozy feel.
New stainless steel appliances and a contemporary hood continue that sophisticated look, as does the eye-catching mosaic on the backsplash behind the stovetop (note how it echoes all the subtle colors in the countertops).
From worn to permanently impeccable
Homeowners are increasingly selecting low-maintenance features and finishes to minimize the work required to preserve the "brand new" post-remodel look. Quartz countertops fit the bill. Our clients chose to replace their scratched and worn countertops with lustrous, ultra-low maintenance, Windemere quartz - adding a luxurious look that mimics marble but is infinitely more durable.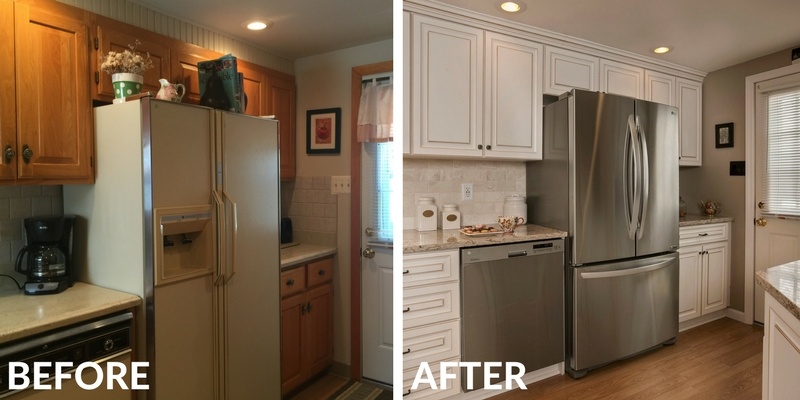 It's always amazing what a little updating achieves. For homeowners who enjoy entertaining, a redesigned kitchen that expresses your personal tastes and style becomes a proud extension of your home.