During the spring and summer months, we can witness a truly breathtaking display of the natural world. This is an ideal time to plan for home improvements and other seasonal refreshes. So, it couldn't be more fitting than to feature this Monville, NJ, kitchen remodel in the month of April. We helped these homeowners create a brighter, more functional kitchen by exploring new and custom options.
Whether you want to update your culinary station or you're looking to create an upscale look, get in touch with a reputable kitchen remodel company in Lehigh Valley to help you transform your place to your current needs.
How do you modernize an outdated kitchen?
Admittedly, words like "transformation" can be overused, but it's no exaggeration when it comes to this project. This featured remodel is one of the truly inspirational kitchen transformations. Even our own design and installation teams find it difficult to believe that the before pictures depict the same space as the after!
We decided to incorporate a central island, giving the space a more open and modernized feel.

- Suzi Dia, Kitchen Magic Design Consultant
1. Consider complete cabinet replacement
The team here at Kitchen Magic is passionate about and advocates for cabinet refacing whenever possible, but this kitchen wasn't a good refacing candidate because the cabinet boxes were structurally unsound. So, these homeowners chose all new, and absolutely gorgeous, Antique White Statesman style cabinet doors with a beaded edge detail. Our Antique White is a warm, creamy tone that can help make any space feel fresh and more inviting.
Once the old cabinetry was removed, these homeowners really appreciated the additional available light in their kitchen. This inspired a very wise idea - to leave some of the upper cabinets out of their new design - replacing them with open shelves instead. Open shelving helps to visually open spaces and encourages more light to flow through the overall design.
2. Add contrasting design elements
Kitchen Magic installed natural wood open shelves to add some contrast and compliment the flooring, which was a big hit with these homeowners. An added bonus of open shelving is that it offers a place to display decorative items which can change with the whims of kitchen design trends or personal style.
Also worth noting is the upper cabinets were extended, allowing for the addition of beautiful crown molding to the ceiling line. In our opinion, crown molding always adds a little touch of luxury.
3. Choose between kitchen island and peninsula
The island vs peninsula debate continues, but in this case, the kitchen island won. Two of the most important considerations are usable kitchen square footage and the flow in the kitchen. Both were improved in this remodel by removing the existing peninsula countertop and installing a custom kitchen island.
The island offers dimensional interest and several customizations to improve storage and functionality, such as pot drawers, an inset microwave shelf for easier access, and an overhang for extra prep space, seating, entertaining and casual dining. Plus, the kitchen island directs traffic flow around the exterior of the kitchen, which keeps happy and unobstructed cooks in their workspace.
4. Invest in low-maintenance countertops
To hold true to a neutral, all-white color palate, this New Jersey couple selected Viatera® quartz countertops in Clarino. The look resembles a white marble with light cream veining for a seriously upscale look. For a little more contrast, and to match their new, stainless steel appliances, these homeowners opted for a stainless steel double sink.
The low-maintenance and antibacterial benefits of quartz combined with stainless steel ensures these homeowners will never need anything more than a sponge or soft rag and all-purpose cleaning spray to keep their kitchen surfaces clean and looking brand new.
5. Take a classic and give it a modern twist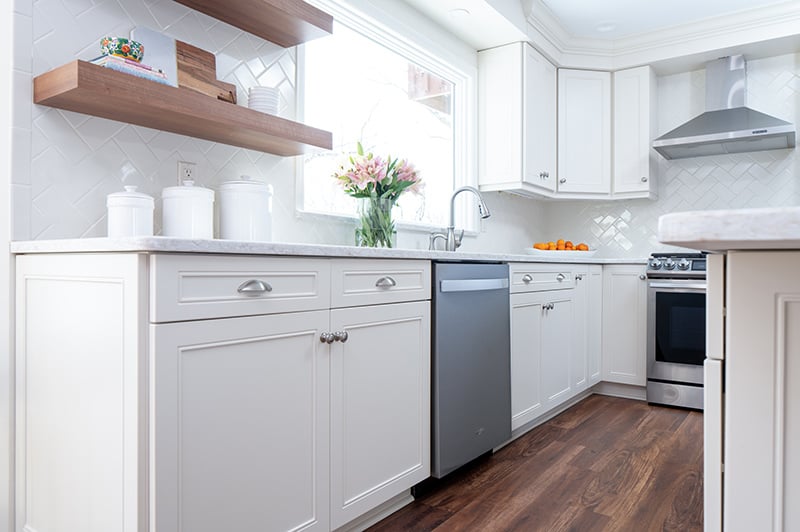 The homeowners worked carefully with their Kitchen Magic design consultant to make sure the words "all-white" did not translate into "boring." One way to accomplish this is adding textures and subtle patterns into the design mix. The beauty of this ceramic subway tile backsplash, laid in a herringbone pattern, gleams in abundant light.
Textural elements like the stainless steel appliances and sink, natural wood open shelving and warm hardwood floors with visible grains all do their part to showcase this kitchen's new design.
Where can I find experienced kitchen remodel specialists in Lehigh Valley, PA?
Want to make the most out of your kitchen? Let the experts at Kitchen Magic help you create the kitchen of your dreams. Thanks to over forty years in the field, we continue with our commitment to excellence in order to provide quality kitchen remodeling services, tailored to your exact needs. Whether you need assistance choosing the right color palette or customized cabinetry for your cooking area, you can rely on us to style your outdated kitchen and bring it back to life. Give us a call or arrange a free design consultation so we can discuss all your ideas!
Wondering what your remodeled kitchen will look like? Try the Kitchen Magic Visualizer!